The INDUSEM Academic College of Emergency Experts Led by Dynamism of Dean Dr. Praveen Aggarwal recently inked the progressive alliance with the Visionary Indian Association of Preventive and Social Medicine.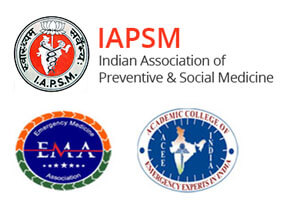 IAPSM-ACEE-EMA Alliance:
The alliance befits INDUSEM-ACEE-IAPSM ideology of "Connecting to Create". The last decade has seen Preventive health physicians of India emerge as primary nation builders of the science of Healthcare.
Preventive Medicine and Emergency Medicine are natural partners and along with Family Medicine have contributed laterally to the development of Health Care. Medical Education in India also has a lot to credit to Physician leaders at Medical Institutions and Colleges across India.
The training of Public Health and Clinical Acumen provides both Emergency and Preventive Medicine the crucial capabilities which are vital to healthcare in the country.
The indicator and predictor of state of health and the performance of health systems depends on the crucial foundations of Preventive HealthCare provided by Public Health Physicians and Emergency Care provided by Emergency Physicians.
It is natural that the two specialties work together to provide better Emergency Health in the Community for Faster Recognition, Prevention and Early Intervention to avoid mortality and morbidity and ultimately better the State of Health.
It is with these opportunities and similar thought process in mind that ACEE & IAPSM have inked an alliance with a focus on strengthening Preventive Medicine-Emergency Medicine Sciences Collectively and Constructively.
"ACEE already has a working alliance with Academy of Family Physicians of India and now with IAPSM joining the alliance the complete loop of Community Care and Clinical Care is completed." said INDUSEM CEO Dr. Sagar Galwankar who formally inked the alliance.
Dr. Sunil Raina was the architect of this Alliance and is a Dynamic INDUSEM Preventive Medicine Leader who is a Qualified Residency Trained MCI Recognized Preventive and Social Medicine Academic Faculty.
Qualified Physicians Providing Quality Curative and Preventive Care is the Founding Principle of the ACEE-IAPSM Alliance.
Related News :
About INDUSEM
The INDUSEM mission is to envision and implement the future of Patient Care across the world. The partnership brings together Expert Educators, Inquisitive Innovators and Physicians supporting Safe Patient Care across India, United States and the World. INDUSEM is the Top International Partnership across the World and brings together Institutions, Individuals and Initiatives focused on improving patient care globally. Till date INDUSEM has reached over 50,000 Experts and its reach continues to grow daily. For more information, visit www.indusem.org
About ACEE
The Academic College of Emergency Experts was established by Leaders of INDUSEM to create a guild of expert clinicians who are have a mastery at providing safe patient care with high quality therapeutics based on latest evidence based medicine. The only Unique College in Asia ACEE only bestows affiliation after a rigorous coaching and testing process hereby maintaining its high standards of commitment to education and excellence. It surpasses the erstwhile ideology of existing academic colleges where affiliation is based on recommendation. The College offers its Fellowship in various areas of Emergency Medicine, Emergency Pediatrics. Toxicology, Emergency Nursing etc. For More Information. Visit: www.acee-india.org
About EMA
The Emergency Medicine Association was founded in 2015 during the INDUSEM2015 World Congress of Academic Emergency Medicine in New Delhi. EMA is the Official voice of competent Emergency Experts. Working towards provision of quality emergency care The EMA is an organized Guild of Emergency Leaders in Health and Medicine. Focused on Developing, Practicing and Progressing Emergency Medicine. EMA has a strong relation with partner organizations, individuals and institutions across the world. The EMA boasts of a strong DNA with its relationships which are geared towards potentiating growth. EMA has the support of the INDO-US Emergency and Trauma Collaborative, the Academic College of Emergency Experts in India and the Academic for Clinical Emergency Nursing in India. For More Information: www.emaindia.net
About IAPSM
The Indian Association of Preventive and Social Medicine, is a National level Professional body in the field of Community Medicine/Public health. It is founded in 1974. It is a "not for profit" organization of specialists Preventive & Social Medicine/ Community Medicine/Public Health.Members of IAPSM are specialists in Preventive & Social Medicine, Community Medicine, Public Health, Epidemiology, Health Management, Health Promotion, and Family Medicine. It has 4200+ members from across the India serving in Medical Colleges, National & state Government health departments, various health institutes working in the field of research, training, epidemiology, surveillance etc. Also, many of its members are working as experts in International development agencies, NGOs or working as freelance public health consultants. For More Information: http://iapsm.org