INDUSEM at its Collaborative Epitome as Indian Experts Educate American Colleagues !
On 24th and 25th May 2015 history was created when the All India Institute of Medical Sciences (AIIMS) developed Advance Ultrasound in Trauma and Life Support (AUTLS) course held its maiden session at the University of South Florida (USF)-Tampa General Hospital (TGH) at Tampa Florida.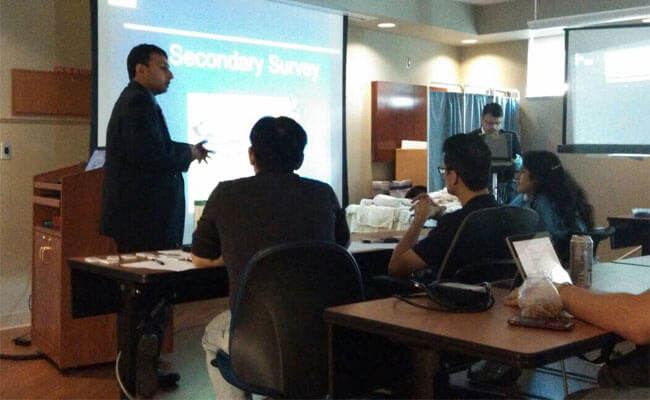 Acute Sonography Experts from AIIMS namely Course Master Dr. Sanjeev Bhoi and Course Director Dr. Deepak Agarwal lead the course supported by Dr. Sagar Galwankar from the University of Florida – Jacksonville – Winter Haven Emergency Medicine. Dr. Derr Ultrasound Director from the USF supported by USF Co-Faculty Dr. Laurie and Dr. Tom Jelic were the other educators who achieved taught in the sessions.
Around 20 Interdisciplinary Trainees consisting of Senior Faculty and Junior Faculty from Critical Care, Surgery, Pulmonology. Anesthesia and Emergency Medicine took part in the course.
AIIMS-AUTLS is a unique course which was designed in 2009 and has been taught at multiple academic locations in India. Overseas AULTS has been extensively taught in Asia and now spread its wings to the USA.
Care of multiply injured victim is challenging in pre-hospital, emergency department and intensive care settings. It becomes more difficult when you perform trauma resuscitation and advanced cardiac life support protocols in a blinded fashion. Ultrasound has been typically described as an extension of the palpating hand and a "visual" stethoscope during the physical examination, providing both anatomic and functional information complementary to the routine physical examination.
Dr. Sanjeev Bhoi envisioned the creation of an easy to learn and easy to usesonography course So as to make Point of Care Diagnosis in Acute Care a simple task to save lives. In 2010 he led the creation of the International Council for Critical Emergency Sonography (ICCES) which is a partnership of Academic Ultrasound Focused Institutions and Innovators worldwide.
INDUSEM played an instrumental role when in 2007 it introduced Acute Care Sonography to India. Dr. Derr was the first US Emergency Ultrasound Educator who taught EM Sonography to Emergency Physicians in India. Since then AIIMS worked on the AUTLS concept and developed its own course using Available Scientific Evidence and along the way creating its own evidence by research. The algorithms created are unique and hence the model and the modules are far superior to any other course taught by any agency across the World.
In 2011 AIIMS held the World Congress of Emergency Sonography and in 2015 will hold the 11th INDO-US World Congress of Emergency Medicine.
The AUTLS Course is a living example of MAKE IN INDIA and now a proud testimony of INDO-US Partnership.
About INDUSEM
The INDUSEM mission is to envision and implement the future of Patient Care across the world. The partnership brings together Expert Educators, Inquisitive Innovators and Physicians supporting Safe Patient Care across India, United States and the World.  INDUSEM is the Top International Partnership across the World and brings together Institutions, Individuals and Initiatives focused on improving patient care globally. Till date INDUSEM has reached over 50,000 Experts and its reach continues to grow daily. For more information, visit www.indusem.org
About ICCES
The International Council for Critical Emergency Sonography (ICCES) was set up in 2010 as a Coalition of Academic Leaders across the World with a focus on developing the Science and Innovation in the Field of Acute Care Sonography in Emergency and Critical Medicine. Lead by Experts from Europe, Middle East, Asia and The United States ICCES has become a platform for collaborative research, education and development across the Academic World. ICCES runs various training programs across the World and is the Inventor of the World Famous AUTLS Training Course: The AIIMS Advance Ultrasound in Trauma and Life Support. For More Information Click
About AIIMS, Delhi
AIIMS was inaugurated in 1956, in New Delhi as per the vision of Rajkumari Amrit Kaur, the first Health Minister of India who dreamt to establish an institute of such nature in India.AIIMS Delhi was ranked at third place in the first list of the Times Higher Education India Reputation Rankings, published alongside the Times Higher Education World Reputation Rankings in 2013. AIIMS has been consistently ranked the top medical college in India to pursue any Medical degree by India Today in annual surveys starting in 1997 and was ranked No. 1 in 2013. AIIMS has held the top slot for the last six years in a row, and has been ranked first for 11 out of the 12 years that India Today has conducted the survey. AIIMS was also ranked No. 1 in Outlook India ranking of medical colleges in 2013. AIIMS excellence has to do with several factors – small class size, excellent library facilities, liberal clinically oriented teaching, research exposure and the ability to set its own curriculum. Several surveys by The Week and Outlook magazines have named AIIMS the best hospital in India overall, as well as the best in several individual fields such as Cardiology, Neurology, Gastroenterology, Gynecology and Ophthalmology, ahead of several specialized institutions. The hospital has been able to maintain high standards of quality while seeing large numbers of patients (3.5 million in 2006) at very low cost to patients (16¢ US)), many of whom live in extreme poverty. The AIIMS Department of Emergency Medicine and the JPN Apex Trauma Center are the testimony of Indian Advancement in Academic Acute Medicine.www.aiims.edu
About USF-TGH EmergencyMedicine
The Division of Emergency Medicine has been an academic unit within the College of Medicine since 2003. It is responsible for the medical direction of the Tampa General Hospital Emergency Care Center and the USF Emergency Medicine Residency Training Program. Most of the Emergency Medicine training occurs at TGH. USF Health includes the Colleges of Medicine, Nursing, Public Health and Pharmacy and sponsors residency training in 42 specialties. The USF EM program was established in 2003 through the work of David Orban, MD, Tampa General Hospital, the University of South Florida and TEAM Health. Kelly O'Keefe, MD was named program director and we have grown rapidly since that time. Our maturation has allowed the addition of fellowships in ultrasound, EMS, Critical Care, Administration as well as 29 strong faculty members with specialization in simulation, research, medical education, toxicology, disaster medicine, ultrasonography, EMS, and pediatrics. The 3 year residency program has 30 residents and is located at Tampa General Hospital, a Level 1 urban tertiary care and regional burn center with 90,000 visits per year and over 900 beds with 60% of all hospital admissions coming through the emergency department doors. The ED opened in 2007 and is a beautiful (and busy!) facility with mostly private rooms with specialties and imaging available 24 hours a day. Nearby in downtown Tampa, we have our state of the art simulation center (CAMLS) for advanced case based and procedural training http://health.usf.edu/medicine/internalmedicine/emergency/