The 3rd Clinical Congress of The American College of Academic International Medicine (ACAIM) was held at SUNY Downstate Medical Center, NYC from 27th July to 29th July 2018.The ACAIM Annual meeting is named as Academic International Medicine (AIM) Congress.
INDUSEM Leaders had led the founding of The American College of Academic International Medicine in July 2016 at the 1st Constitutional Congress in Pennsylvania.
AIM2018 was attended by over 130 Delegates with Residents and Fellows presenting their research from across the world. The congress was supported by OPUS12 Foundation, INDUSEM, SUNY Downstate and the Drs. Kiran and Pallavi Patel Family Foundation.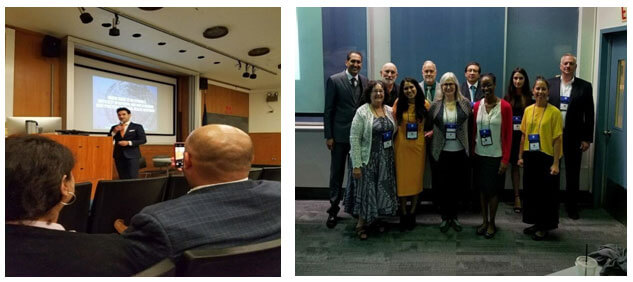 DR. Craig Spencer (Columbia University) & Dr. Gorgas (Ohio State University) were key note speakers AIM2018 had than 50 + Podium Presentations and many World Renowned Academicians spoke at this Successful Academic Extravaganza.
The AIM2018 Consensus Conference was on ""Global Health Security: New Perspectivesand Challenges". Academicians with a focus on International Medicine from various Universities and Academic Specialties in the United States participated in the Consensus Conference.
The proceedings will be published in the International Journal of Academic Medicine. www.Ijam-web.org
AIM2019 will be held in Philadelphia in July 2019. It will be hosted by Temple University.

Professor Manish Garg (Temple University) took over as President of ACAIM for 2018-2019 from President Arquilla (SUNY Downstate)
ACAIM is the voice of Academic American Physicians working internationally. The Founding of ACAIM was a defining step in the organized medicine sector of the United States. INDUSEM is committed to supporting the growth of ACAIM. The work accomplished by INDUSEM mirrors the ideology and principles on which ACAIM is founded. The 3rd Clinical Congress was a grand success" said INDUSEM CEO and ACAIM Executive Director Dr. Sagar Galwankar.
Related News:
About ACAIM
ACAIM aims to promote the mission of Academic International Medicine (AIM) professionals in the United States and beyond. It will focus to promote clinical, educational and scientific collaboration of AIM professionals, both domestically and globally. ACAIM works to create a platform for domestic and global coordination of academic, clinical and educational efforts involving AIM professionals. ACAIM Leaders are encouraged to educate, generate and publish new knowledge, create relevant guidelines, and assist policy making in the area of international medicine. For More Information: www.ACAIM.org
About INDUSEM
The INDUSEM mission is to envision and implement the future of Patient Care across the world. The partnership brings together Expert Educators, Inquisitive Innovators and Physicians supporting Safe Patient Care across India, United States and the World. INDUSEM is the Top International Partnership across the World and brings together Institutions, Individuals and Initiatives focused on improving patient care globally. Till date INDUSEM has reached over 50,000 Experts and its reach continues to grow daily. For more information, visit www.indusem.org and has recently added a state-of-the-art pediatric hospital. The foundation have also rebuilt four hospitals post-earthquake in Gujarat in 2001. They are lead promoters of the INDUSEM Mission.
About OPUS12:
OPUS12 Leaders are dedicated to medical research, scientific review, and related educational activities. Their expertise includes value-based healthcare, patient safety, and specialty-specific academic endeavors. Finally, recognizing that the role as research leaders is not complete without leaving a permanent legacy to those who follow in our footsteps, they develop and implement medical education, review programs, and other scholarly activities. OPUS12 recognizes that being a researcher entails a leadership role, and we encourage multi-disciplinary activities and discussion panels that incorporate physicians, scientists, and other professionals to discuss major issues and crises facing our society and our world. For More Information: www.opus12.org
About SUNY DOWNSTATE:
Formally known as The State University of New York Health Science Center at Brooklyn—but better known to our patients and Brooklyn neighbors as SUNY Downstate Medical Center – we are older than the Brooklyn Bridge. We trace our roots back to 1860, when a school of medicine was founded at the Long Island College Hospital. The new college's faculty revolutionized medical education in this country by bringing the teaching of medicine to the hospital bedside, thus rejecting the idea that physicians should be trained exclusively in university lecture halls. Today, SUNY Downstate is one of the nation's leading urban medical centers. SUNY Downstate comprises a College of Medicine, College of Health Related Professions, College of Nursing, School of Graduate Studies, School of Public Health, and University Hospital of Brooklyn. The quality of our education, research, and patient care programs was confirmed with the awarding of the Nobel Prize in Medicine to Dr. Robert Furchgott, a member of our School of Graduate Studies faculty since 1956. Dr. Furchgott's identification of nitric oxide as a signaling molecule important in vascular health has revolutionized care for heart, stroke, impotence, and other diseases. For More Information www.downstate.edu