EMA leader Dr. AjithVenugopalan was selected from India to attend the "Radiation Emergency Medicine" (REM) training at the National Institute of Radiological Sciences (NIRS), National Institute of Quantum and Radiological Science and Technology (QST), Chiba, Japan.
The NIRS training course on Radiation Emergency Medicine in Asia 2018 was organised from 18th – 20th December, 2018 at the NIRS QST, Chiba, Japan.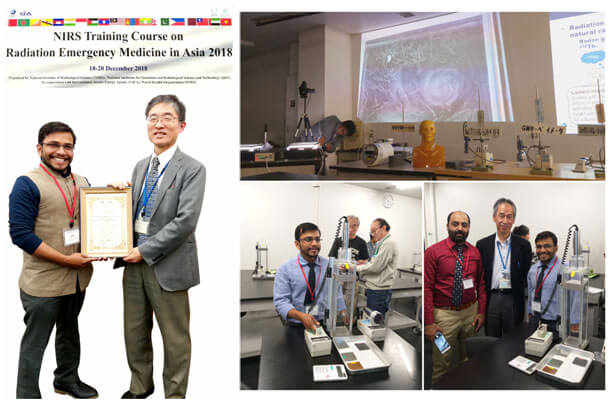 Dr. Ajith was selected for this training program by the NIRS QST, Japan. Trainee from 20 Asian countries participated in the training course.
NIRS aims to train core members of medical professionals in REM who will be a trainer in each country in future, through this "train the trainer" course. This is also intended to create a framework of preparedness and response to radiological emergencies and to create a close network of medical preparedness in radiological emergencies in Asia.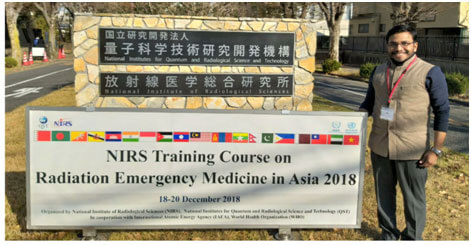 The world we are exposed to various types of disasters – Natural, Man-made, system failure related. In this constantly evolving world, these disasters can produce huge impact in the form of loss of lives and also financial loss. The widespread use of radiation means that radiation accidents are always a possibility. Any radiation incident can result in exposure and/or contamination of the workers or the general public and can lead to a radiological/nuclear emergency. These emergencies don't have international borders. To combat this, proper emergency preparedness plans must be in place so that there is minimum avoidable loss of life, property, livelihood, and also the impact on the environment can also be minimized. There comes the importance of REM training. NIRS being a pivotal centre for capacity building have taken up this task.
The program covered lectures and discussions on the following topics – Basics of REM, Hospital Preparedness and management of exposed and/or contaminated patients, Mental effects in radiological accidents, Activities of World Health Organization (WHO) and International Atomic Energy Agency (IAEA) in radiation emergency medicine, lessons learned from past radiation accidents and radiation terrorism. Principles of decorporation therapy by specific drugs and management of internal decontamination were also discussed.
Through the training, the importance of privileged communication and also how to disclose information's to concerned authorities and to Medias were also discussed with real time experience sharing from the faculty.
There were table top drills on case scenario management, which gave an in-depth knowledge on identification of a Radiation emergency, evaluating such cases, radiation exposure – dose calculation, management of such cases including external and internal decontamination. The experts shared their experience out from the TEPCO Fukushima Nuclear Power plant accident including the mental and psychological supports provided were discussed.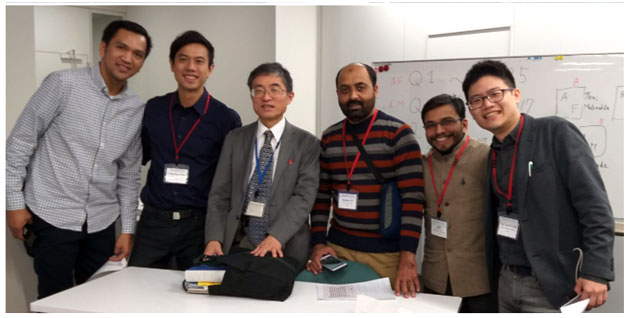 Hands on training in radiation dose assessment with the help of various survey meters like the GM survey meter, Scintillation survey meter etc. were provided in the training program. These training also showcased the shielding effects and the dose variation with distance.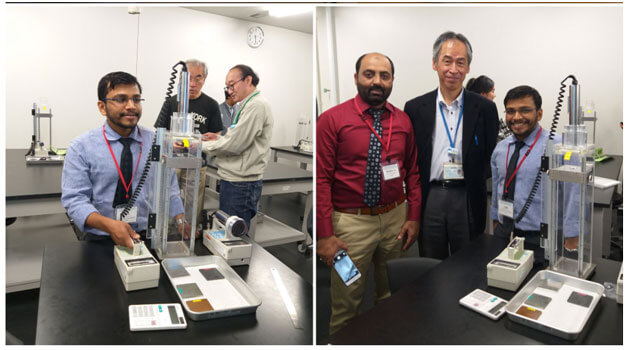 Practical sessions were also conducted at the REM facility of NIRS, Japan. Hands on training on "donning and doffing" of personal protective equipment's (PPE), receiving patients, exposed dose assessment with survey meters, external decontamination were provided.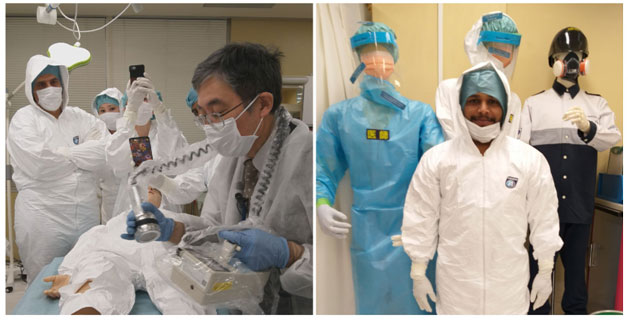 The centre also has the Radiation Emergency Medical Assistance Team (REMAT). REMAT which was established in January 2010, is a radiological emergency response team that supports the initial medical response to radiation accidents. The team consists of specially trained staffs (Doctors, Nurses, Experts in dose assessment and radiation protection and administrative staffs.) Their works are in collaboration with IAEA and WHO – REMPAN.
Three different REMAT specialized vehicles are dispatched viz:- 1. Support car 2. Ambulance car 3. Measuring car. On-site information's are dispatched to experts in NIRS. According to them, they are ready to provide medical assistance for radiological emergencies all over the world.
About Dr. AJITH VENUGOPALAN. MBBS, MD (EM), FICM, Fellow of Academic College of Emergency Experts in India (FACEE),
Dr.Ajith Venugopalan is the Head of the Department, Dept. of Emergency Medicine at MOSC Medical College Hospital, Kolenchery, Ernakulam, Kerala., India The department of Emergency Medicine at MOSC MCH, Kolenchery was formed under the eminent leadership of Dr.Ajith Venugopalan. He has been a faculty for various national and international conferences. He was also a co-author for few handbooks related to emergency medicine. His special area of interest is Pre-hospital medicine and Disaster Medicine. He has been doing lots of remarkable works in the field of disaster medicine. Have been working towards capacity building in the field. Dr.Ajith is also the National EM Residency Program Coordinator, Emergency Medicine Association (EMA) of India.
About NIRS
NIRS was established in 1957 to research radiation and its effect on the human body. It was also designated as a national core centre for radiation emergency medicine, responding to radiological/nuclear emergencies as well as providing various training programmes for human resources development in Japan. The NIRS is a unique institution in Japan, dedicated to comprehensive scientific research on relationship between radiation and its effects on human health since its establishment and has been driving force for the advancement of radiation science in decades.
In April 2016, NIRS reorganized as QST, merging four other domestic research institutes. The headquarters of QST is also located in Chiba. NIRS-QST has been designated as WHO-REMPAN Collaborating Centre (2013-) and the International Atomic Energy Agency (IAEA) Capacity Building Centre (2017-). For More Information: www.nirs.qst.go.jp
About EMA
The Emergency Medicine Association was founded in 2015 during the INDUSEM2015 World Congress of Academic Emergency Medicine in New Delhi. EMA is the Official voice of competent Emergency Experts. Working towards provision of quality emergency care The EMA is an organized Guild of Emergency Leaders in Health and Medicine. Focused on Developing, Practicing and Progressing Emergency Medicine. EMA has a strong relation with partner organizations, individuals and institutions across the world. The EMA boasts of a strong DNA with its relationships which are geared towards potentiating growth. EMA has the support of the INDO-US Emergency and Trauma Collaborative, the Academic College of Emergency Experts in India and the Academic for Clinical Emergency Nursing in India. For More Information:www.emaindia.net
About INDUSEM
The INDUSEM mission is to envision and implement the future of Patient Care across the world. The partnership brings together Expert Educators, Inquisitive Innovators and Physicians supporting Safe Patient Care across India, United States and the World. INDUSEM is the Top International Partnership across the World and brings together Institutions, Individuals and Initiatives focused on improving patient care globally. Till date INDUSEM has reached over 50,000 Experts and its reach continues to grow daily. For more information, visit www.indusem.org
About MOSC Medical College, Kolenchery, Kerala, India.
Malankara Orthodox Syrian Church (MOSC) Medical College Hospital is situated in Kolenchery, in Ernakulam city, of Kerala state, India. The medical college is a1100 bedded super specialty hospital with reputed medical and nursing college attached. Through its skilled and committed panel of medical professionals, state of the art modern investigative and therapeutic equipment's and its strong thrust in the social welfare programmes, it has established itself as a center for excellence in the health care delivery and also in medical and nursing education. The department of Emergency Medicine under the leadership of Dr.AjithVenugopalan is the latest addition to this vibrant Post Graduate Medical College Hospital. For More Information: http://moscmc.org/