INDUSEM Leader and Swastha Jyoti Paritoshik Winner Dr. Bhakti Hansoti was honored by John Hopkins University when she was listed in The Living the Hopkins Mission Honorees Roll.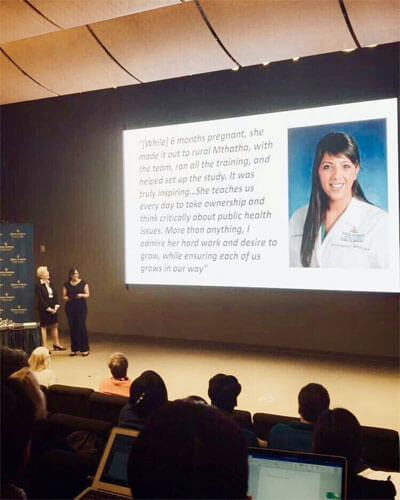 "The 125 Living the Hopkins Mission honorees were selected for their outstanding dedication to our core values, which include:
Excellence & Discovery: Be the best. Commit to exceptional quality and service by encouraging curiosity, seeking information and creating innovative solutions.
Leadership & Integrity: Be a role model. Inspire others to achieve their best and have the courage to do the right thing.
Diversity & Inclusion: Be open. Embrace and value different backgrounds, opinions and experiences.
Respect & Collegiality: Be kind. Listen to, understand and embrace others' unique skills and knowledge.
The 125 Living the Hopkins Mission honorees were nominated by their peers as part of the celebration of the 125th anniversary of the Johns Hopkins University School of Medicine. Read what their peers had to say about each honoree." Per https://www.hopkinsmedicine.org/school-of-medicine-125-anniversary/living-the-hopkins-mission-honorees.html
On the above website, Her Nominator mentions the Following about Bhakti "Bhakti Hansoti has been nominated for this award for her tireless efforts as a mentor and intellectual at Johns Hopkins. Through her persevering work in the Department of Emergency Medicine and international research efforts, she sets a phenomenal example for future female intellectuals in the field.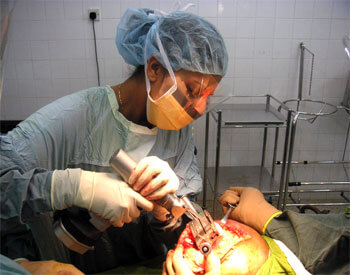 As my personal research mentor and role model, I can speak to her unrelenting commitment to her mentee's development and learning. Dr. Hansoti empowers me to take ownership and think critically about a research problem and to have confidence in myself. As a young medical student, I have grown significantly from her instruction, encouragement and strong example."
"Bhakti has been a Strong Advocate of Preventive Models in Public Health with a keen focus on Emergency Medicine and Trauma Care. She has dedicated her career to practicing what she believes in. Her work in Africa resulted in the creation of a World Renowned Triage Tool for Sick Kids which was recognized and funded by the Fogarty International Center at NIH. I am very proud that she is an INDUSEM Leaders and like all our INDUSEM leaders she too is doing great things to change the world one stride at a time. God Bless Her and Congratulations to her husband Dr. Kasarabada and their Daughter Anushka." Said INDUSEM CEO Dr. Sagar Galwankar

About Dr. Bhakti's work at NIH-FOGARTY:
https://www.fic.nih.gov/News/GlobalHealthMatters/july-august-2014/Pages/bhakti-hansoti-child-health-south-africa.aspx
About Dr. Bhakti Hansoti:
"Dr. Hansoti received both her undergraduate and medical degrees from Edinburgh University, Scotland. Completed a residency in emergency medicine at the University of Chicago and joined the department of Emergency Medicine at Johns Hopkins as an International Emergency Medicine fellow in 2012. In her short tenure at Hopkins Dr. Hansoti completed both a Masters in Public Health (MPH) from the Johns Hopkins Bloomberg School of Public Health and an Doctorate in Philosophy (PhD) from the University of Cape Town; has published over 35 manuscripts; given numerous invited talks nationally and internationally; held varied national and international leadership roles; is an active member of the JHU SOM IRB; and received a Fogarty Fellowship award, a Thrasher Early Career Award and the JHU Clinical Scientist Award. Her primary research focuses on the development of a unique HIV testing and linkage to care intervention using an active implementation approach to overcome behavioral and organizational barriers within the Emergency Care setting in South Africa. HIV remains one of the largest contributors to morbidly and mortality in South Africa and the emergency department could be central to reducing the burden of HIV in South Africa by initiating HIV testing and linkage to care. Apart from her research, Dr Hansoti has been very active as an educator and program builder, she is a mentor to numerous students and residents both at SOM and SPH, and serves as the Associate Director for Academic Programs at the Johns Hopkins Center for Global Health under the leadership of Dr. Thomas Quinn. Recently Dr. Hansoti was named the learning director for the 94 million dollar USAID Sustaining Technical and Analytical Resources (STAR) program (previously known as the global health fellows program)." More: https://www.jhsph.edu/faculty/directory/profile/3260/bhakti-hansoti
More Images: www.drbhakti.com
About INDUSEM
The INDUSEM mission is to envision and implement the future of Patient Care across the world. The partnership brings together Expert Educators, Inquisitive Innovators and Physicians supporting Safe Patient Care across India, United States and the World. INDUSEM is the Top International Partnership across the World and brings together Institutions, Individuals and Initiatives focused on improving patient care globally. Till date INDUSEM has reached over 50,000 Experts and its reach continues to grow daily. For more information, visit www.indusem.org
About John Hopkins School of Medicine
"The Johns Hopkins University School of Medicine (JHUSOM), located in Baltimore, Maryland, U.S.A. (founded in 1893) is the academic medical teaching and research arm of the Johns Hopkins University, founded in 1876. The School of Medicine shares a campus with the Johns Hopkins Hospital, established in 1889. Johns Hopkins has consistently ranked among the nation's top medical schools in the number of research grants awarded by the National Institutes of Health. Its main teaching hospital, the Johns Hopkins Hospital, was ranked the #1 hospital in the United States for 22 years by U.S. News & World Report" More: https://en.wikipedia.org/wiki/Johns_Hopkins_School_of_Medicine
Website: www.hopkinsmedicine.org