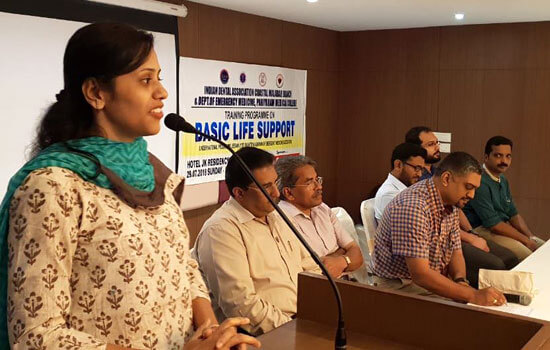 Medical emergencies in the Dental office are not common and dentists are expected to posses the essential knowledge, skills and equipment to handle these emergencies. As a part of the continuing focus on improving primary emergency care in Kerala, EMA leaders from Department of Emergency Medicine at Pariyaram Medical College in collaboration with the Costal Malabar branch of Indian Dental Association conducted a one day workshop on Basic Life Support for the Dental Surgeons at Kannur, Kerala under the Jeevan Jyothi Rashtriya Abhiyan national program of EMA. Jeevan Jyothi Rashtriya Abhiyanis an EMA initiative that is focused on building the expertise of all citizens and medical professionals across India in providing Basic Emergency Care when a patient needs it wherever and whenever. Basic Resuscitation and Trauma Care Skills form the core foundation of this tested and successful National Training Program.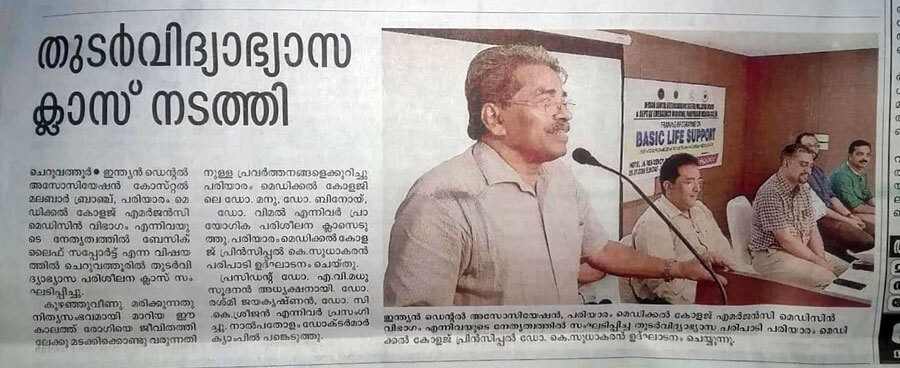 This workshop was designed to help the dental surgeons to identify & respond to the common emergencies that they might face in their daily practice in the dental office. The delegates were trained in various aspects of basic life support & airway management. The workshop began with a pretest that was soon followed by the inaugural ceremony & introduction of faculty (Dr. Manu Ayyan, Assistant Professor, MD EM; Dr. Vimal Rohan, Assistant Professor, MD EM; Dr. Binoy Xavier, Senior Resident, MD EM). The workshop was inaugurated by Dr. P. Sudhakaran, Professor Dept of Emergency Medicine & Principal, Academy of Medical Sciences, Pariyaram in the presence of the Indian Dental Association's Costal Malabar branch President, Dr. Madhusoothanan M V; CDE Convenor, Dr. Reshmi Haridas and IDA Costal Malabar branch Secretary, Dr. Sreejan C K.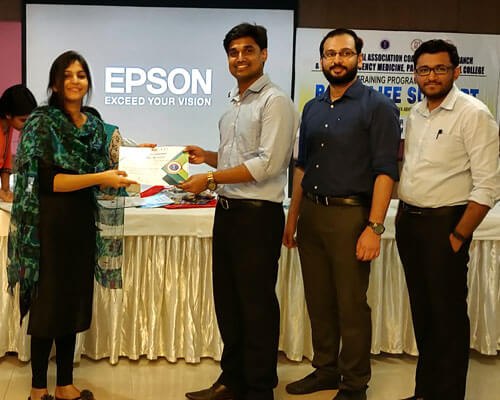 Dr. Vimal Rohan began the workshop with an introduction in to the various concepts of resuscitation and basic life support followed by Dr. Manu Ayyan, who led the delegates into hands on training in CPR and adult BLS. Child and Infant BLS was elucidated by Dr. Binoy Xavier. All the delegates were provided ample opportunity to interact with the faculty, clear their queries and train on the mannequins. The workshop was followed by a post-test that examined the skill and knowledge gained by the delegates. The day winded with a valedictory function where certificates were awarded to all the delegates. The workshop was well received and the delegates were galvanized with confidence in handling common medical emergencies.
Related News :
About IDA Costal Malabar Branch
IDA Coastal Malabar is a Branch of Indian Dental Association (IDA), was inaugurated on 1st Nov. 2001 by the National President Dr.U.S.KrishnaNayak. President IDA Kerala Dr.Thomas Philip installed Dr.K.T.Suresh and Dr.Santhosh Sreedhar as the Charter President and Charter Secretary. The jurisdiction of the branch is from Payangadi to Kanhangad, the coastal belt of northern Kerala, hence the name Coastal Malabar. The main places of the branch includes Payangadi, Pilathara, Mathamangalam, Payyanur, Cherupuzha, Trikarpur, Chervathur, Nileshwar and Kanhangad.On recognition of the branches earnest and meritorious service, in the very first year of inception branch was awarded the `Best Branch Award` and `Best Secretary Award` of the Kerala state branch for the IDA year 2001-02. More Information: http://idakerala.org/Branch/Branchhome.asp?x=4
About Pariyaram Medical College
Academy of Medical Sciences, Pariyaram Medical College is a premier super-specialty medical institute, the only one of its kind in the co-operative sector in India. The 1200-bedded medical college is the only tertiary referral center for northern Kerala.The Kerala state government has taken over the medical college and hospital and currently under board of control of state government. Emergency Department at Pariyaram was one of the first to start Emergency Medicine Residency Training in south India and is currently training 2 MD Emergency Medicine residents per year. For More Information: http://www.mcpariyaram.com/
About EMA
The Emergency Medicine Association was founded in 2015 during the INDUSEM2015 World Congress of Academic Emergency Medicine in New Delhi. EMA is the Official voice of competent Emergency Experts. Working towards provision of quality emergency care The EMA is an organized Guild of Emergency Leaders in Health and Medicine. Focused on Developing, Practicing and Progressing Emergency Medicine. EMA has a strong relation with partner organizations, individuals and institutions across the world. The EMA boasts of a strong DNA with its relationships which are geared towards potentiating growth. EMA has the support of the INDO-US Emergency and Trauma Collaborative, the Academic College of Emergency Experts in India and the Academic for Clinical Emergency Nursing in India. For More Information: www.emaindia.net
About Jeevan Jyoti Rashtriya Abhiyan and Jan Suraksha Abhiyan
Championed by INDUSEM Leaders the JeevanJyotiRashtriyaAbhiyan and Jan Suraksha Abhiyan is the Umbrella Flagship Initiative at the National Level which envisions to bring together all the individual local initiatives by NGO, Local Bodies and Organizations to prepare the communities and citizens of India towards preventing injuries, leading a safer lifestyle and responding to emergencies when being in an emergency situation. Inaugurated by the Honorable Governor of Uttar Pradesh His Excellency Shri. Ram Naik, the Rashriya Abhiyans are now functioning across States of India. For more Information: http://www.indusem.org/public-health-2/
About INDUSEM
The INDUSEM mission is to envision and implement the future of Patient Care across the world. The partnership brings together Expert Educators, Inquisitive Innovators and Physicians supporting Safe Patient Care across India, United States and the World. INDUSEM is the Top International Partnership across the World and brings together Institutions, Individuals and Initiatives focused on improving patient care globally. Till date INDUSEM has reached over 50,000 Experts and its reach continues to grow daily. For more information visit: www.indusem.org
Courtesy: Google Images