On 25th March 2018 The EMA Maharashtra State Chapter was founded under the Leadership of Professor Rajeshwari Vhora Head of DPU Emergency Medicine.
EMMaharahstra2018 the Inaugural Annual State Conference of The Emergency Medicine Association was held on 24th and 25th March 2018 at The DY Patil Medical College and DPU University Campus in Pune.
Led by MCI/NBE Recognized Emergency Medicine Faculties the attendees were witness to a high quality agenda full of fundamental training points on ECG, ABG and Ventilation Management in Emergency Clinical Scenarios.
The Executive Meeting of the Academic Leaders of EMA Maharashtra was held simultaneously with the State Conference.
The Founding Leaders of EMA Maharashtra are:
Professor Bhot (Bharati Vidyapeeth EM)
Professor Bhusare ( MGM University EM)
Professor Dipali Rajpal (DY Patil University EM Navi Mumbai)
Professor Baviskar (DY Patil University EM Navi Mumbai)
Dr. Navneet Singh (Chair of Nanavati Hospital EM)
Dr. Suchitra Mohite (Chair of KEM Hospital EM)
Dr. Pasha (Chair and Director of Jehangir Hospital EM Pune)
Dr. Atul Tungekar (Dinanath Hospital EM Pune)
"EMA Maharashtra will create new standards in Medical Education, Research and Patient Care and be beacon of best practices for Emergency Care in Maharashtra. I congratulate Professor Vhora as she assumes her role as Under Secretary of Maharashtra State of The Emergency Medicine Association. She is one the most dynamic leaders of the INDUSEM Mission" said Dr. Sagar Galwankar CEO of INDUSEM.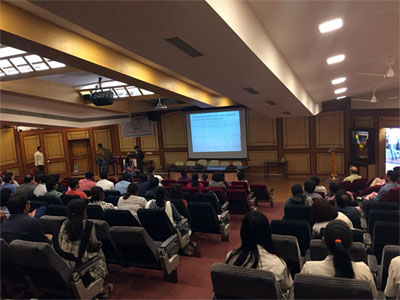 Related News :
About EMA
The Emergency Medicine Association was founded in 2015 during the INDUSEM2015 World Congress of Academic Emergency Medicine in New Delhi. EMA is the Official voice of competent Emergency Experts. Working towards provision of quality emergency care The EMA is an organized Guild of Emergency Leaders in Health and Medicine. Focused on Developing, Practicing and Progressing Emergency Medicine. EMA has a strong relation with partner organizations, individuals and institutions across the world. The EMA boasts of a strong DNA with its relationships which are geared towards potentiating growth. EMA has the support of the INDO-US Emergency and Trauma Collaborative, the Academic College of Emergency Experts in India and the Academic for Clinical Emergency Nursing in India. For more Information: www.emaindia.net
About DPU
Dr. D. Y. Patil Vidyapeeth, Pune, aka DPU, has been providing high quality education in the Faculties of Medicine, Dentistry, Allied Medical Sciences, Nursing, Biotechnology & Bioinformatics, Management and distance learning through eight institutions. In each program the University ensures the provision of high quality education, the pursuit of knowledge and the creation of new ideas.DPU-Emergency Medicine was launched in 2013.The Department of Emergency Medicine is fully equipped with all the equipment/instruments to offer world-class services to patients & training to residents under one roof. The department has qualified and experience teaching faculty. It has a MCI Recognized Residency Program in EM which admitted its first candidates in 2014.www.dpu.edu.in
About INDUSEM
The INDUSEM mission is to envision and implement the future of Patient Care across the world. The partnership brings together Expert Educators, Inquisitive Innovators and Physicians supporting Safe Patient Care across India, United States and the World. INDUSEM is the Top International Partnership across the World and brings together Institutions, Individuals and Initiatives focused on improving patient care globally. Till date INDUSEM has reached over 50,000 Experts and its reach continues to grow daily. For more information, visit www.indusem.org