The EMA Chapter of Royal Rajasthan was inaugurated at AIIMS Jodhpur which is directed by the Honorable Director Professor. Sanjeev Misra.


The Chapter held its first State Level Conference focused on developing Protocols for Trauma and Emergency Care. The AIIMS Jodhpur Academic Department of Emergency Medicine is set to induct its inaugural residents in the near future.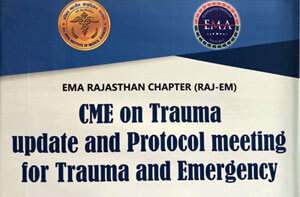 AIIMS Jodhpur Academic EM and Trauma Department is led by Professor Puranik. EMA Leader Dr. Ram Karan is leading efforts to establish Academic Emergency and Trauma Education and Research Systems in State of Rajasthan.
The Two Day Academic Event was highlighted by the power packed presentation from the World Health Organization Collaborative Center on Emergency and Trauma Director Prof. Sanjeev Bhoi.
INDUSEM Country Chief Prof. Bhoi emphasized the importance of an Integrated Sonography Curriculum in Medical Education as he professes and believes that Sonographyis a Visual Stethoscope in Medicine.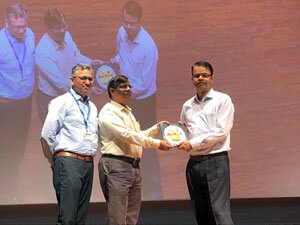 Attended by a large number of delegates EMA Rajasthan set the course for further academic partnerships at a Regional, National and International Level.
"I Congratulate the Team at AIIMS Jodhpur for picking up the mantle to establish and lead EMA Rajasthan and I have full confidence that they will serve as a Beacon of Academic Supremacy in the region so that patient care will improve to the best for all Emergency Patients" Said INDUSEM CEO and ACEE President Dr. Sagar Galwankar.
Related News: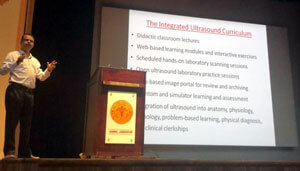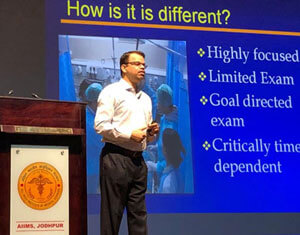 Upcoming EMA Chapters across India in 2019
About EMA
The Emergency Medicine Association was founded in 2015 during the INDUSEM2015 World Congress of Academic Emergency Medicine in New Delhi. EMA is the Official voice of competent Emergency Experts. Working towards provision of quality emergency care The EMA is an organized Guild of Emergency Leaders in Health and Medicine. Focused on Developing, Practicing and Progressing Emergency Medicine. EMA has a strong relation with partner organizations, individuals and institutions across the world. The EMA boasts of a strong DNA with its relationships which are geared towards potentiating growth. EMA has the support of the INDO-US Emergency and Trauma Collaborative, the Academic College of Emergency Experts in India and the Academic for Clinical Emergency Nursing in India. For More Information: www.emaindia.net
About INDUSEM
The INDUSEM mission is to envision and implement the future of Patient Care across the world. The partnership brings together Expert Educators, Inquisitive Innovators and Physicians supporting Safe Patient Care across India, United States and the World. INDUSEM is the Top International Partnership across the World and brings together Institutions, Individuals and Initiatives focused on improving patient care globally. Till date INDUSEM has reached over 50,000 Experts and its reach continues to grow daily. For more information visit www.indusem.org
About ACEE
The Academic College of Emergency Experts was established by Leaders of INDUSEM to create a guild of expert clinicians who are have a mastery at providing safe patient care with high quality therapeutics based on latest evidence based medicine. The only Unique College in Asia ACEE only bestows affiliation after a rigorous coaching and testing process hereby maintaining its high standards of commitment to education and excellence. It surpasses the erstwhile ideology of existing academic colleges where affiliation is based on recommendation. There are multiple pathways to be a Fellow of the College namely Emergency Medicine, Emergency Pediatrics. Toxicology, Emergency Nursing Pathway etc. For More Information Visit www.acee-india.org
About AIIMS Jodhpur
AIIMS Jodhpur is one of the SIX NEW AIIMS established by the Ministry of Health & Family Welfare, Government of India under the Pradhan MantriSwasthya Suraksha Yojna (PMSSY) with the aim of correcting regional imbalances in quality tertiary level healthcare in the country and attaining self-sufficiency in graduate and postgraduate medical education. PMSSY planned to set up 6 new AIIMS like institutions in underserved areas of the country.These institutions are being established by an Act of Parliament on the lines of the original All India Institute of Medical Sciences in New Delhi which imparts both undergraduate and postgraduate medical education in all its branches and related fields, along with nursing and paramedical training to bring together in one place educational facilities of the highest order for the training of personnel in all branches of health care activity. For More information: www.aiimsjodhpur.edu.in