The Unique, Path breaking Innovative Conclave on Pre-hospital care and medical emergencies was conducted by SAVIOR in association with the District administration, Dakshina Kannada.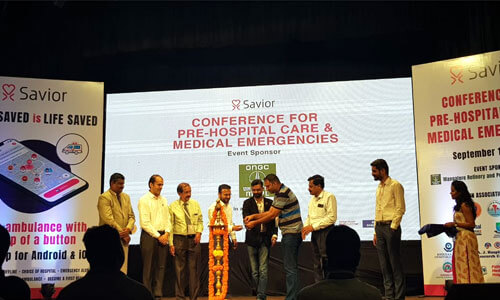 The Conclave was conducted simultaneously at 9 hospitals – KMC hospital, AJ institute, Father Mullers Hospital, KS Hegde hospital, Indiana Hospital, Yenapoya Medical College, kanachur Hospital Alva's Health centre and District Wenlock hospital.
Around 230 individuals in total were trained and certified in Adult Cardio-pulmonary resuscitation (CPR), CPR in small children and were also briefed about handling emergencies like choking, asthma, burns, bites and stings. The training also included demonstrations in essential trauma care like spine stabilization, log rolling and transport technique, helmet removal technique in bike accidents, splinting of fractured limbs and tips on how to stem blood loss while attending a trauma victim.
The conference on the 16th discussed topics like Road safety, importance of pre-hospital care and How to use Automated defibrillators in Sudden Cardiac Arrest.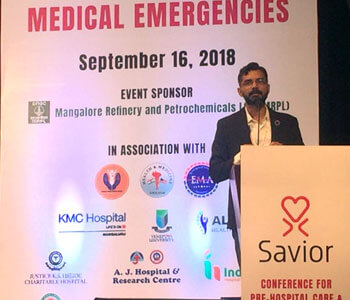 Senior Judge Mr Mallanna Gowda Patel clarified the medico-legal aspects of helping a trauma victim. Dr Vimal Krishnan, Principal Secretory Emergency Medical Association India, DHO Dr Ramakrishna Rao and Dr Padmanabh Kamath, Head of Cardiology, KMC Mangalore were the guests of honour.
The conference was endorsed by the Academic College of Emergency Experts (ACEE) and the Emergency Medicine Association (EMA) under the INDUSEM Collaborative.
The conference also flagged off the SAVIOR CAMPAIGN, an initiative again in partnership with the DC, Dakshina Kannada(South Canara). The campaign aims at 'creating 200 Master Trainers' who will be well versed in managing Emergency Life Support and Trauma, and who in-turn educate others in the community regarding the same. These master trainers will be selected from amongst the general public. The training for the first 50 master trainers is already underway and includes Teachers, Home guards, Traffic police, Fire Department, Asha workers and PHC doctors. The goal of the SAVIOR CAMPAIGN is to ensure that every citizen is educated in Emergency Life Support and essential accident care.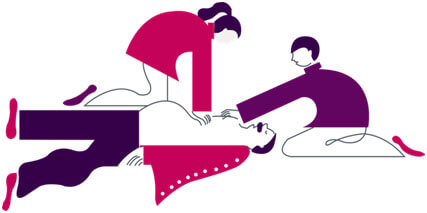 DO YOU KNOW WHAT TO DO WHEN SOMEONE NEAR YOU IS HAVING A MEDICAL EMERGENCY?
SAVIOR CAMPAIGN is a unique initiative where both Private and Govt hospitals will join hands and work together to spread the message of Emergency Life Support. So far Savior team has already trained over a 100 First Responders including, Teachers, Students, Security guards, ex- servicemen, Software engineers, Bank employees, House wives, NSS groups, Rotary members etc.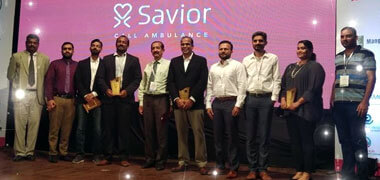 Savior Campaign is an initiative by a group of like-minded Doctors from various hospitals in Mangalore and CodeCraft Technologies headed by Mr Dikshith Rai who have come together to solve a common issue.
Supporting Partners:
The campaign was well supported by Emergency Medicine Association (EMA) which is the only recognised association of Emergency medicine in INDIA along with INDUSEM and FACEE.
The program was conducted under the aegis of JJRA and JSA.It was also supported by the Helping hands and Healing Hearts which is a charitable organisation.
Savior campaign has 3 main objectives 1) Educate common people about Healthcare and Medical Emergencies 2) Encourage community participation by training First Responders to handle Pre-Hospital Care. 3) Improve response times of Ambulances using an Mobile App. Savior Mobile App alerts the nearest ambulance, First Responders and user's emergency contacts with a single click of the button. And with ambulance dispatch happening without operator intervention, precious time is saved. App has networked with 12 hospitals in the city and users can choose to be dropped to any of these hospital irrespective of which hospital's ambulance picks them.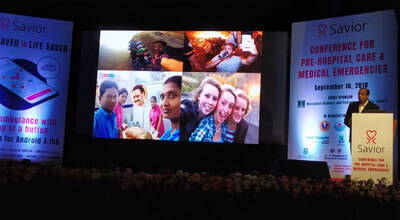 Socio – Impact : Savior has already saved multiple lives in Mangalore and the response time of ambulances is improved upto 75% in most part of the city.
Awards and Recognition : Savior won India's Best Design Award in 2017 by Pool Magazine. This is India's first international design award with a 25 member Jury from 10 countries. Savior also won Silver at 11th International Design Award, Los Angeles. This award had 3200 entries from 95 countries.
EMA Principle Secretary Dr.Vimal Krishnan who is MCI Residency Trained and Board Certified in Emergency Medicine with an MD Emergency Medicine declared the EMA Initiative to create the Master App to bring all the Life Saving Apps Together. This will help end user to go via one platform. EMA is already working on creating this platform which will be soon released.
For Press Releases: http://www.indusem.org/indusem-inpress/
Related News :
About EMA
The Emergency Medicine Association was founded in 2015 during the INDUSEM2015 World Congress of Academic Emergency Medicine in New Delhi. EMA is the Official voice of competent Emergency Experts. Working towards provision of quality emergency care The EMA is an organized Guild of Emergency Leaders in Health and Medicine. Focused on Developing, Practicing and Progressing Emergency Medicine. EMA has a strong relation with partner organizations, individuals and institutions across the world. The EMA boasts of a strong DNA with its relationships which are geared towards potentiating growth. EMA has the support of the INDO-US Emergency and Trauma Collaborative, the Academic College of Emergency Experts in India and the Academic for Clinical Emergency Nursing in India. For More Information: www.emaindia.net
About Jeevan Jyoti Rashtriya Abhiyan and Jan Suraksha Abhiyan
Championed by INDUSEM Leaders the Jeevan Jyoti Rashtriya Abhiyan and Jan Suraksha Abhiyan is the Umbrella Flagship Initiative at the National Level which envisions to bring together all the individual local initiatives by NGO, Local Bodies and Organizations to prepare the communities and citizens of India towards preventing injuries, leading a safer lifestyle and responding to emergencies when being in an emergency situation. Inaugurated by the Honorable Governor of Uttar Pradesh His Excellency Shri. Ram Naik, the Rashriya Abhiyans are now functioning across States of India. For more Information: http://www.indusem.org/public-health-2/
About INDUSEM
The INDUSEM mission is to envision and implement the future of Patient Care across the world. The partnership brings together Expert Educators, Inquisitive Innovators and Physicians supporting Safe Patient Care across India, United States and the World. INDUSEM is the Top International Partnership across the World and brings together Institutions, Individuals and Initiatives focused on improving patient care globally. Till date INDUSEM has reached over 50,000 Experts and its reach continues to grow daily. For more information visit: www.indusem.org