The Department of Emergency Medicine of M.O.S.C Medical College Hospital, Kolenchery, Ernakulam, Kerala in collaboration with MOSC College of Nursing, Emergency Medicine Association (EMA) of India, IMA- Kolenchery branch and Parinama – MOSC College Union'14 organized the National Level Emergency Medicine Conference – EM Genesis2017 at MOSC medical College, Kolenchery on 18th and 19th December, 2017.
The two day conference mainly aimedto concentrate on various aspects of Emergency Medicine giving importance to EM UGcon and EM PGcon, first of its kind in India.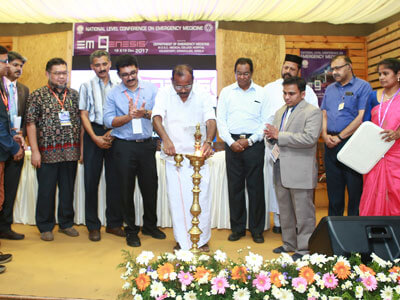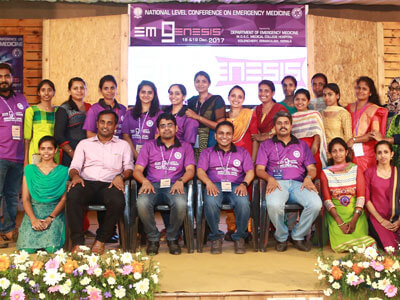 The theme of this conference was to focus on Undergraduates, to make them aware about emergency medicine and also to travel through certain untouched areas of Emergency Medicine like Aviation EM, Marine EM, Wilderness EM, Prehospital care, EM Nursing, Disaster Medicine and Transport medicine and so on.
The conference was inaugurated by Adv. V.P. Sajeendran, Member of Kerala Legislative Assembly from Kunnathunadu constituency, Ernakulam, Kerala. The inaugural function was presided over by Shri. Joy P. Jacob, CEO & Secretary, MOSC Medical College, Kolenchery. Dr. Ajith Venugopalan, Head of the department, Emergency Medicine, MOSC MCH, Kolenchery & Organising chairperson, EM Genesis 2017 welcomed the gathering and stressed on the importance of emergency care in our country and also the need for training undergraduates. The meeting was also attended by Dr. K. K. Diwakar, Dean, MOSC MCH, Prof. P. V. Thomas, Administrative Director, MOSC MCH, Dr. Gireesh Kumar, HOD, Emergency Medicine, Amrita Institute of Medical Sciences, Kochi, Dr. Vimal Krishnan, Principal Secretary, Emergency Medicine Association (EMA) of India, Dr. Nisanth Menon, Organising secretary, EM Genesis, Dr. Shameem K.U, Dr. Sreejith Nair and Rev. Fr. John Kuriakose, Chaplain, MOSC MCH. Dr. SojanIpe, Medical Superintendent, MOSC MCH was a huge support for the conference; he wasn't able to attend the inaugural function.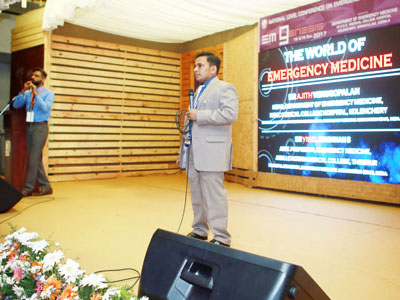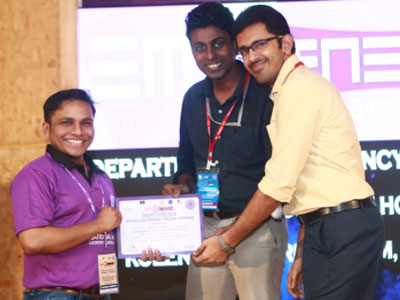 60 plus national and international faculties shared their knowledge and experiences with the delegates. Dr. Ahmad Khaldun Ismail, Consultant Emergency Medicine and Medical lecturer, Department of Emergency Medicine, Universiti Kebangsaan Malaysiai Medical Centre, Malaysia& President, Malaysian Society of Toxinology, Dr. Pramendra Prasad Gupta, Associate Professor, Dept. of Emergency Medicine & General Practise, BP Koirala Institute of Medical Sciences, Nepal, Dr. Nigel Kuriakose, Dept. of Anesthesia& ICU, Sultan Qaboos University Hospital, Oman were the international faculties for the conference.
Over 500 delegates attended the conference, which included doctors, postgraduates, residents, interns, MBBS students, nursing faculties,&students and paramedical staffs from across the country.
There was separate session on oral and poster presentations. Over 40 oral /poster presentations were shortlisted for the conference and awards were given to the best 3.
The unique features of the conference are:
The FIRST national EM UG conference in India.
The FIRST conference which gave thought process into the sub specialities of EM (Wilderness, disaster, Aviation, Transport, Rural EM, EM nursing) in India.
The FIRST conference in India to have EM Debate.
The FIRST conference to have emergency medicine MD's and DNB's as faculty.
Hands on workshops were also conducted along with the conference.
The whole hearted support from the EMA and the EM team and the administration of MOSC MCH, Kolenchery was the main driving force for this conference.
Related News:
About Emergency Medicine @MOSC Medical College Hospital, Kolenchery.
The Emergency Medicine Department of MOSC Medical College Hospital, Kolenchery, Ernakulam district, kerala is spread over 20,000 sq.feet area with a 48 bedded capacity is one of the largest spacious emergency medicine departments in India. It consists of a fully equipped triage, green, yellow and red zones and all modern amenities for patient care. The departmental complex also consists of 24 hour emergency laboratory, X-ray room, blood bank, decontamination zone, procedure rooms, medical/trauma ICU, minor and major operation theatres. The department sees over 50,000 patients an annum. Our services are reflected in our motto "Skills that heal hearts that care". Trained and qualified emergency medicine physicians and 70 plus supporting staffs form the strength of the patient care.For More Information: http://moscmm.org/emergency-medicine-moscmm
About MOSC Medical College, Kolenchery
Malankara Orthodox Syrian Church (MOSC) Medical College Hospital is situated in Kolenchery, in Ernakulam city, of Kerala state. The medical college is a1100 bedded super specialty hospital with reputed medical and nursing college attached. Through its skilled and committed panel of medical professionals, state of the art modern investigative and therapeutic equipment's and its strong thrust in the social welfare programmes, it has established itself as a center for excellence in the health care delivery and also in medical and nursing education.The department of Emergency Medicine under the leadership of Dr. Ajith Venugopalan is the latest addition to this vibrant Post Graduate Medical College Hospital.For More Information: http://moscmc.org/
About EMA
The Emergency Medicine Association was founded in 2015 during the INDUSEM2015 World Congress of Academic Emergency Medicine in New Delhi. EMA is the Official voice of competent Emergency Experts. Working towards provision of quality emergency care The EMA is an organized Guild of Emergency Leaders in Health and Medicine. Focused on Developing, Practicing and Progressing Emergency Medicine. EMA has a strong relation with partner organizations, individuals and institutions across the world. The EMA boasts of a strong DNA with its relationships which are geared towards potentiating growth. EMA has the support of the INDO-US Emergency and Trauma Collaborative, the Academic College of Emergency Experts in India and the Academic for Clinical Emergency Nursing in India. For More Information:www.emaindia.net
About INDUSEM
The INDUSEM mission is to envision and implement the future of Patient Care across the world. The partnership brings together Expert Educators, Inquisitive Innovators and Physicians supporting Safe Patient Care across India, United States and the World. INDUSEM is the Top International Partnership across the World and brings together Institutions, Individuals and Initiatives focused on improving patient care globally. Till date INDUSEM has reached over 50,000 Experts and its reach continues to grow daily. For more information, visit www.indusem.org