EMGUJARAT2018 the Annual State Level Conference of the Emergency Medicine Association of Gujarat was held at Baroda Medical College, Vadodara.
EMGUJARAT2018 was inaugurated by Dr.A.T.Leuva (Dean, Medical College Baroda), Dr.R.N. Daveshwar (Medical Superintendent, SSG Hospital, Baroda), Dr.A.K.Saxena (HOD, Dept. Of EM) and eminent faculties of INDUSEM on 30th June, 2018 at Baroda, Gujarat.

The Round table meeting of Academic Leaders of EM in Gujarat was held on 1st July 2018where discussions were held about the FACEE Module, KPOK Model, NEMBRIC, EXAMATHALON, SKILL SCHOOLS, Attendance to EMINDIA and Annual EM Gujarat.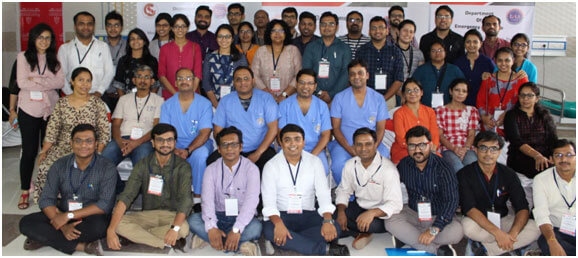 INDUSEM International Leaders Dr. Tejprakash Sinha, Dr. Ajit Baviskar, Dr.Harshad Dongre, Dr. Md Sabah were the National Faculty for EMGujarat2018.
Consultants and Residents from Emergency Medicine, Anaesthesia, Pulmonary Medicine, Paediatrics, fellow in critical care from all over India attended EMGUAJART2018
Undergraduates and Interns from Medical College Baroda and GMERS Medical College Gotrilearnt from a unique concept of Case Based Learning.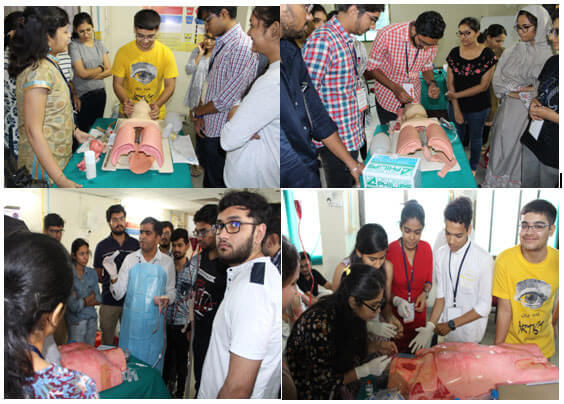 Distinguished Faculty Professors from Gujarat
Dr. Bhavesh Jarwani
Dr. Chirag Patel
Dr. ShrutiSangani
Dr. MehulGajjar
Dr. Harshil Shah
Dr. Aharnish Shah
Dr. Bhavesh Patel
Dr. Harsh Shah
Dr. Krunal Pancholi
Dr. Shreyas Patel
Organising Secretary EMINDIA2018: Dr. Rina Parikh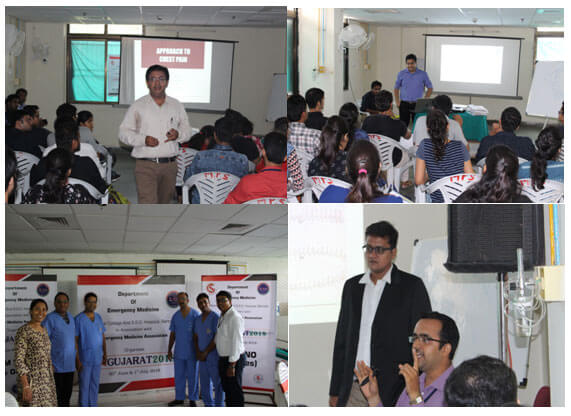 Under the able leadership of INDUSEM Academic Leaders from the Department of Emergency Medicine at Medical College Baroda (Vadodara), EMA Gujarat conducted its Inaugural State Level Conference andgot off to a strong start.

Dr. Shreyas Patel and Dr. Rina Parikh Both visionary Academic leaders of EMA collaborated with GMERS Medical College Gotri and all EM Residency Programs In Gujarat to organize the Meeting.
"Vadodara, Gujarat is where INDUSEM was born…
Gujarat is where it Grows…
INDUSEM Is growing…..
New Leaders, New Ideas, New Energy….
History being Made Daily.
Congrats Team GUJARAT" Said INDUSEM CEO and ACEE President & Chairman Dr. Sagar Galwankar.
EMGUJARAT2019 will be held in Ahmedabad, Gujarat.
Related News:
http://www.indusem.org/ema-vadodara-off-strong-start/
About INDUSEM
The INDUSEM mission is to envision and implement the future of Patient Care across the world. The partnership brings together Expert Educators, Inquisitive Innovators and Physicians supporting Safe Patient Care across India, United States and the World. INDUSEM is the Top International Partnership across the World and brings together Institutions, Individuals and Initiatives focused on improving patient care globally. Till date INDUSEM has reached over 50,000 Experts and its reach continues to grow daily. For more information, visit www.indusem.org
About EMA
The Emergency Medicine Association was founded in 2015 during the INDUSEM2015 World Congress of Academic Emergency Medicine in New Delhi. EMA is the Official voice of competent Emergency Experts. Working towards provision of quality emergency care The EMA is an organized Guild of Emergency Leaders in Health and Medicine. Focused on Developing, Practicing and Progressing Emergency Medicine. EMA has a strong relation with partner organizations, individuals and institutions across the world. The EMA boasts of a strong DNA with its relationships which are geared towards potentiating growth. EMA has the support of the INDO-US Emergency and Trauma Collaborative, the Academic College of Emergency Experts in India and the Academic for Clinical Emergency Nursing in India. For More Information: www.emaindia.net
About Medical College Baroda
Medical College Baroda is an academic institute of repute under the aegis of the Department of Health and Family Welfare, Government of Gujarat and located in the city of Vadodara (formerly known as Baroda), one of the major cities of Gujarat state in Western India. It traces its history to the pre-independent era. The foundation stone of the college was laid in the year 1946 by the former ruler of Baroda Sir PratapsinghGaekwad and the college started functioning from June 1949 with a batch of 40 students. Attached to the college is the 1500 bedded academic teaching hospital, Sir Sayajirao General Hospital, a tertiary care centre which traces its origin to the Countess of Dufferin hospital started in 1865. The College and Hospital are located in a 36 acre campus located in Central Baroda, 1km from the Vadodara Railway & Bus Stations and 3km from the Vadodara airport. It functions as the Faculty of Medicine of the prestigious Maharaja Sayajirao University of Baroda, which is responsible for awarding the degrees to the students. For more info: http://www.medicalcollegebaroda.edu.in/
About GMERS Gotri
The GMERS Society to establish the GMERS Medical College at Gotri, Vadodara in 2011. The institute strives to be among the top medical colleges in India in the spheres of medical education, research and health care services. The GMERS Medical College, Gotri, Vadodara stands testimony to the high professional standards aimed for and achieved by the GMERS Society. Under the able guidance and mature insight of the Founder Dean, Dr. Indira Parmar, the foundation of the present academic vastness was laid. The Medical Council of India recognizes the college. The sprawling 27 acre campus has excellent infrastructure, such as state-of-the art labs, equipments, as well as other facilities that collectively provide a professional environment. The high standards maintained by the College have attracted students from all over the world. Several collaborations for teaching and research, have vastly enhanced the reputation of the College. Behind the reputation of the college, are the solid credentials of an accomplished faculty that imparts quality through a well-planned curriculum, comprising of structured courses. The College, now a constituent college of MS University, is geared to reach a new level of performance and set global standards. For more Info: http://www.gmersmcgv.ac.in/