Department of Emergency Medicine (EM), Indira Gandhi Medical College (IGMC) Shimla organized the Inaugural EMA State Level conference in association with the Department of Pulmonary Medicine IGMC Shimla from 24th – 30th of April. The Global Health Private Limited International training centre of AHA conducted the ACLS/BLS Courses attended by over 200 participants as a part of the preconference. It was for the first time that an AHA course for BLS/ACLS was held in IGMC Shimla in its 51 years of existence. Dr. Vivek Chauhan and Dr.Parmod Jaret, both Fellows of Academic College of Emergency Experts in India (FACEE) have taken the mission of CPR training to a next level,
The major attraction of the EMHimachal Meeting were the thoracic ultrasound workshop held on 29th of April at IGMC Shimla. Dr. Sanjeev Bhoi from Apex Trauma Centre AIIMS, Dr. DigambarNaikClinical Cardiologist from Goa and Dr. Vivek Chauhan, IGMC were the faculty for the course. Dr. Bhoi taught airway, Dr.Digambar taught Emergency ECHO and Dr. Vivek taught lung ultrasound to the participants. The participants included faculty and residents from anaesthesia, residents from Medicine and Pulmonary Medicine.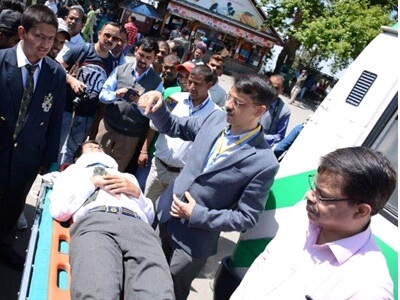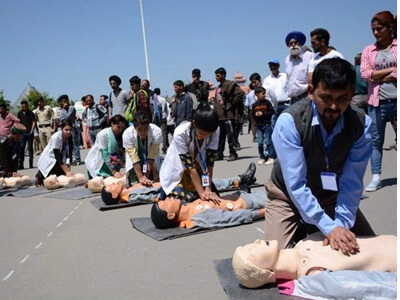 Experts from across India including AIIMS New Delhi and PGIMER Chandigarh were the speakers and more than 300 delegates participated in the event. Dr. Digambar Naik spoke on the role of ECHO in Acute settings.
The Conference culminated with a mega event for the on the Ridge Shimla where over 750 people including school students, police personnel, homeguards, firefighters, nursing students and lay persons were trained in Hands only CPR, use of automated external defibrillator, helmet removal and extrication of victim from a crash vehicle.
The first conference of Department of EM IGMC Shimla was a huge success in terms of the number and quality of trainings in CPR and trauma care provided to the medical and non-medical personnel in Shimla.
In future, the Department of EM IGMC Shimla run by FACEE leaders Dr. Vivek and Dr. Pramod will continue conducting educational and leadership programs for the medical and non-medical personnel of Himachal Pradesh.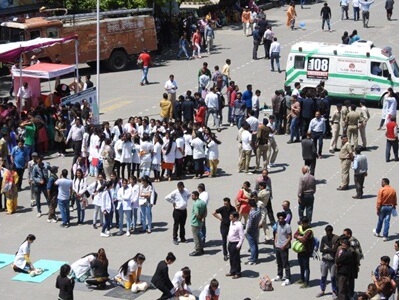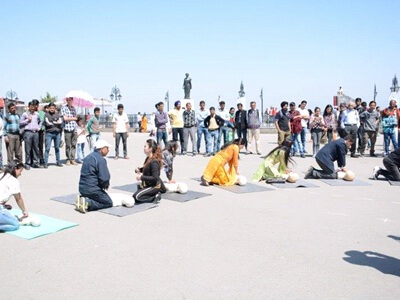 Related News:
About INDUSEM
The INDUSEM mission is to envision and implement the future of Patient Care across the world. The partnership brings together Expert Educators, Inquisitive Innovators and Physicians supporting Safe Patient Care across India, United States and the World. INDUSEM is the Top International Partnership across the World and brings together Institutions, Individuals and Initiatives focused on improving patient care globally. Till date INDUSEM has reached over 50,000 Experts and its reach continues to grow daily. For more information, visit www.indusem.org
About EMA
The Emergency Medicine Association was founded in 2015 during the INDUSEM2015 World Congress of Academic Emergency Medicine in New Delhi. EMA is the Official voice of competent Emergency Experts. Working towards provision of quality emergency care The EMA is an organized Guild of Emergency Leaders in Health and Medicine. Focused on Developing, Practicing and Progressing Emergency Medicine. EMA has a strong relation with partner organizations, individuals and institutions across the world. The EMA boasts of a strong DNA with its relationships which are geared towards potentiating growth. EMA has the support of the INDO-US Emergency and Trauma Collaborative, the Academic College of Emergency Experts in India and the Academic for Clinical Emergency Nursing in India. For More Information: www.emaindia.net
IGMC Shimla
Indira Gandhi Medical College Shimla is a 51-year-old premier medical college of North India. Its alumni include Dr. V M Katoch, retired Secretary DHR and DG ICMR, Dr. RandeepGuleria, current Director AIIMS New Delhi, Dr. Jagat Ram, current Director PGIMER Chandigarh. The college produces 100 MBBS and over 150 MD/MS students each year. In addition, the college trains 400 nursing students in a year. Department of Emergency Medicine has been notified by the Government of HP and posts of 7 faculty members and 16 senior residents have been sanctioned to run the Department. Dr. Vivek Chauhan and Dr.Parmod Jaret who are medicine faculty are looking after the Department as an additional responsibility. Government of HP is expected to soon appoint both of them as regular faculty in EM and thus kickstart the process of establishment of academic EM in HP. Dr. Vivek and Dr. Pramod have taken a bold initiative in association with the Department of Pulmonary Medicine to organize EMHimachal2018 and have surely left a lasting impression on the minds of students, faculty, administrators and the public of Shimla. For More Information: www.igmcshimla.org