EMA Leaders from Karnataka have always been a beacon of light and leadership in Academics. Karnataka's enthusiastic young EM specialists came together and envisioned an annual meeting for EM in Karnataka; EMKARNATAKA 2019. The dream was to merge individual talents into a singular objective to improve EM care and education in our state. It was the first annual state level Emergency Medicine conference in collaboration with the Emergency Medicine Association (EMA) of India held in the garden city of Bengaluru and was organized by St. John's Medical College and Hospital from 18th to 20th January, 2019. The theme of the conference was "Collective Academic Excellence".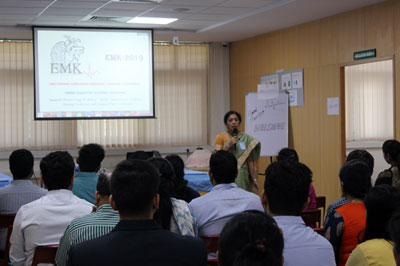 The conference was attended by a diverse group of healthcare professionals including; undergraduates (UG), nursing staff, Emergency Medicine technicians, Emergency Medicine residents and faculty as well as doctors from other specialties involved in Emergency Medicine.

Nursing and undergraduate conference was held on Day 1 (18/01/19). Two workshops were also held on the same day namely Resuscitology and Quality Improvement. The workshop was one of its kind and concentrated on the latest developments in resuscitation and its application to patient care for better outcomes. It was attended by 44 participants from various institutes across South India. The workshop was well received by all the participants and had an overwhelming positive feedback. Quality Improvement (QI) workshop was attended by 31 participants including doctors and nurses. They were engaged by resourceful persons associated with AIIMS and WHO. It dealt with the sequential steps required to undertake an effective QI project for improving patient care in the Emergency Department. The undergraduate workshop discussed the need and the importance of EM in our country to sensitize UGs regarding the budding specialty. There were several sessions by young EM faculty followed by an enjoyable post lunch session of games to apply what they had learnt. The nursing conference had a large number of Emergency Medicine Technicians representing specially trained EM workforce and also participants from nursing background involved in the patient care in Emergency areas.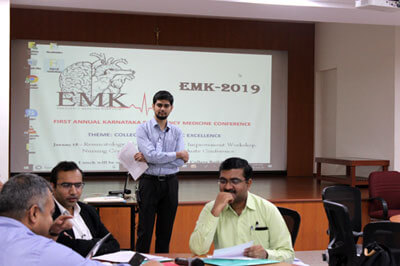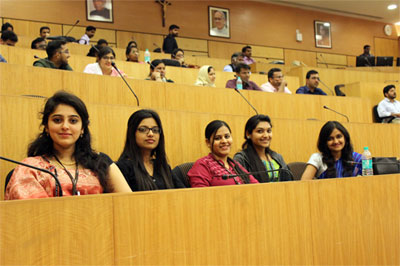 The program was inaugurated by Director of St. John's National Academy Of Health Sciences, Rev. Dr. Paul Parathazham. Dr. Shakuntala Murty, Professor and Head, Dept. of Emergency Medicine, St. John's Medical College Hospital addressed the gathering regarding the growth of EM as a specialty in the state and the need for hard work and dedication by all the young EM physicians for a greater success of the specialty. The Scientific Symposium was held on the 19th and 20th January 2019 discussing the latest advances and burning topics in the field of EM. The sessions were engaged by specialists from a vast variety of medical backgrounds. There was an interactive panel discussion dealing with the challenges and recent guidelines in Metabolic Acidosis. It was followed by podium paper presentations by the budding EM residents.

Clinico Pathological Case discussion was held on the 20th of January 2019. 12 institutes across India participated in the competition. It was an intriguing experience for all the participants and audience. It was followed by scientific sessions and the much awaited Quiz competition. The quiz incorporated an array of topics and the innovative approach was a huge success. It was followed by prize distribution for the winners of poster presentation, paper presentation and quiz competitions. The program ended with a vote of thanks, thanking all including the doctors manning the EDs and everyone who worked towards making this event a grand success.

The 1st Annual EMA Karnataka State Level Emergency Medicine conference was a huge accomplishment. It was successful in inciting the interest among UGs, training the nursing staff involved in Emergency Care and Emergency Medicine Technicians who are the future specialized workforce and arming the young EM residents with the latest guidelines and knowledge pertaining to the practice of Emergency Medicine. EMKARNATAKA 2019 has set an exemplary standard and JSS Medical College and Hospital, Mysuru has accepted the challenge to come up with a befitting academic feast in 2020 in the heritage city of Mysuru.

Related News:
About EMA
The Emergency Medicine Association was founded in 2015 during the INDUSEM2015 World Congress of Academic Emergency Medicine in New Delhi. EMA is the Official voice of competent Emergency Experts. Working towards provision of quality emergency care The EMA is an organized Guild of Emergency Leaders in Health and Medicine. Focused on Developing, Practicing and Progressing Emergency Medicine. EMA has a strong relation with partner organizations, individuals and institutions across the world. The EMA boasts of a strong DNA with its relationships which are geared towards potentiating growth. EMA has the support of the INDO-US Emergency and Trauma Collaborative, the Academic College of Emergency Experts in India and the Academic for Clinical Emergency Nursing in India. For More Information: www.emaindia.net

About INDUSEM
The INDUSEM mission is to envision and implement the future of Patient Care across the world. The partnership brings together Expert Educators, Inquisitive Innovators and Physicians supporting Safe Patient Care across India, United States and the World. INDUSEM is the Top International Partnership across the World and brings together Institutions, Individuals and Initiatives focused on improving patient care globally. Till date INDUSEM has reached over 50,000 Experts and its reach continues to grow daily. For more information, visit www.indusem.org

St. John's National Academy of Health Sciences
It was established in 1963by catholic bishop's conference of India. It comprises of a medical college and Hospital, a college of Nursing, an institute of health management and para medical studies and a dedicated research Institute. The hospital has over 1000 beds and has both specialty and super specialty departments St. John's objective is excellence in academic courses as well as service to society, as a result of which it has truly become holistic both in its outlook and in its approach to the problems of community health.St. John's Medical College was ranked 4th in India by outlook India and ranked 8th in India by careers360 in 2017, 3rd among private institutes.

Department of Emergency Medicine, St. John's Medical College
An independent Department of Emergency Medicine commenced as early as 1998, one of the first of its kind in the country. The department has always kept quality patient care at the forefront with the background of consistent focused EM academics. It has firmly believed that nothing can replace dedicated work by seniors and juniors alike on the floor 24×7 with a personalized approach to every patient. It is presently headed by Professor Shakuntala Murthy, who has over 20 year of acute/emergency medicine experience including 5 years with the NHS. She continues to be a role model for students and colleagues from across India not just by her hard work but also her passionate teaching of a specialty she believes in so much. She is one of the core members of the ACEE and has always encouraged students to grow academically in emergency medicine. Through its 19 year journey the department has seen multiple changes on the academic front with many dedicated faculty members and various training programs. Most recent addition being the MD in 2011, with one MCI permitted seat per year. In 2016, an Emergency Medicine technician-training program also has added to the repertoire of the department's academics. The department attends to over 40,000 patients annually with most requiring extensive workup and diverse forms of emergency intervention; this is due to the fact that St. John's is a well-known hospital in southern India and is strategically placed to receive referral from three states of southern India. The department also has a dedicated Emergency ICU for continuation of care of emergency patients. It also has a busy triage with trained nurses as the first point of contact. Interns and postgraduates from various specialties often look forward to their ED rotation in St John's, as they are aware they will get to see an organized approach to EM. For more Information : http://stjohns.in/

The Emergency Medicine Association Karnataka held its Inaugural State Level Conference. The Team has hosted the 1st World Academic Congress of Emergency Medicine in 2016 in Bengaluru.