Emergency Medicine Association Principle Secretary Dr. Vimal Pillai and INDUSEM ACEE Leader Dr. Siju represented India at the 5th International Emergency Medicine Congress IEMC2018 at Antalya Turkey. They were invited esteemed Scientific Faculty at IEMC2018.
IEMC2018 was accomplished under the able leadership of Professor Basar Cander who also spearheaded the birth of the World Academic Council of Emergency Medicine.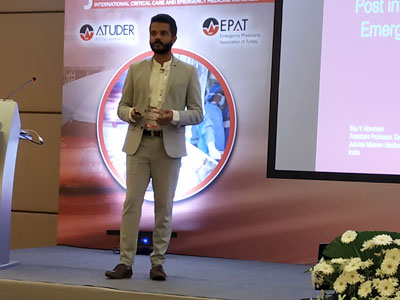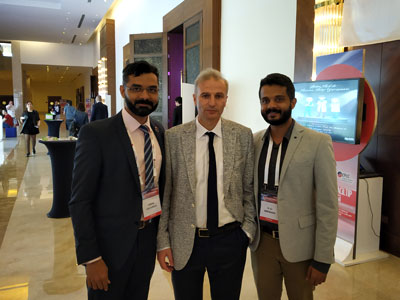 IEMC2018 was start studded academic event with Invited Faculty from US, UK, South Africa, Italy, Germany, Egypt, Singapore, Jordan, Hong Kong, Saudi Arabia,Uzbekistan, Serbia in addition to India. www.iemc2018.com
The Emergency Physicians Association of Turkey (EPAT) is one of the strongest EM collaborative group in the world and is a founding partner of the World Academic Council of Emergency Medicine (WACEM) which is the only conglomerate of EM Academicians across the world.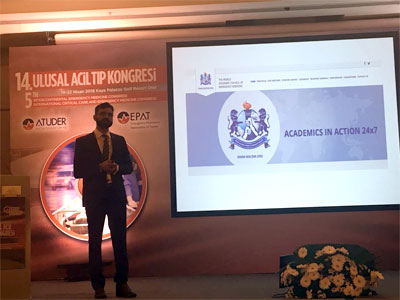 "The Scientific Presentations by Dr. Vimal and Dr. Siju were well received. Turkey and India have been natural partners in Trade and Tourism and it's time to expand this relationship to advancing Emergency Treatments and Acute Medical Technology. EPAT and EMA are not only natural partners but also great leaders who believe in Legitimate EM and the art of quality education, research and patient care. I congratulate the leadership of my good friend Professor Cander and commend his distinguished Global Leadership" Said Executive Director of WACEM and INDUSEM CEO Dr. Sagar Galwankar.
About INDUSEM
The INDUSEM mission is to envision and implement the future of Patient Care across the world. The partnership brings together Expert Educators, Inquisitive Innovators and Physicians supporting Safe Patient Care across India, United States and the World. INDUSEM is the Top International Partnership across the World and brings together Institutions, Individuals and Initiatives focused on improving patient care globally. Till date INDUSEM has reached over 50,000 Experts and its reach continues to grow daily. For more information, visit www.indusem.org
About EMA
The Emergency Medicine Association was founded in 2015 during the INDUSEM2015 World Congress of Academic Emergency Medicine in New Delhi. EMA is the Official voice of competent Emergency Experts. Working towards provision of quality emergency care The EMA is an organized Guild of Emergency Leaders in Health and Medicine. Focused on Developing, Practicing and Progressing Emergency Medicine. EMA has a strong relation with partner organizations, individuals and institutions across the world. The EMA boasts of a strong DNA with its relationships which are geared towards potentiating growth. EMA has the support of the INDO-US Emergency and Trauma Collaborative, the Academic College of Emergency Experts in India and the Academic for Clinical Emergency Nursing in India. For More Information: www.emaindia.net
About EPAT
EPAT is led by Professor Basar Canderwho is President of Emergency Physician Association of Turkey (EPAT) and Chief of Emergency Medicine Department in Necmettin Erbakan University Meram Medicine School, Konya, Turkey and Chief of Emergency Service of Okmeydani Education & Research Hospital, Istanbul,Turkey. EPAT is the leader in the development of emergency medicineespecially during last decade in Turkey. EPAT realized national andinternational congresses and symposiums. Beside Turkey,international symposiums held in Azerbaijan, Macedonia and North Cyprus ofTurkish Republic had main goal to introduce emergency medicine in thiscountries. For More Information: http://www.atuder.org.tr/en/