The Innugural Emergency Pediatrics and Injuries Congress 2018 completed a successful home run on 14th February 2018.
Held in Pearl City of Hyderabad EPICON started off with the Three Day Emergency Medical Pedaitric Advances and Recent Therapeutics Board Review Course (EMPART2018).
The final Two Days of High intensity Discussion forums and case presentations were the highlight of the meeting.
International Academic Leaders Professor Binita Shah and Professor Prashant Mahajan from the prestigious State University of New York Downstate Medical Center and Michigan University led the Academic Sessions which was innugurated by the President of The Indian Academy of Pedaitrics Professor Santosh Soans.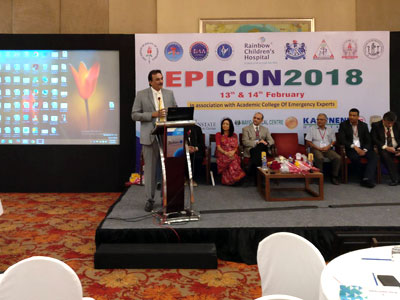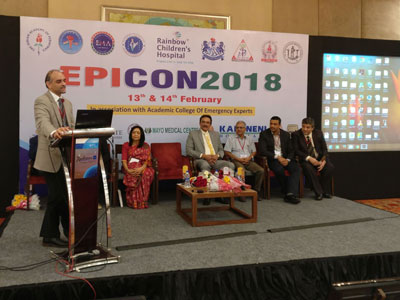 The International Council for Critical Emergency Sonography (ICCES) once again successfully executed the Pediatric Point of Care Sonography Course with panache during EPICON2018 in Hyderabad.
The highly-acclaimed course designed by Sono-Gurus Prof Dr. Sanjeev Bhoi and Dr. Tej Sinha once again enthralled the audience to rave reviews and excellent feedback.
The course was headed the by Dr. Ajit Baviskar with ICCES Core Faculty Dr. Jayaraj Balakrishnan, Dr. Madhu Srinivasarangan, Dr. Atul Jindal and Dr. Vimal Krishnan in addition to regional faculty Dr. Parag Dekate and Dr. Bharath. The AIIMS Pediatrics Point of Care Sonography Course has been popular in India for close to a decade now.
Prof Dr. Prashant Mahajan, Section Chief of American Association of Pediatrics (AAP) appreciated the ICCES revolution and advised the delegates that Point of Care Sonography is the most effective adjunct for the clinician discovered in the past 150 years which has made the most significant impact in clinical care and not to miss the opportunity to be trained in the domain and to utilize it in patient care.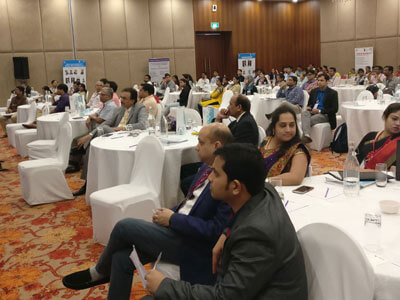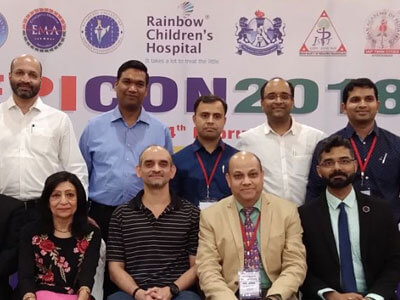 EPICON2018 was endorsed by The World Academic Congress of Emergency Medicine and was supported by Local Chapter of the Indian Academy of Pediatrics, Rainbow Hospitals, Kamneni Hospitals, UCMS-Delhi, Lady Harding Medical College-Delhi, AIIMS, SJMC Bengaluru, Indian Society of Pediatric Traumatology and Many Other Partners.
"I commend Dr. Nitin Chawla the INDUSEM Leader who led he Success of EPICON2018. It's time for Team Hyderabad to take a Bow…..Well Done! "Said INDUSEM CEO Dr. Sagar Galwankar
About EPICON2018
Emergency Pediatrics and Injuries Congress – EPICON, is vision to be an annual academic conclave for innovators in health care with a sheer focus on developing Pediatric Emergency Medicine and Trauma Sciences.
This Annual Congress is a summit where Students, Trainees, Residents, Nurses, Paramedics, Administrators, Policy Makers, Public Health Workers as well as Academic and Practicing Physicians come from across the disciplines in Medicine, as Emergency and Trauma span every medical field. EPICON would be imparting and exchanging quality knowledge in Pediatric emergency care with an innovative interactive platform.
After the huge success of previous EMPART editions, ACEE in association with EMA came up with EPICON 2018, an academic international conference on Pediatric Emergency Medicine and Trauma, conducted by a team who are pioneers in fields of General Pediatrics, Pediatric Emergency Medicine and Pediatric Trauma and Emergency Orthopedics. EPICON2018 offers an open access academic platform which possesses the unique opportunity for clinicians to Interact using the EPICON "Case Based Learning Conference (CBLC)" Model. The EPICON ideology is realistic, practical, nation-focused and patient-centered. The experts at EPICON have learnt over the years that Case Based Learning is a much better way of engaging with experts of today and tomorrow. Hence the "CBLC Model" was created to offer an opportunity to clinical educators, clinical care providers and clinical academicians to interact using case presentations. For More Information: www.epicon.co.in
About INDUSEM
The INDUSEM mission is to envision and implement the future of Patient Care across the world. The partnership brings together Expert Educators, Inquisitive Innovators and Physicians supporting Safe Patient Care across India, United States and the World. INDUSEM is the Top International Partnership across the World and brings together Institutions, Individuals and Initiatives focused on improving patient care globally. Till date INDUSEM has reached over 50,000 Experts and its reach continues to grow daily. For more information, visit www.indusem.org
About ACEE:
The Academic College of Emergency Experts was established by Leaders of INDUSEM to create a guild of expert clinicians who are have a mastery at providing safe patient care with high quality therapeutics based on latest evidence based medicine. The only Unique College in Asia ACEE only bestows affiliation after a rigorous coaching and testing process hereby maintaining its high standards of commitment to education and excellence. It surpasses the erstwhile ideology of existing academic colleges where affiliation is based on recommendation. There are multiple pathways to be a Fellow of the College namely Emergency Medicine, Emergency Pediatrics. Toxicology, Emergency Nursing Pathway etc. For More Information Visit www.acee-india.org
About EMA
The Emergency Medicine Association was founded in 2015 during the INDUSEM2015 World Congress of Academic Emergency Medicine in New Delhi. EMA is the Official voice of competent Emergency Experts. Working towards provision of quality emergency care The EMA is an organized Guild of Emergency Leaders in Health and Medicine. Focused on Developing, Practicing and Progressing Emergency Medicine. EMA has a strong relation with partner organizations, individuals and institutions across the world. The EMA boasts of a strong DNA with its relationships which are geared towards potentiating growth. EMA has the support of the INDO-US Emergency and Trauma Collaborative, the Academic College of Emergency Experts in India and the Academic for Clinical Emergency Nursing in India. For More Information: www.emaindia.net
About ICCES
The International Council for Critical Emergency Sonography (ICCES) was set up in 2010 as a Coalition of Academic Leaders across the World with a focus on developing the Science and Innovation in the Field of Acute Care Sonography in Emergency and Critical Medicine. Lead by Experts from Europe, Middle East, Asia and The United States ICCES has become a platform for collaborative research, education and development across the Academic World. ICCES runs various training programs across the World and is the Inventor of the World Famous AUTLS Training Course: The AIIMS Advance Ultrasound in Trauma and Life Support. For More Info: http://aiimsultrasound.com/