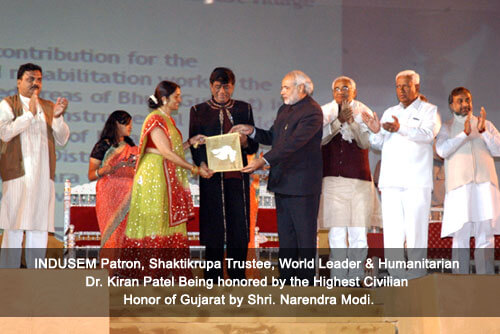 In June 2015 INDUSEM Experts visited the Landmark Rural Social Engineering Project by the Shaktikrupa Charitable Trust Hospital in Motafafalia, Gujarat. Dr. Sanjeev Bhoi and Dr. Deepak Aggarwal travelled to Gujarat to meet up with Experts from the University Of Utah Center for Global Health who have been working at the Village of Motafafalia.
The New Emergency Children's Hospital has now started operating at Motafafalia thanks to the leadership of its Trustee Dr. Kiran Patel and his brothers. Dr. Patel isalso  the Chief Patron of the INDUSEM Movement.
The Rural Hospital with modern facilities for providing proper treatment at nominal charges with a aim to help out the rural people and avoid them from moving on to urban areas for medical treatment and also to assist the poorest poor to provide medical facilities at free of cost.
With excellent management and effective administration, the health centre has been recognized as Gujarat's first 'Grant-in-Aid' Community Health Centre. The hospital has 50 beds and covers over 20,000 square feet. The hospital provides laboratory services, has four operating rooms, X-ray, screening, diagnostics, sonography, emergency rooms, an ambulance bay and a medicine dispensing department. The doctors provide specialized care in Obstetrics & Gynecology, General Surgery, Ophthalmology, Dentistry and General Medicine.
Since its inception the hospital has treated 500,000 out patients and 100,000 in patients. So far 18000 surgeries have been performed and 3000 deliveries have been conducted.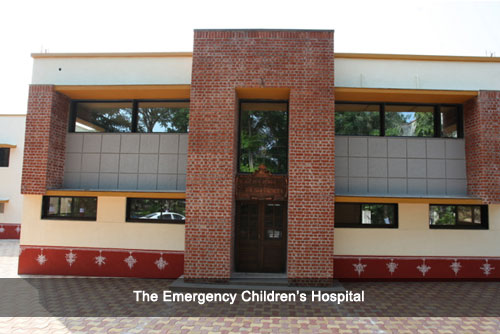 The trust is now focusing on children's hospital, adjoining the existing hospital for providing specialized pediatric care to the acute and chronic health care needs of the 30,000 children of 200 villages. The hospital will house a Neonatal intensive-care unit (NICU), a Pediatric intensive-care unit (PICU), a modular operating room, four general wards and four special rooms for pediatric patients.
All services are low in cost for all and free for the poor and needy. Generally 36% of patients seen receive free treatment. The hospital gets 60% of the recurring expenditure from State Government grants. The remaining is partly recovered from affording patients, and a major part of the deficit is met by benevolent assistance and donations from Dr. Kiran, Dr. Dinesh, Mr. Pradip Patel & Family and other well-wishers& donors.
INDUSEM will be the key partner with the University of Utah lead by Dr. Bernhard Fassl, from the Department of Pediatrics -University of Utahand Shakti Krupa Trust to develop a state of the art Rural Acute Medical Care System across Gujarat which can be replicated across India.
About INDUSEM
The INDUSEM mission is to envision and implement the future of Patient Care across the world. The partnership brings together Expert Educators, Inquisitive Innovators and Physicians supporting Safe Patient Care across India, United States and the World.  INDUSEM is the Top International Partnership across the World and brings together Institutions, Individuals and Initiatives focused on improving patient care globally. Till date INDUSEM has reached over 50,000 Experts and its reach continues to grow daily. For more information, visit www.indusem.org
About the Shaktikrupa Trust
The SHAKTI KRUPA CHARITABLE TRUST is EMPOWERING CITIZENS TO STRENGTHEN THE ROOTS OF THE NATION. In 1983 Shri ChhotubhaiAvichalbhai Patel, inspired by the vision and wisdom of our late Father of the Nation Mahatma Gandhi, follows the essence of the above quote by laying the foundation of 'Shaktikrupa Charitable Trust' in the village of Motafofalia , Sinor taluka of Dist. Vadodara Gujarat ( India ). The trust was formed with an avowed mission to provide modern facilities of Health, Education and Social Upliftment in rural and surrounding areas of the Vadodara District. The trust's main objective is to support rural people to cultivate unity through philanthropic activities and to experience livelihood in a congenial atmosphere through self-employment, without the interference of cultural moorings, customs and superstitions. The Rural Emergency Hospital & Health Center is flagship project for providing medical care in the region. www.shaktikrupa.org