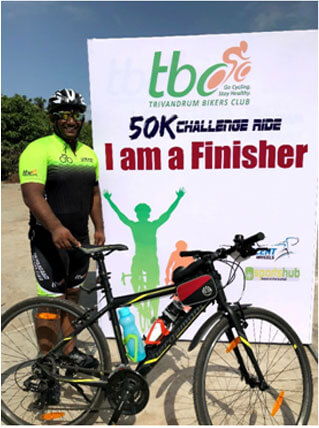 EMA Leader and MCI Recognized Emergency Physician Dr. Mohammed Haneef recently completed a 50 KM cycling challenge.
Geared towards wellness and Fitness this cycling event was organized by Trivandrum Bikers Club in Kerala.
The Cycling 50K event was a grand success with participants from all walks of life and ages.
On successfully completing the 50 K Dr. Haneefsaid :
"I had started my association with cycling for fitness now it has become a passion. My regular cycling has helped me handle my long hours in the Emergency Department. Cycling has given me a whole new perspective and helped me physically and mentally.
In my last eventI had severe muscle cramps but I mind was craving to complete the challenge on time this time. That moment motivated me to overcome my physical limitation with determination to finish the event on time and not give up.
As an emergency physicians we come across many such challenges. I plan to ride my bike for a cause – Quality Emergency Care by Qualified Providers-An EMA initiative."
Dr. Haneef is highly Qualified and Competant Emergency Medicine Specialist who is residency trained and graduated from a MCI Recognized Program in Emergency Medicine.
He currently works as an Attending Consultant at Ananthapuri Hospital Emergency Medicine in the Capital City of Kerala, Thiruvanathapuram. He also serves as Secretary of The South Zone for The Emergency Medicine Association.
We at INDUSEM are Very Proud of Him.
Related News:
About INDUSEM
The INDUSEM mission is to envision and implement the future of Patient Care across the world. The partnership brings together Expert Educators, Inquisitive Innovators and Physicians supporting Safe Patient Care across India, United States and the World. INDUSEM is the Top International Partnership across the World and brings together Institutions, Individuals and Initiatives focused on improving patient care globally. Till date INDUSEM has reached over 50,000 Experts and its reach continues to grow daily. For more information, visit www.indusem.org
About EMA
The Emergency Medicine Association was founded in 2015 during the INDUSEM2015 World Congress of Academic Emergency Medicine in New Delhi. EMA is the Official voice of competent Emergency Experts. Working towards provision of quality emergency care The EMA is an organized Guild of Emergency Leaders in Health and Medicine. Focused on Developing, Practicing and Progressing Emergency Medicine. EMA has a strong relation with partner organizations, individuals and institutions across the world. The EMA boasts of a strong DNA with its relationships which are geared towards potentiating growth. EMA has the support of the INDO-US Emergency and Trauma Collaborative, the Academic College of Emergency Experts in India and the Academic for Clinical Emergency Nursing in India. For More Information: www.emaindia.net
About Ananthapuri Hospitals
The ANANTHAPURI HOSPITALS AND RESEARCH INSTITUTE (AHRI) was formally inaugurated by our Honorable Chief Minister Sri. Oommen Chandy on 14th September 2005 in the presence of Dr. M. K. Munneer, Minister for PWD (Public Works Department), Sri. M. V. Raghavan, Minister for Ports and other distinguished guests. Ananthapuri Hospitals & Research Institute has some of the most eminent doctors in the country –highly experienced, skilled and distinguished in their respective fields of expertise. Complementing them and paving the way for the smooth functioning of the hospital is a team of highly dedicated personnel manning the various departments, thus fulfilling the hospital's mission of providing service with sincerity and solicitude. For More Information: http://www.ananthapurihospitals.com/About