EMA Leader Dr. Haeef Mohammed was invited for the TV talk show "Dr. Live"
During the time of festivals in Kerala there is a surge in number of emergencies and injuries. To appraise the general population about care to prevent and act during emergencies was the intent why Dr. Haneef was invited.
Dr. Haneef leads the Department of Emergency Medicine at the Medical Trust Hospital in Ernakulum Kerala.
"Dr. Live" is a very popular regional TV show in Kerala and is viewed by the population across the world.
Dr. Haneef focused on EM and Trauma Care. He highlighted the importance of being a legitimate MCI Recognized Residency Trained Emergency Medicine Specialist and retraced the journey of Academic EM in India since its inception in the 2000's.
He also discussed the Golden Hour Concept" emphasizing the need for pre-hospital ambulance services.
The show also concluded that preventive training and life support training was going to be transforming if provided to schools and college students and people of communities.
The Newspaper "Mathrubhoomi" also carried an article with Dr. Haneef's Input intended to make public aware of preventing road accidents and trauma.
There was also a Radio talk show held on KOCHI FM 102.3 where the RJ had many interesting questions on road traffic accidents and the role of Emergency Physicians.
The Triple Punch of Dr. Haneef on TV, Radio and The News Paper was a 360 effort to educate the public on prevention and care during emergencies.
Well Done Dr. Haneef…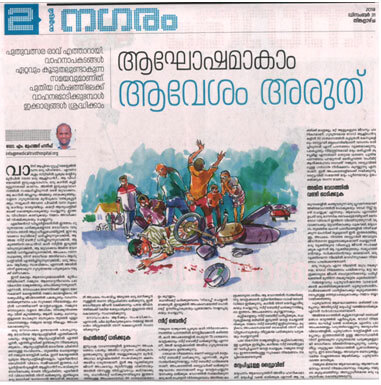 Related News : http://www.indusem.org/haneef-cycles-to-health/
About Dr. Haneef
Dr. Haneef is MCI Recognized Emergency Medicine Residency Trained and Certified Emergency Medicine Specialist by the Medical Council of India. He is also the Fellow of The prestigious Academic College of Emergency Experts. He is a world-renowned speaker and heads the region as a part of The Emergency Medicine Association in India. He was recently invited to speak at the World Academic Congress of Emergency Medicine in Doha Qatar. He heads the Department of Emergency Medicine at Medical Trust Hospital.
About Medical Trust Hospital Ernakulum
Medical Trust Hospital, a 750-bed multi-specialty acute-cum-critical care referral hospital, is one of the most well-equipped and premier hospitals in South India.Since inception in 1973, the Hospital has come a long way with the commitment and passion of over 1,500 dedicated healthcare professionals, comprising internationally acclaimed doctors/surgeons and efficient support staff, and world-class facilities. Providing personalised patient-centered treatment and care, 24/7 support and services, we uphold high ethical standards while breaking new grounds in the field of healthcare and medicine. For More Information: http://www.medicaltrusthospital.com
About INDUSEM
The INDUSEM mission is to envision and implement the future of Patient Care across the world. The partnership brings together Expert Educators, Inquisitive Innovators and Physicians supporting Safe Patient Care across India, United States and the World. INDUSEM is the Top International Partnership across the World and brings together Institutions, Individuals and Initiatives focused on improving patient care globally. Till date INDUSEM has reached over 50,000 Experts and its reach continues to grow daily. For more information, visit www.indusem.org
About EMA
The Emergency Medicine Association was founded in 2015 during the INDUSEM2015 World Congress of Academic Emergency Medicine in New Delhi. EMA is the Official voice of competent Emergency Experts. Working towards provision of quality emergency care The EMA is an organized Guild of Emergency Leaders in Health and Medicine. Focused on Developing, Practicing and Progressing Emergency Medicine. EMA has a strong relation with partner organizations, individuals and institutions across the world. The EMA boasts of a strong DNA with its relationships which are geared towards potentiating growth. EMA has the support of the INDO-US Emergency and Trauma Collaborative, the Academic College of Emergency Experts in India and the Academic for Clinical Emergency Nursing in India. For More Information: www.emaindia.net