The International Council for Critical Emergency Sonography(ICCES) in association with All India Institute of Medical Sciences(AIIMS), New Delhi and JSS Medical College, Mysuru inaugurated the first ICCES Regional Training Hub in Karnataka at JSS Medical College and Hospital, Mysuru on 1st of September 2017. Following the event an interactive, module based training program for Point Of Care Sonography, "EMSONO 2017" was held on 1st and 2nd of September.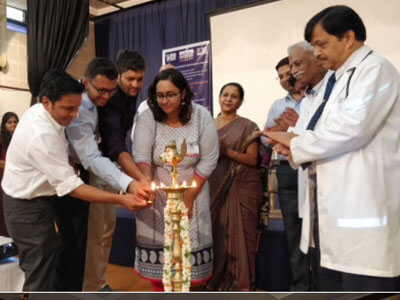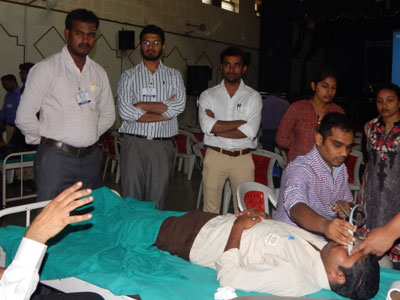 After accomplishing ground-breaking success on several international platforms, the ICCES under the auspices of INDUSEM and EMA, yet again made its mark with a memorable academic feast for all the delegates gathered.
The workshop was inaugurated by Dr. Basavanagowdappa, Principal, JSS Medical College, Dr Guruswamy, Medical superintendent, JSS Hospial, and Dr. M.D Ravi, Medical Director, JSS Medical College and Dr Akkamahadevi P, Professor and Head, Department of Emergency Medicine, JSS Medical College along with the course faculty.
The workshop was hosted by JSS Medical College and Hospital under the coordination of Dr. Madhu Srinavarangan, Director of ICCES Regional Training Hub, Karnataka.
The faculty included INDUSEM leaders and eminent Sono Educators Dr. Tej Prakash Sinha (AIIMS), Dr Madhu Srinivasarangan (JSS Medical College, Mysuru), Dr. Ajith Venugopalan (MOSC Medical College, Kerala), Dr Manu Ayyan (ACME, Kerala), Dr Prithvishree R (KMC, Manipal) and Dr Harshit Mundra(St John's Medical College, Bangalore)
The delegates gathered from all over India from various specialties including Emergency Medicine, Anesthesia, Surgery, Undergraduates, Postgraduates and allied Emergency Technician courses. The workshop concluded with an innovative quiz session and Sono Games which was well received by all the participants. An abundant number of encouraging feedbacks were received and several requests were made for the frequent conduct of the similar fruitful programs in the future.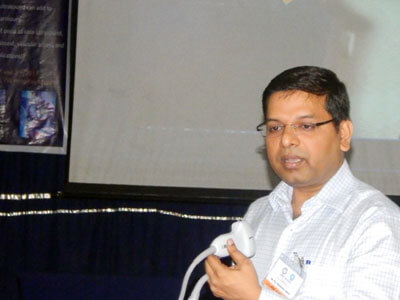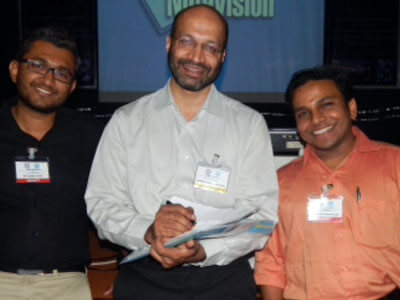 Related News :
About INDUSEM
The INDUSEM mission is to envision and implement the future of Patient Care across the world. The partnership brings together Expert Educators, Inquisitive Innovators and Physicians supporting Safe Patient Care across India, United States and the World. INDUSEM is the Top International Partnership across the World and brings together Institutions, Individuals and Initiatives focused on improving patient care globally. Till date INDUSEM has reached over 50,000 Experts and its reach continues to grow daily. For more information, visit www.indusem.org
About ICCES
The International Council for Critical Emergency Sonography (ICCES) was set up in 2010 as a Coalition of Academic Leaders across the World with a focus on developing the Science and Innovation in the Field of Acute Care Sonography in Emergency and Critical Medicine. Lead by Experts from Europe, Middle East, Asia and The United States ICCES has become a platform for collaborative research, education and development across the Academic World. ICCES runs various training programs across the World and is the Inventor of the World Famous AUTLS Training Course: The AIIMS Advance Ultrasound in Trauma and Life Support. For More Info: http://aiimsultrasound.com/
About AIIMS, Delhi
AIIMS was inaugurated in 1956, in New Delhi as per the vision of RajkumariAmrit Kaur, the first Health Minister of India who dreamt to establish an institute of such nature in India. AIIMS Delhi was ranked at third place in the first list of the Times Higher Education India Reputation Rankings, published alongside the Times Higher Education World Reputation Rankings in 2013. AIIMS has been consistently ranked the top medical college in India to pursue any Medical degree by India Today in annual surveys starting in 1997 and was ranked No. 1 in 2013. AIIMS has held the top slot for the last six years in a row, and has been ranked first for 11 out of the 12 years that India Today has conducted the survey. AIIMS was also ranked No. 1 in Outlook India ranking of medical colleges in 2013. AIIMS excellence has to do with several factors – small class size, excellent library facilities, liberal clinically oriented teaching, research exposure and the ability to set its own curriculum. Several surveys by The Week and Outlook magazines have named AIIMS the best hospital in India overall, as well as the best in several individual fields such as Cardiology, Neurology, Gastroenterology, Gynecology and Ophthalmology, ahead of several specialized institutions. The hospital has been able to maintain high standards of quality while seeing large numbers of patients (3.5 million in 2006) at very low cost to patients (16¢ US)), many of whom live in extreme poverty. The AIIMS Department of Emergency Medicine and the JPN Apex Trauma Center are the testimony of Indian Advancement in Academic Acute Medicine.www.aiims.edu
About EMA
The Emergency Medicine Association was founded in 2015 during the INDUSEM2015 World Congress of Academic Emergency Medicine in New Delhi. EMA is the Official voice of competent Emergency Experts. Working towards provision of quality emergency care The EMA is an organized Guild of Emergency Leaders in Health and Medicine. Focused on Developing, Practicing and Progressing Emergency Medicine. EMA has a strong relation with partner organizations, individuals and institutions across the world. The EMA boasts of a strong DNA with its relationships which are geared towards potentiating growth. EMA has the support of the INDO-US Emergency and Trauma Collaborative, the Academic College of Emergency Experts in India and the Academic for Clinical Emergency Nursing in India. For More Information: www.emaindia.net
About JSS Mysore
JSS Medical College, Mysuru, was started in 1984-85 and is imparting education in medical sciences (MBBS) course. It is recognized by the Medical Council of India and was affiliated to the Rajiv Gandhi University of Health Sciences, Karnataka, Bangalore from 1995-1996. It has now become a constituent college of JSS University established under Section-3 of UGC Act from 28-05-2008. The Department of Emergency Medicine graduated it's first MD Students in 2016. For More Information: www.jssuni.edu.in