INDUSEM Team from AIIMS Led by Professor Bhoi and Dr. Tej Prakash Sinha joined hands with Health Minister of Kerala Ms. K. K. Shailaja Teacher to help set emergency systems at the Newly Built Trauma Center at Government Medical College, Thiruvananthapuram, Kerala aka Thiruvananthapuram Medical College.
Professor Bhoi was the founder of High Quality Emergency Services at India's First Apex Trauma Center at AIIMS New Delhi.
The INDUSEM Team from AIIMS visited the newly built facility and gave much focussed and deliverable key advise to The Government Team from Health Services in Kerala.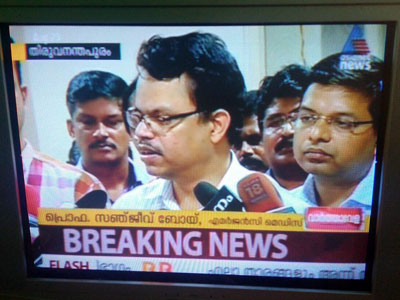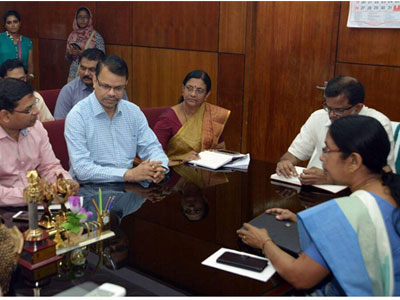 Dr. Thomas Mathew Dr. Sharmad Dr. Santosh Dr. Joby and Dr. Asheel were a part of the Health Services Leadership Team from Kerala.
The TMC Department of Emergency Medicine will doyen its existence from the erstwhile CASUALTY. It was envisioned that soon all Government Medical Colleges in Kerala will have a Post Graduate Department of Emergency Medicine. AIIMS will be the technical partner in transforming Emergency Health Services at Public Hospitals in Kerala.Minister KK Shailaja is committed to lead this transformation.
"The Government of Kerala deserves applaud for their crystal clear approach to TRANSFORMATION. Soliciting partnership from the INDUSEM Team at AIIMS is a right step which will turn out to be the defining step in bringing Academic Emergency Medicine and High Quality Emergency Medical Care to patients and people in Kerala. Minister Shailaja has the full support and best wishes for her passion and vision" Said INDUSEM CEO Dr. Sagar Galwankar.
About Health Minister Smt. KK. Shailaja Teacher
Smt. Shailaja Teacher entered politics through Students Federation of India (SFI) activities and later become a member of CPI (M) Central Committee. She is the State Secretary of All India Democratic Women's Association and Joint Secretary of its Central Committee. She has authored two books- "Indian Varthamanavum Sthreesamoohavum" and "China- Rashtram, Rashtreeyam, Kazhchakal". Was Chief Editor of "Sthree Sabdam" and also worked in Sivapuram High School in Kannur as Science Teacher earlier. Previously elected to Kerala Legislative Assembly from Kuthuparamba in 1996 and from Peravoor in 2006. Shailaja Teacher was born to K. Kundan and K.K Santha. She is married to Shri. K. Bhaskaran and has Two sons. For More Information: https://kerala.gov.in/k-k-shailaja-teacher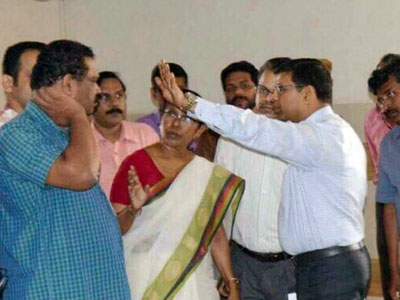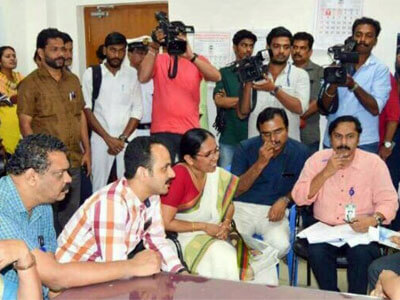 About GMC Thiruvananthapuram
Thiruvananthapuram Medical College is in Thiruvananthapuram city, the capital of Kerala state, India. It was founded in 1951 and was inaugurated by Jawaharlal Nehru, the first prime minister of India. This is the oldest and most prestigious medical college in Kerala. In official records, it was named simply Medical College (of Thiruvananthapuram) since it was the only medical institute in the state at its inception. The Medical College campus houses several hospitals and institutions, other than the Medical College Hospital (MCH), including the College of Nursing, College of Pharmaceutical sciences, Regional Cancer Centre, Thiruvananthapuram Dental College, Sree Chitra Thirunal Institute of Medical Sciences and Technology, Priyadarshini Institute of Paramedical Sciences and Sree Avittom Thirunal Hospital for Women and Children (SAT Hospital). Regional Institute of Ophthalmology (RIO) is a part of medical college and is being upgraded to the status of national level independent institute. For More Information: http://www.tmc.kerala.gov.in/
About INDUSEM
The INDUSEM mission is to envision and implement the future of Patient Care across the world. The partnership brings together Expert Educators, Inquisitive Innovators and Physicians supporting Safe Patient Care across India, United States and the World. INDUSEM is the Top International Partnership across the World and brings together Institutions, Individuals and Initiatives focused on improving patient care globally. Till date INDUSEM has reached over 50,000 Experts and its reach continues to grow daily. For more information, visit www.indusem.org
About ACEE
The Academic College of Emergency Experts was established by Leaders of INDUSEM to create a guild of expert clinicians who are have a mastery at providing safe patient care with high quality therapeutics based on latest evidence based medicine. The only Unique College in Asia ACEE only bestows affiliation after a rigorous coaching and testing process hereby maintaining its high standards of commitment to education and excellence. It surpasses the erstwhile ideology of existing academic colleges where affiliation is based on recommendation. There are multiple pathways to be a Fellow of the College namely Emergency Medicine, Emergency Pediatrics. Toxicology, Emergency Nursing Pathway etc. For More Information Visit www.acee-india.org
About EMA
The Emergency Medicine Association was founded in 2015 during the INDUSEM2015 World Congress of Academic Emergency Medicine in New Delhi. EMA is the Official voice of competent Emergency Experts. Working towards provision of quality emergency care The EMA is an organized Guild of Emergency Leaders in Health and Medicine. Focused on Developing, Practicing and Progressing Emergency Medicine. EMA has a strong relation with partner organizations, individuals and institutions across the world. The EMA boasts of a strong DNA with its relationships which are geared towards potentiating growth. EMA has the support of the INDO-US Emergency and Trauma Collaborative, the Academic College of Emergency Experts in India and the Academic for Clinical Emergency Nursing in India. For More Information: www.emaindia.net
About AIIMS, Delhi
AIIMS was inaugurated in 1956, in New Delhi as per the vision of RajkumariAmrit Kaur, the first Health Minister of India who dreamt to establish an institute of such nature in India.AIIMS Delhi was ranked at third place in the first list of the Times Higher Education India Reputation Rankings, published alongside the Times Higher Education World Reputation Rankings in 2013. AIIMS has been consistently ranked the top medical college in India to pursue any Medical degree by India Today in annual surveys starting in 1997 and was ranked No. 1 in 2013. AIIMS has held the top slot for the last six years in a row, and has been ranked first for 11 out of the 12 years that India Today has conducted the survey. AIIMS was also ranked No. 1 in Outlook India ranking of medical colleges in 2013. AIIMS excellence has to do with several factors – small class size, excellent library facilities, liberal clinically oriented teaching, research exposure and the ability to set its own curriculum. Several surveys by The Week and Outlook magazines have named AIIMS the best hospital in India overall, as well as the best in several individual fields such as Cardiology, Neurology, Gastroenterology, Gynecology and Ophthalmology, ahead of several specialized institutions. The hospital has been able to maintain high standards of quality while seeing large numbers of patients (3.5 million in 2006) at very low cost to patients (16¢ US)), many of whom live in extreme poverty. The AIIMS Department of Emergency Medicine and the JPN Apex Trauma Center are the testimony of Indian Advancement in Academic Acute Medicine.www.aiims.edu