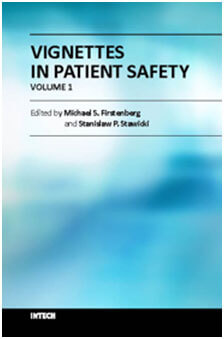 Vignettes in Patient Safety – Volume 1
Edited by Michael S. Firstenberg, MD and Stanislaw P. Stawicki, MD
ISBN 978-953-51-3520-3, Print ISBN 978-953-51-3519-7, 186 pages,
Publisher: InTech, Chapters published September 13, 2017 under CC BY 3.0 license DOI: 10.5772/66106
It is clearly recognized that medical errors represent a significant source of preventable healthcare-related morbidity and mortality. Furthermore, evidence shows that such complications are often the result of a series of smaller errors, missed opportunities, poor communication, breakdowns in established guidelines or protocols, or system-based deficiencies. While such events often start with the misadventures of an individual, it is how such events are managed that can determine outcomes and hopefully prevent future adverse events. The goal of Vignettes in Patient Safety is to illustrate and discuss, in a clinically relevant format, examples in which evidence-based approaches to patient care, using established methodologies to develop highly functional multidisciplinary teams, can help foster an institutional culture of patient safety and high-quality care delivery.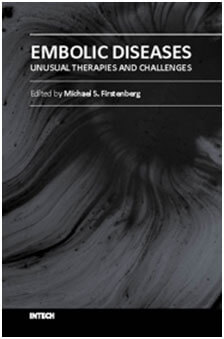 Embolic Diseases – Unusual Therapies and Challenges
Edited by Michael S. Firstenberg, MD
ISBN 978-953-51-3236-3, Print ISBN 978-953-51-3235-6, 146 pages,
Publisher: InTech, Chapters published June 21, 2017 under CC BY 3.0 license DOI: 10.5772/65590
Embolic complications of common, or sometimes uncommon, medical issues represent a significant management challenge. In addition, special populations might require unique approaches to prevention and primary disease management. Similarly, unusual embolic problems can manifest as both diagnostic and therapeutic challenges. Despite evolving guidelines to the prevention, diagnosis, and management of common diseases that can result in embolic complications, unfortunately, for many problems, such guidelines, randomized trials, or even recommendations based upon high-quality literature are lacking. Several chapters in this book are dedicated to summarizing the available data and experiences to help guide bedside care. The goal of this book is to emphasize some of the more unusual presentations and diagnostic and management aspects of embolic complications. The pathophysiologies and prevention strategies in unique patient populations are also emphasized. Clearly, a multidisciplinary team approach is critical to dealing with all aspects of these unusual and perplexing problems.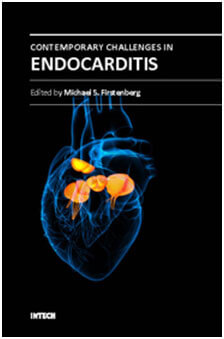 Contemporary Challenges in Endocarditis
Edited by Michael S. Firstenberg, MD
ISBN 978-953-51-2770-3, Print ISBN 978-953-51-2769-7, 176 pages,
Publisher: InTech, Chapters published November 09, 2016 under CC BY 3.0 license DOI: 10.5772/62550
Endocarditis remains an elusive challenge for clinicians to master. As the population ages and their comorbidities increase, the risk of infecting cardiac structures – both native and, the ever-increasing use of, prosthetic support technology – also increases. In addition, the global epidemic of intravenous substance abuse has also resulted in a substantial increase in the number of infected patients. Fortunately, advances in the diagnostic testing, imaging, and recognition of the importance of a multidisciplinary management team have also contributed to advances in the care of these critically ill patients. Nevertheless, optimal therapies need to be individualized and considered in the ever-increasing body of scientific literature on this complex and difficult problem.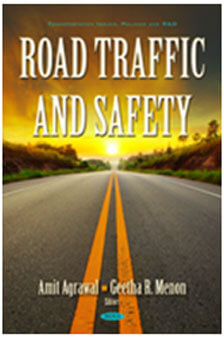 Road Traffic and Safety
Editors: Amit Agrawal, MS, McH and Geetha R. Menon, PhD
NOVA Publishers ISBN: 978-1-53612-489-7
Road space is shared by multiple vehicles (i.e. cars, taxis, buses, trucks, motorcycles, and mopeds), pedestrians, animals and many other categories of travelers. Easy availability of motor vehicles and advancements in their technology has made road travel easy; on the other hand, this has also resulted in a significant increase in the number of motor vehicle related injuries. Road traffic related injuries remain an important public health problem globally. It has been estimated that approximately 1.25 million people succumb to road traffic injuries annually worldwide, and between 20 and 50 million people sustain non-fatal injuries. It is a cause of great concern that 59% of the severely injured population is young adults aged between the age of 15 and 44 years. At present, globally road traffic injuries are ranked as the eighth leading cause of mortality, and if the current trends continues, it is expected to be the seventh leading cause of mortality at the global level by 2030.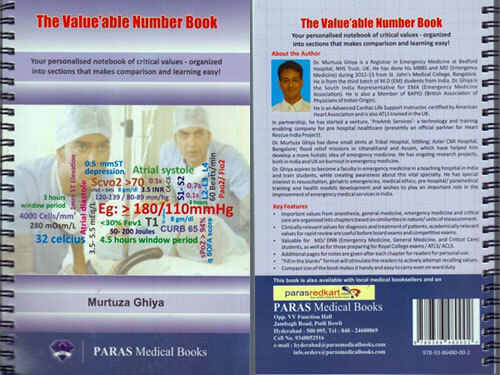 THE VALUE'ABLE NUMBER BOOK
Dr MURTUZA GHIYA, MD (MCI-EM)
Published by Paras Publications this book focuses on medical values and metrics related emergency care of patients. The Book is a value resource for quick reference in EM settings.
Available on all e-commerce book portals.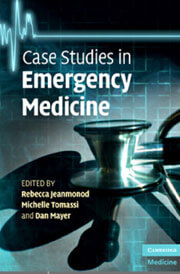 Case Studies in Emergency Medicine
Cambridge Publishers available on AMAZON
Rebecca Jeanmonod MD, Michelle Tomassi MD,Dan Mayer, MD
A case-based book organized by the top 10 common complaints of patients presenting to emergency departments. This approach allows the reader to learn the pathophysiology of the major diseases, and analyze each case in a way that more closely approximates the clinical practice of medicine; not knowing which organ system is damaged or compromised before examining the patient. The cases are based on real patients and the diseases are either common in emergency practice, or are dangerous diagnoses not to be missed. The case descriptions include questions regarding the patient's presentation and basic information about the disease, illustrating key elements from the history, physical, and when necessary ancillary studies that help lead to a diagnosis. Each chapter ends with a flow diagram showing how diseases of different organ systems can present with similar initial complaints. This book is an ideal resource for medical students, residents and trainees in emergency medicine.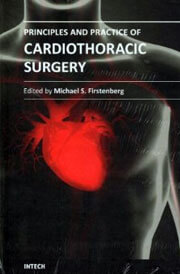 Principles and Practice of Cardiothoracic Surgery
ISBN 978-953-51-1156-6, Publisher: InTech, Chapters published June 12, 2013 under CC BY 3.0 license
Mike Fristenberg, MD
The field of cardiothoracic surgery continues to evolve at a rapidly expanding rate. New technologies are under constant development and as patients present with more advanced pathophysiology and complex comorbidities, management becomes more dependent on multi-disciplinary Teams. While there are a variety of innovative and high-profile topics that dominate the literature and the interests of clinicians, sometimes is it the basics both in terms of acute and sometimes unusual problems that often challenge cardiothoracic surgeons on a day to day basis. The goal of Principles and Practice of Cardiothoracic Surgery is to hopefully highlight the current state of the art management of these problems.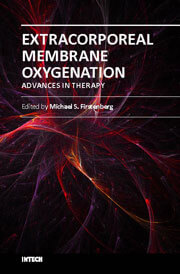 Extracorporeal Membrane Oxygenation – Advances in Therapy
ISBN 978-953-51-2553-2, Print ISBN 978-953-51-2552-5, Publisher: InTech, published September 2016 under CC BY 3.0 license
Mike Fristenberg, MD
Extracorporeal membrane oxygenation (ECMO), despite a long and troubled history, is very rapidly evolving into a therapy that can be safely and effectively applied across the world in patients experiencing acute cardiac and/or pulmonary failure. As experiences grow, there is a better understanding of nuances of the importance of teamwork, therapy guidelines and protocols, patient selection, and understanding the functional aspects of pump-circuit technology as it interfaces with human biology. The challenges in managing these very sick and complex patients cannot be understated. The goal of this text is to provide a framework for the development and successful growth of a program. Authors from Centers of Excellence Worldwide have shared their experiences in the full spectrum in dealing with this evolving field.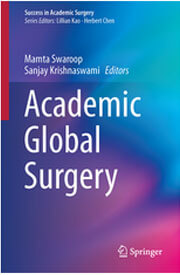 Academic Global Surgery
MamtaSwaroop, Sanjay Krishnaswami
SPRINGER PUBLICATIONS:
This seventh book in the series of Success in Academic Surgery looks to sustain the field and facilitate the next generation of leaders in Academic Global Surgery. It brings together a catalogue of current knowledge, needs, and pathways to a career in the field.
Academic Global Surgery involves educational, research and clinical collaborations between academic humanitarian surgeons in high-income countries (HIC), their low and middle-income country (LMIC) partners and their respective academic institutions. The goal of these collaborations is improving understanding of surgical disease, and increasing access to and capacity for surgical care in resource-poor regions.
In the last few years, the rapid exchange of ideas through social media and other technologies has combined with an increasing appreciation of worldwide health disparities to put the issue of global health at the forefront of our consciousness. Although traditionally neglected within public health initiatives, surgical disease is now recognized as a major contributor to death and disability worldwide, while surgical therapy in resource-poor areas is increasingly being shown to be cost-effective. In response to this growing recognition, what began as mission trips and short-term clinical volunteerism in the developing world has evolved into a burgeoning new field with a broader scope.
While the tremendous recent interest from medical students and residents in Global Surgery has stimulated an exponential growth of interest in this field, current surgical literature has highlighted the need for further development and delineation of this new discipline within academic surgery. (Source: Springer)
---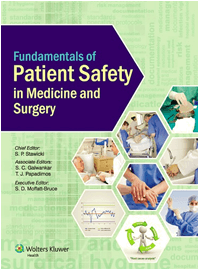 Fundamentals of Patient Safety in Medicine and Surgery
S.P. Stawicki, S.C. Galwankar, T.J. Papadimos, S.D. Moffat-Bruce
This book written by INDUSEM Leaders presents a practical approach to patient safety issues with a focus on evolution and understanding the key concepts in health care and turning them into implementable actions. With its contemporary approach and lucid presentation, this book is a valuable resource for practicing doctors in medicine and surgery to treat their patients with care, diligence, and vigilance and contribute to a safer practice in health care.
Key Features:
Clinical vignettes, presenting hypothetical case scenarios, that set the patient safety agenda for each chapter
Emphasis on evidence-based approaches and research methodologies to present potential solutions and preventive strategies
Presents a multidisciplinary, inter-professional collection of patient safety pearls with global focus
Provides smooth navigation into clinical patient safety topics including the role of modern technology
Important points summarized at the end of each chapter for quick review
Table of Content
Section 1: Foundations and Evolution of Patient Safety
Section 2: Healthcare's Twin Dangers: The Epic of Error and Harm
Section 3: From Incident Analysis to Systemic Change
Section 4: Medical Error: Human and Team Factors
Section 5: Patient Safety and Quality Care: Education, Training, and Recovery after Harm
Section 6: System Design, Technology, and Standardization
Section 7: Sustaining a Culture of Safety
Section 8: Summary of Best Available Clinical Evidence
---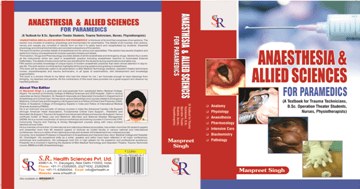 ANAESTHESIA AND ALLIED SCIENCES FOR PARAMEDICS, 2013, First Edition
Manpreet Singh, MD, FCCP, FIMSA, FACEE, MAMS
CBS Publishers, India. Phone: 09810825524 Email: rahul@srhealth.in
Also available at: www.amazon.in
INDUSEM Leader Dr. Manpreet Singh is faculty of Critical Care Medicine at Government Medical College Chandigarh and is involved in teaching medical students, graduates and post graduates in the fields of Medical Technology, Trauma Technician, MBBS and MD.
It is first book of its kind and comprises of six sections. All sections are colour coded for easy identification. Section one consists of anatomy, physiology and clinical biochemistry for paramedics. Details of all muscles, bones and joints along with their actions, nerves and vessels are compiled in a tabular form so that it can be easily learnt and recapitulated by students. Essential physiology and clinical biochemistry are concised subsections of this section. Second section provides every detail about anaesthesia and its various sub-specialities. This section has 40 chapters i.e from history of anaesthesia till modular operation theatre suit details. Apart from basics of anaesthesia and sub-specialities of anaesthesia, it highlights operation theatre suit, air-conditioning of Operation theatre and ICU, sterilization, pain management, dialysis room management and transportation of patients and anaesthesiologists. Third section, 'Pharmacology in Anaesthesia' describes intricacies of all anaesthetic drugs and emergency drugs. These drugs are described in tabular forms in easy language. This section will help the students to explain the drugs that are asked in table viva during examination. Section four covers all the anaesthesia instruments. These include anaesthesia machine, automated external defibrillator, sutures, vaporizers and all airway management equipments. The details of instruments will be very beneficial for the students during training periods, examination, table viva and day-to-day practice. Fifth section provides knowledge of 32 unique topics of modern anaesthetic practices that requires utmost attention. It highlights brief knowledge about clinical audit, hospital waste management, ECG, EMG, cardiopulmonary resuscitation 2010 guidelines, intensive care topics and physics in anaesthesia. The final section highlights all the scoring systems, algorithms and grading in anaesthesia. The readers will be elated to read this section as they will feel comfortable to find all grading at one place.
This book will be extremely useful to all emergency physicians, anaesthetists, intensivists and paramedics i.e MSc. Operation Theatre, BSc Medical Technology students, operation theatre technicians nurses, physiotherapists and trauma technicians.
---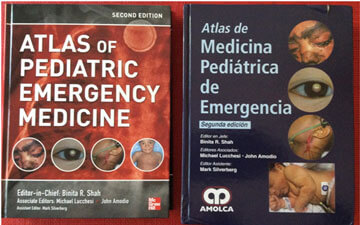 Atlas of Pediatric Emergency Medicine, 2e
Mc-Graw-Hill Co, Inc. 2013
Editor-in-Chief:  Binita R. Shah
Associate Editors: Michael Lucchesi, John Amodio
Assistant Editor: Mark Silverberg
Atlas de Medicina Pediatrica de Emergencia; Secunda ed.
Amolca;  Spanish Translation; 2014
Key Features:
More than 1,600 high-quality clinical photographs and imaging facilitate fast, accurate visual diagnosis of and acute treatment for all pediatric emergencies
Content spanning infancy through adolescence
Comprehensive coverage of disorders (including trauma) organized by body systems
Consistent presentation provides immediate access to clinical features, treatment and disposition, and clinical pearls
Cont. Atlas of Pediatric Emergency Medicine, 2e
Table of Content
Chapter 1. Child Maltreatment
Chapter 2. Conditions Mistaken for Child Abuse and Sexual Abuse
Chapter 3. Infectious Diseases
Chapter 4. Sexual Abuse, Gynecology, and Sexually Transmitted Infections
Chapter 5. Cardiology
Chapter 6. Respiratory Disorders
Chapter 7. Dermatology
Chapter 8. Ophthalmology
Chapter 9. Otolaryngology
Chapter 10. Surgery and Genitourinary
Chapter 11. Hematology and Oncology
Chapter 12. Rheumatology
Chapter 13. Neurology
Chapter 14. Endocrinology
Chapter 15. Gastrointestinal Disorders
Chapter 16. Nephrology
Chapter 17. Toxicology
Chapter 18. Environmental Emergencies
Chapter 19. Orthopedics
Chapter 20. Trauma
Chapter 21. Emergency Ultrasound