INDUSEM FLAME Leader Dr. Sharmila Anand, MD, M.Phil, MBA-USA, was recently awarded the Heroine of Health 2017 at the 70th World Health Assembly. Women in Global Health and GE Healthcare teams – along with co-sponsors, United Nations Foundation, Global Health Council, Global Health Centre – Graduate Institute, Women Deliver, Government Offices of Sweden, IntraHealth International, Frontline Health Workers Coalition and Research in Ethics Gender Studies (RinGS) – decided to celebrate amazing women among diverse, committed partners from around the world, from across sectors, spanning all areas of global health advocacy. The valuable work and achievement of 13 Heroines of Health across the world and across different aspects of healthcare was highlighted and celebrated.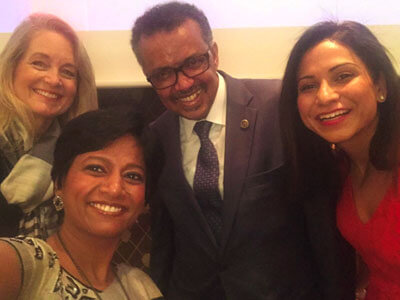 With Dr. Tedros, DG, WHO, Terri Bresenham, CEO GE Sustainable Healthcare Solutions and Dr. Roopa Datt, Director and Co-founder of Women in Global Health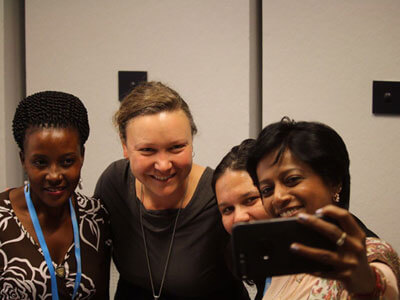 At the UN Radio Station in Geneva recording a podcast on Issues of Women in Global Health.
Over 75% of Global healthcare workforce across the globe are women, with a very small percentage reaching the leadership positions. Often their contributions go unpaid and unrecognized. These women are working tirelessly to improve global health with dedication and passion to champion better healthcare for all. The award was committed to help recognize, develop and grow women's leadership.The nominees have been selected across a number of focus areas and countries
Dr. Sharmila Anand was selected as one of the 13 heroines for her contribution in Increasing Confidence/ Position of women in Healthcare roles. She was the first person to receive this award from India. Dr. Sharmila Anand (India) – leads (SEHPL), a social enterprise which focuses on developing the next generation of healthcare professionals and leaders who can transform the way healthcare is delivered in India. She works on various initiatives that focus on enhancing the skills of people in healthcare at various levels.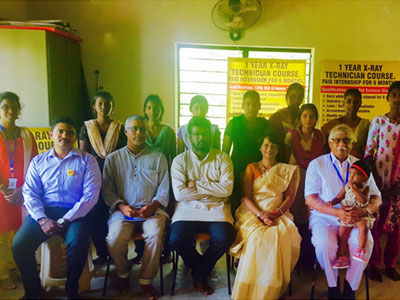 With her students at the village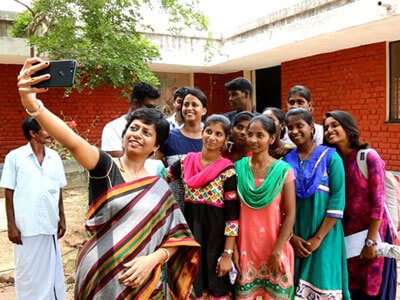 With her students at the village
Her focus areas are Skills training programs– for technical workforce in healthcare following National Occupational Standards and creating meaningful employ ability opportunities, Global Learner programs– Community classroom model that create a learning environment to produce future healthcare leaders- Learn Globally and Implement Locally and Leadership training programs – Human Capital based learning opportunity for enhanced effectiveness at work place.
She has been in this area of work for the last 4 years. While the idea stared in a small way in the community with the identification of the skills gap, it has gradually grown into a social enterprise. Dr. Sharmila enjoys bring together the smaller needs in the different sectors of the society and finding solutions.
She says "Education and healthcare are two areas where there is an extremely high gender balance. I believe when women are empowered and given the support system they can succeed and do more for the larger good. I have drawn inspiration from many women leaders who have beat odd and have succeeded in creating a meaningful difference in the society.I see my story resonating with other young women in the society, be it completing studies, getting a job, perusing higher education or leading an organization, every day and every phase of life there is a challenge. By helping these women win I am giving myself "Wings to fly". Organizations like GE & TATA trust have come forward to support skill and many individuals life's have been transformed. If more organizations take up the social cause I see a larger transformation possible."
Dr. Sharmila shares her inspiration: "I was experiencing large gaps in the following area: Skills training, Cross cultural learning, Community Classrooms and wanted to come up with solutions that had worked for me as a student. I wanted to make learning fun and happen essentially outside the classroom. That was when SEHPL was asked to be the nodal center for conducting Emergency skills training for Nursing students and faculty in Delhi NCR during INDUSEM. Following the success of this program I conceptualized SEHPL's National Health Skills Conclave™ and conducted a mega skilling initiative for more than 1000 healthcare professional across the spectrum including doctors, dentist, allied health professional and skilled them in over 3000 skills in 3 days. I saw that bringing people together for skills training made learning fun and that much more effective and that's when I decided to make it larger."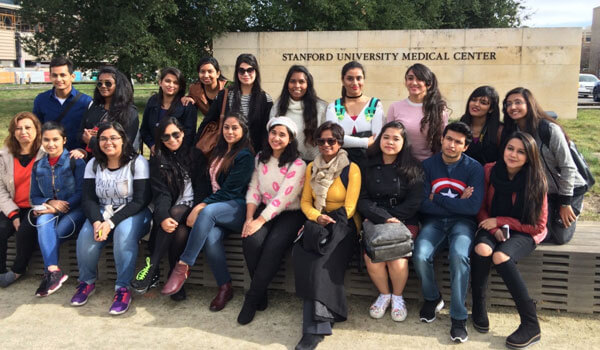 With her Medical students visiting Stanford University, for the Global Learners – Medical Innovations Program
Recognizing the need for these untold stories to reach beyond Geneva, GE Healthcare will be previewing a new documentary that follows three of these women from sunrise to sunset to answer one question: how have these individuals made an impact on the disparity that exists in global health in a way much of the world is still striving to do? Premiering in June, Heroines of Health . Documentary follows @DrSharmilaAnand traveling to villages?to speak with families about?enabling young women to gain employment through Healthcare Skills training program.
Watch the trailer at https://www.youtube.com/watch?v=Iy6YJHcPr8I.
Connect with Dr. Sharmila Anand@
Linkedin: https://in.linkedin.com/in/sharmilaanand
Facebook: https://www.facebook.com/profile.php?id=100009032387764
Twitter: https://twitter.com/drsharmilaanand?lang=en
About SEHPL
SEHPL is a social enterprise which focuses on developing the next generation of healthcare professionals and leaders who can transform the way healthcare is delivered in India. SEHPL's vision is to create a million-genuine patient smiles by building and enhancing skills in 10000 healthcare professionals who in turn will positively impact the million patients. She says with a smile "Come join our Million Smiles Journey". The value proposition of the enterprise is • Innovative curriculum and pedagogy in line with National, International standards• Embedding community-based learning and Service as part of practice based learning • Quality and values in all aspects• Partnering and collaboratively working with organizations in the healthcare eco-system with similar culture and values. For more details: http://sehpl.com/
About INDUSEM
The INDUSEM mission is to envision and implement the future of Patient Care across the world. The partnership brings together Expert Educators, Inquisitive Innovators and Physicians supporting Safe Patient Care across India, United States and the World. INDUSEM is the Top International Partnership across the World and brings together Institutions, Individuals and Initiatives focused on improving patient care globally. Till date INDUSEM has reached over 50,000 Experts and its reach continues to grow daily. For more information, visit www.indusem.org
About WHO
The World Health Organization (WHO) is a specialised agency of the United Nations that is concerned with international public health. It was established on 7 April 1948, headquartered in Geneva, Switzerland. The WHO is a member of the United Nations Development Group. Its predecessor, the Health Organization, was an agency of the League of Nations.The constitution of the World Health Organization had been signed by 61 countries on 22 July 1946, with the first meeting of the World Health Assembly finishing on 24 July 1948. It incorporated the Office international d'hygiène publique and the League of Nations Health Organization. Since its creation, it has played a leading role in the eradication of smallpox. Its current priorities include communicable diseases, in particular HIV/AIDS, Ebola, malaria and tuberculosis; the mitigation of the effects of non-communicable diseases; sexual and reproductive health, development, and ageing; nutrition, food security and healthy eating; occupational health; substance abuse; and driving the development of reporting, publications, and networking. The WHO is responsible for the World Health Report, a leading international publication on health, the worldwide World Health Survey, and World Health Day (7 April of every year). The Director-General of WHO is Margaret Chan. Tedros Adhanom Ghebreyesus was elected by the World Health Assembly on 23 May 2017 and will begin his five-year term on 1 July 2017. For More Information: www.WHO.int