INDUSEM Leader Prof. Ajai Singh was conferred 'The Health Care Excellence Award for Best Teacher' at the 2nd INDO-Global Healthcare Summit at Hyderabad on 23-26th July, 2015. He was recognized for his immense contributions in the field of teaching, training and research in the field of Trauma and Emergency Paediatric Orthopaedics. The Health Summit was jointly organized by Government of Talangana, FTAPCCI, Indus Foundation, TV 9, and Omic International. This award was bestowed by Hon'ble Governor of Talangana Sh. E.S.L.Narasimhan on 23rd July, 2015.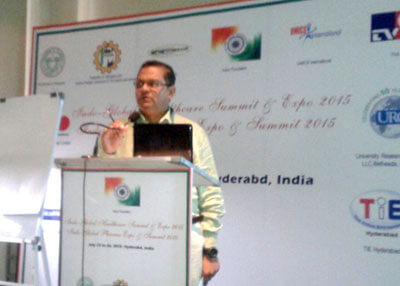 In his illustrious career Professor Ajai Singh has penned four books, 112 scientific papers and several chapters. Presently he is working as Professor and Head, Paediatric Orthopedics, Department of Orthopaedics, King George's Medical University, Lucknow, India. His research interests are mysteries of bone healing in trauma sciences and paediatric overuse injuries. During the summit, Prof Ajai Singh chaired a session on Trauma and Emergency Medicine and presented his original work on Management of Acute Compartment Syndrome in Emergency Department.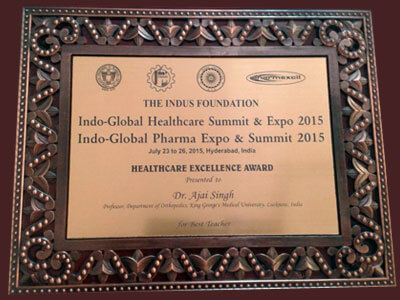 Professor Singh is a senior INDUSEM Leader who has spearheaded the efforts to establish Academic Emergency Medicine and Trauma Sciences In India His efforts have lead to the development of excellent Trauma Services at his University. His national and international leadership continues to play a pivotal role in the growth of INDUSEM.
About INDUSEM The INDUSEM mission is to envision and implement the future of Patient Care across the world. The partnership brings together Expert Educators, Inquisitive Innovators and Physicians supporting Safe Patient Care across India, United States and the World.  INDUSEM is the Top International Partnership across the World and brings together Institutions, Individuals and Initiatives focused on improving patient care globally. Till date INDUSEM has reached over 50,000 Experts and its reach continues to grow daily. For more information, visit www.indusem.org