JSS Hospital was recognised as Emergency Health Care Nodal Center for Airport Authority of India to handle Emergency situations like Mass casualty/ disaster with the involvement of INDUSEM Leader Dr. Madhu Srinivasarangan (Associate Professor Department of Emergency Medicine) and Dr. (Col). M. Dayananda (Director of JSS Hospital); Mr. Manjunatha. R, Airport Director, Mysuru Airport; Dr. M. Guruswamy (Medical Superintendent, JSS Hospital), Mr. Basavaraj Kubsad (CAO, JSS Hospital).
Recently a historic Memorandum of Understanding was made between Airport Rescue and Fire Fighting, Airports Authority of India, Mysuru Airport and JSS Hospital for rescuing aircraft occupants and other casualties resulting from accidents/ incidents at Mysuru Airport.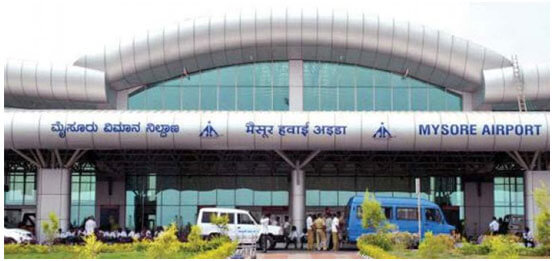 MOU as set out herein below:
It is agreed by the parties that J S S Hospital will extend all necessary assistance and full set co-operation in case of eventually.
By providing required equipment to the scene of emergency in view of operational requirement.
Shall turnout at the scene of accident, when authentic information about an accident is received.
Carry out Joint rescue and ambulance services in an emergency at the airport or other sites as the case may be.
Fulfilling assistance of providing ambulance and manpower assistance required on demand to meet the requirement of airport category.
Topography familiarization to J S S Hospital by Airport Fire Service personnel on frequent basis at airport within/ outside airport boundary/vicinity area for locating and reaching any accident site in minimum time with adequate rescue and medical equipment and for emergency equipment.
J S S Hospital will participate in the full scale emergency & partial emergency mock drills along with airport fire services, in order to have co-ordination and good understanding.
About JSS Hospital:
The new JSS Hospital facility with 1,800 beds under one roof is one of India's biggest hospitals. It also has one of the biggest critical and emergency care facilities with 260 beds. The motto of the hospital is to uphold the value of human life and provide advanced and affordable healthcare to all sections of the society.
The hospital has state-of-the-art infrastructure and the most advanced equipment. It is a non-profit hospital and is dedicated to serving the poor and downtrodden with affordable and quality healthcare. The new facility is located in an area of 12.5 acres and has a built-up space of 12.5 lakh sq ft. The hospital provides service in 37 specialties/super specialties and has 55 special clinics. It plans to cater to the healthcare needs of more than 16,000 outpatients in addition to the existing number of 18,000 and 3,500 inpatients every month.
About Department of Emergency Medicine:
The Department Of Emergency Medicine is located in the west wing of JSS Hospital. The department provides full-time services to more than 30,000 patients a year and the number of ED visits have been increasing since the inception of the department. Our department combines a high volume hospital experience, a carefully structured curriculum and an experienced team of dedicated clinical faculty. JSS hospital is home to one of the top-most emergency medicine courses in Karnataka.
Department Of Emergency Medicine conducts frequent Disaster programmes for the officers of the state at Administrative Training Institute, Mysuru. It is also actively involved in conducting Disaster/ Mass Casualty Incident Mock Drill throughout the year at J S S Hospital. The faculty, senior, and junior residents are well trained in advanced ED management, basic and advanced cardiac, and trauma life support skills.
About Mysuru Airport:
It is located near the village of Mandakalli, 10 kilometres (6.2 mi) south of the city, and is owned and operated by the Airports Authority of India (AAI). The Airports Authority of India or AAI is a statutory body (created through the Airports Authority of India Act, 1994) working under the Ministry of Civil Aviation is responsible for creating, upgrading, maintaining and managing civil aviation infrastructure in India. The flights at Mysuru Airport will be operated under UDAN-3scheme. For Information: https://en.wikipedia.org/wiki/Mysore_Airport
Related News:
http://www.indusem.org/monitoring-management-mysore/
http://www.indusem.org/icces-opens-jss-mysore-em-sonography-hub/
About INDUSEM
The INDUSEM mission is to envision and implement the future of Patient Care across the world. The partnership brings together Expert Educators, Inquisitive Innovators and Physicians supporting Safe Patient Care across India, United States and the World. INDUSEM is the Top International Partnership across the World and brings together Institutions, Individuals and Initiatives focused on improving patient care globally. Till date INDUSEM has reached over 50,000 Experts and its reach continues to grow daily. For more information, visit www.indusem.org
About EMA
The Emergency Medicine Association was founded in 2015 during the INDUSEM2015 World Congress of Academic Emergency Medicine in New Delhi. EMA is the Official voice of competent Emergency Experts. Working towards provision of quality emergency care The EMA is an organized Guild of Emergency Leaders in Health and Medicine. Focused on Developing, Practicing and Progressing Emergency Medicine. EMA has a strong relation with partner organizations, individuals and institutions across the world. The EMA boasts of a strong DNA with its relationships which are geared towards potentiating growth. EMA has the support of the INDO-US Emergency and Trauma Collaborative, the Academic College of Emergency Experts in India and the Academic for Clinical Emergency Nursing in India. For More Information: www.emaindia.net
About JSS Mysore
JSS Medical College, Mysuru, was started in 1984-85 and is imparting education in medical sciences (MBBS) course. It is recognized by the Medical Council of India and was affiliated to the Rajiv Gandhi University of Health Sciences, Karnataka, Bangalore from 1995-1996. It has now become a constituent college of JSS University established under Section-3 of UGC Act from 28-05-2008. The Department of Emergency Medicine graduated it's first MD Students in 2016. For More Information: www.jssuni.edu.in