ACEE Leader Dr. Nisanth Menon won the Best Paper Award for his original research paper titled 'A stitch in time: An innovative community intervention project to improve CPR practices among possible first responders in rural areas' at the WONCA ASIA-PACIFIC CONFERENCE 2017.
The WONCA Asia-Pacific Conference was held from November 1-4 at Pattaya, Thailand. The conference was organized by the Royal College of Family Physicians of Thailand in collaboration with the World Organization of Family Physicians (WONCA) under the leadership of Dr. Somjit Preuksaritanond.
Attended by over a thousand delegates with representation from more than 30 nations in the Asia-Pacific region.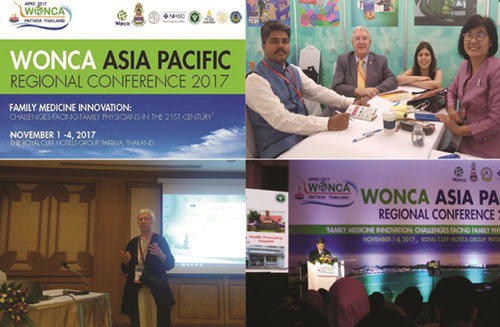 The conference witnessed four days of innovation in family medicine and primary carewith invited talks, oral and poster presentations and interactive workshops for soft skills training. The conference was officially inaugurated by the Minister of Public Health of Thailand Prof. Dr. Piyasakol Sakolsatayadorn and WONCA President Prof. Dr. Amanda Howe delivered the keynote address.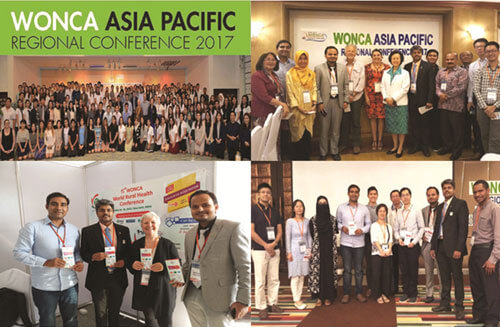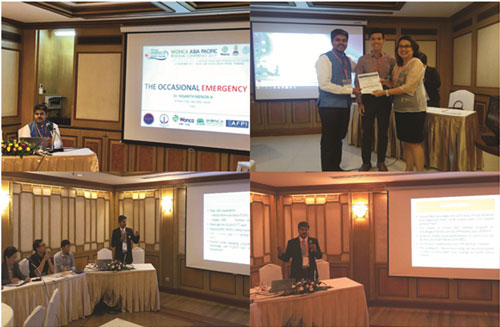 Dr. Menon spoke about Emergencies in Family Practice and also participated actively in workshops on 'Rural Emergency Care Training for Physicians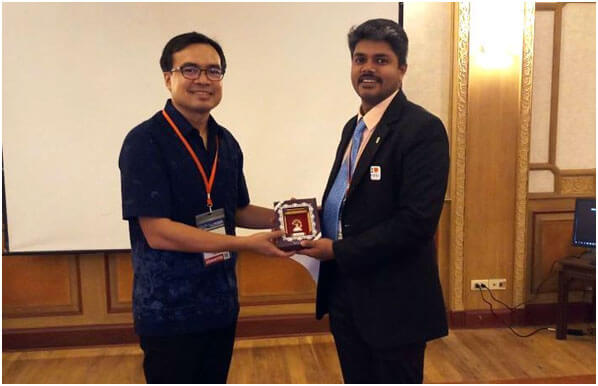 Interesting was the workshop title "Rural Emergency Care Training for Physicians (RECTIFY)"
The RECTIFY workshop was an innovative emergency medicine training imparted to primary care physicians so as to enable them to deal with occasional emergencies in their general practice. The objective of the workshop was to capacitate rural primary care physicians across the globe by training them in successfully stabilizing sick patients in resource-poor settings. The workshop which was held in association with WONCA special interest group on Emergency Medicine (EMSIG) and WONCA Rural South Asia (WoRSA) was led by EMA leader Dr.Nisanth Menon N.
The other trainers were Dr. Victor Ng, Chair of WONCA EMSIG and Dr.Pratyush Kumar, chair of WoRSA. Delegates were from Australia, Japan, Thailand, China, Papau New Guinea, Philippines, Hong Kong, Indonesia, India, Canada and Malaysia. The program had mock-patient scenario acted out by the trainers, didactic lectures, interesting case discussions and group discussions that dealt with topics varying from major trauma, musculoskeletal injuries and cardiac arrest to snake bite, animal bites and overdoses.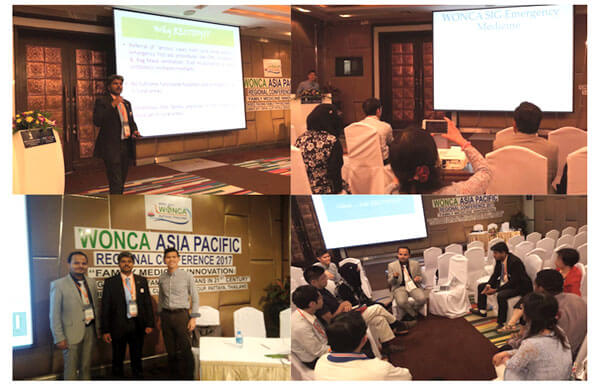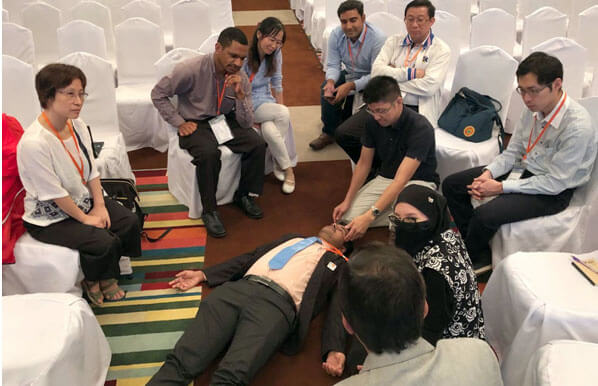 About Dr. Nisanth Menon N MD(EM), FACEE, M.Med (FM)
Dr. Nisanth Menon N works as Consultant Emergency Physician at MOSC Medical College Hospital. An alumni of Academy of Medical Sciences, Pariyaram, in addition to being a MD in Emergency Medicine, He is the Fellow of the Academic College of Emergency Experts in India. Additionally he holds a fellowship in Family Medicine from Christian Medical College, Vellore and is certified in biostatistics from IIT, Kanpur. A fellow of ICMR and WHO, he has published 8 research articles in indexed journals and presented 17 oral papers and 15 posters at various conferences. He has received 5 academic scholarships and is a regular invited speaker for various international and national-level conferences. His special area of interest is rural emergency medicine, primary emergency care empowerment, critical illness research and wilderness Medicine.
About EMA
The Emergency Medicine Association was founded in 2015 during the INDUSEM2015 World Congress of Academic Emergency Medicine in New Delhi. EMA is the Official voice of competent Emergency Experts. Working towards provision of quality emergency care The EMA is an organized Guild of Emergency Leaders in Health and Medicine. Focused on Developing, Practicing and Progressing Emergency Medicine. EMA has a strong relation with partner organizations, individuals and institutions across the world. The EMA boasts of a strong DNA with its relationships which are geared towards potentiating growth. EMA has the support of the INDO-US Emergency and Trauma Collaborative, the Academic College of Emergency Experts in India and the Academic for Clinical Emergency Nursing in India. For More Information:www.emaindia.net
About INDUSEM
The INDUSEM mission is to envision and implement the future of Patient Care across the world. The partnership brings together Expert Educators, Inquisitive Innovators and Physicians supporting Safe Patient Care across India, United States and the World. INDUSEM is the Top International Partnership across the World and brings together Institutions, Individuals and Initiatives focused on improving patient care globally. Till date INDUSEM has reached over 50,000 Experts and its reach continues to grow daily. For more information, visit www.indusem.org
About MOSC Medical College, Kolenchery
Malankara Orthodox Syrian Church (MOSC) Medical College Hospital is a rural tertiary care centre at Kolenchery, Ernakulamdistrict of Kerala state in India. The medical college is an 1100-bedded super-specialty teaching hospital with reputed medical and nursing colleges attached to it. With a skilled and committed panel of medical professionals, state-of-the-art modern equipments, therapeutic modalities and strong thrust on social welfare, it has established itself as a centre of excellence in healthcare delivery and also in medical and nursing education.The department of Emergency Medicine under the leadership of Dr. AjithVenugopalan is the latest addition to this vibrant Post Graduate Medical College Hospital.For More Information: http://moscmc.org/