Emergency Medicine Association (EMA) continued their commitment towards Community awareness on Basic Emergency Care.
Understanding the fundamental pillars of Health, Education and Research, EMA team from Jubilee Mission Medical College & Research Institute, Kerala continued to partner with National Transportation Planning and Research Centre (NATPAC) as they held a 3-dayskills workshop in Road Safety, Injury Prevention and Basic Life Support for more than 2000 Junior REDCROSS cadets and 250 Councilors.


NATPAC under the dynamic Director Dr R. Prakash Kumar, had the visionary plan of nurturing the young Red Cross cadets with better Road Safety culture and also promoted School teachers who were functioning as REDCROSS councilors to initiate the same at all schools in the state.
The highly interactive workshop was well received by students and teachers and received appreciation from the policy makers and higher authorities. Dr A Kowsigan, District Collector, Thrissur congratulated Jubilee Mission Medical College and NATPAC for forging a partnership with the goal of Road Safety and a better tomorrow.
EMA Leaders are torch bearers of Emergency Medicine in India. EMA is a INDUSEM Undertaking.
"Educating school children on Road Safety is good investment as we plan for a safer tomorrow" opined INDUSEM CEO Dr. Sagar Galwankar.
Staying true to its mission of 'advancing medicine by education, research and quality healthcare', INDUSEM has worked selflessly with all stake holders on a global scale never forgetting the Local needs by keeping a focus on capacity building.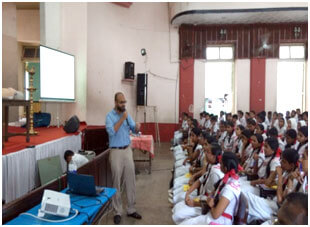 EMA Principal Secretary Dr.Vimal Krishnan and team from Jubilee Mission Medical College & Research Institute led the skills program by partnering with NATPAC consultants Retd Kerala Police SP Shri T.V Satheesh and Mr. Subin B, Senior Scientist.
All stakeholders including the collector, leaders from political front and senior police officials were involved for this magnanimous event. The 3-day workshop ended with Kerala State government officials thanking NATPAC, Jubilee Mission Medical College and EMA Leaders for this endeavor.
The above event is under the auspices of the INDUSEM Jeevan Jyoti Rashtriya Abhiyan and Jan Surksha Abhiyan.
Related News:
About Jeevan Jyoti Rashtriya Abhiyan and Jan Suraksha Abhiyan
Championed by INDUSEM Leaders the Jeevan Jyoti Rashtriya Abhiyan and Jan Suraksha Abhiyan is the Umbrella Flagship Initiative at the National Level which envisions to bring together all the individual local initiatives by NGO, Local Bodies and Organizations to prepare the communities and citizens of India towards preventing injuries, leading a safer lifestyle and responding to emergencies when being in an emergency situation. Inaugurated by the Honorable Governor of Uttar Pradesh His Excellency Shri. Ram Naik, the Rashriya Abhiyans are now functioning across States of India. For more Information: http://www.indusem.org/public-health-2/
About National Transportation Planning and Research Centre (NATPAC)
NATPAC an institution under Kerala State Council for Science, Technology and Environment (KSCSTE) is the only research and development institution in INDIA which works on multi – modal system of transportation covering road, rail, water, seaport and airport. For last three decades NATPAC has been handling research and consultancy projects as per the Country/State's requirements in the areas of traffic engineering and transportation planning, highway engineering, road safety, public transport system, alternate options for transport system, transport energy, inland water transport, tourism planning and rural roads. For More Information:http://www.natpac.kerala.gov.in/
About EMA
The Emergency Medicine Association was founded in 2015 during the INDUSEM2015 World Congress of Academic Emergency Medicine in New Delhi. EMA is the Official voice of competent Emergency Experts. Working towards provision of quality emergency care The EMA is an organized Guild of Emergency Leaders in Health and Medicine. Focused on Developing, Practicing and Progressing Emergency Medicine. EMA has a strong relation with partner organizations, individuals and institutions across the world. The EMA boasts of a strong DNA with its relationships which are geared towards potentiating growth. EMA has the support of the INDO-US Emergency and Trauma Collaborative, the Academic College of Emergency Experts in India and the Academic for Clinical Emergency Nursing in India. For More Information: www.emaindia.net
About INDUSEM
The INDUSEM mission is to envision and implement the future of Patient Care across the world. The partnership brings together Expert Educators, Inquisitive Innovators and Physicians supporting Safe Patient Care across India, United States and the World. INDUSEM is the Top International Partnership across the World and brings together Institutions, Individuals and Initiatives focused on improving patient care globally. Till date INDUSEM has reached over 50,000 Experts and its reach continues to grow daily. For more information, visit www.indusem.org
About the Jubilee Mission Medical College and Research Institute (JMMCRI)
Located in Thrissur, Kerala and lovingly nick-named by the people, "POOR MAN'S HOSPITAL", the Jubilee Mission has a specific mission evident in the motto, "Service with love". Instead of taking 'extra charges' from the patients, we take 'extra care' to see that the poor patients, irrespective of cast and creed are given special consideration and concessions. We spare competition to share competence and JUBILEE MISSION is an all-human's heaven. It has a vibrant teaching environment for medical students and post graduates and provides care to thousands of patients every year. JMMCRI is one of the key partners of INDUSEM. For more information please visit http://jubileemissionmedicalcollege.org/index.html