The 8th Annual National Emergency Medicine Board Review of India Course (NEMBRIC2018) concluded at the headquarters of National Board of Examinations (NBE) in New Delhi.
Organized by the Academic College of Emergency Experts in India (ACEE), Emergency Medicine Association (EMA) & INDUSEM, It is the Only Legitimate Academic Review Course in Emergency Medicine in the country.
Following Government Recognized, Board Certified Emergency Physicians and Clinical Educators (All FACEE Certified) conducted NEMBRIC 2018.
Prof. Dr. Bonnie Arquilla, SUNY, New York (Course Director)
Prof. Dr. Praveen Aggarwal, AIIMS, New Delhi (Dean of ACEE)
Prof. Dr. Sanjeev Bhoi , AIIMS, New Delhi (Treasurer, ACEE)
Prof. Dr.Shakuntala Murthy, St John's Medical College, Bengaluru
Prof. Dr. Ashish Bhalla PGIMER, Chandigarh
Prof. Dr.Vikas Suri from PGIMER, Chandigarh
Prof. Dr.JayarajBalakrishnan, KMC, Manipal
Prof. Dr.KalpanaKelkar, BJMC, Pune
Prof. Dr.Rajeshwari Vhora, DPU Pune
Prof. Dr.Manpreet Singh, Government Medical College, Chandigarh
Dr. Girish Narayan, St John's Medical College, Bengaluru
Dr. Naman Agrawal, AIIMS, New Delhi
Dr. Siju Abraham Jubilee Mission Medical College & Research Institute, Kerala
Dr. Vimal Krishnan Jubilee Mission Medical College & Research Institute, Kerala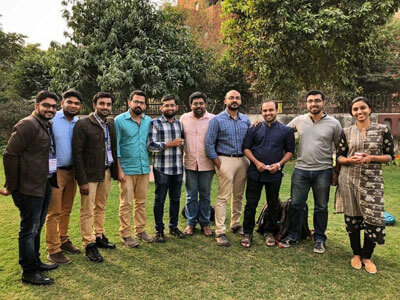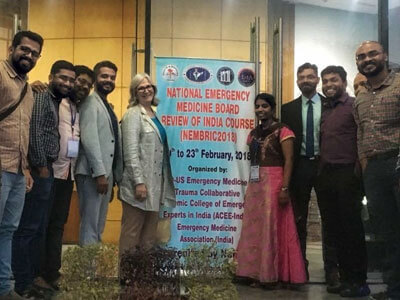 NEMBRIC 2018 was over 50 hours of rigorous and well-structured academic extravaganza, to give the participants a complete overview of various academic topics in Emergency Medicine. The sessions were well prepared and delivered by faculty in a very interactive way. The course was attended by around 100 participants converging from various parts of the country. These included MD and DNB residents in emergency medicine, practicing emergency physicians, departmental heads, surgeons, anaesthesiologists, respiratory physicians, internists and paediatricians. Catering to the needs of such diverse audience was a challenge which was well taken by the organising body. Strenuous effort put in by the speakers was evident by the feedback from the participants during interactive sessions. The course particularly benefited the physicians who are training in emergency medicine. They were pleased to attend the same and appreciated the efforts put in by the course faculty.
The AIIMS Department of Emergency Medicine,and National Board of Examinations under the leadership of Dr Praveen Aggarwal, were very pleased to host the 5-day event which was well appreciated by all faculty and participants.
Demand and participation in NEMBRIC has been showing a steep rise every year, which itself is a tell-tale sign of successful academic endeavours put in by the faculty and organisers, and increasing interest and awareness about academic emergency medicine among various medical disciplines. Members from all the strata of medical education, ranging from residents to professors come to a common platform and take back pearls from the academic feast called NEMBRIC.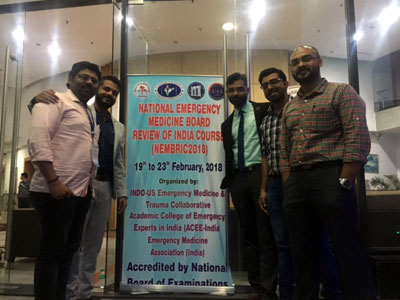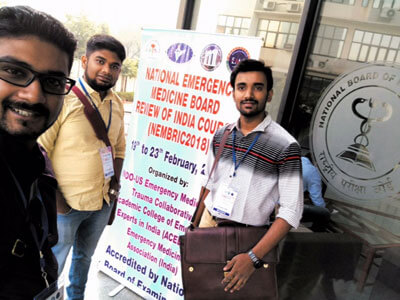 NEMBRIC 2018 brought to light the vision of Dr Rashmikant Dave, Honorary Executive Director of National Board of Examinations (NBE)and Dr Sagar Galwankar, CEO, INDUSEM.
Testimonials:
Dr. G. Vishwa Reddy, Assistant Professor, NIMS, Hyderabad
It gives me great pleasure to say that I have attended NEMBRIC2018 conducted at New Delhi. The five day board review course is probably one of the few unique programmes which provide an intense exposure to the core curriculum and the latest updates and guidelines in Emergency Medicine by giving access to thought leaders from apex premier institutions and in strengthening our academics.
This intense teaching programme lead by the eminent faculty was a highly interactive session which covered all the essential areas of Emergency Medicine. The entire national and international faculty gave their best in selecting thought provoking topics and formats, organizing the sessions and clearing all the doubts with great patience. All the delegates felt very happy interacting with pioneers from various fields together contributing to the growth of EM. I would like to extend my sincere gratitude to INDUSEM, ACEE, EMA and NBE for making the programme worthwhile and setting high standards for academic EM in India.
Dr. Sakshi Yadav, PGY2 Emergency Medicine, AIIMS, New Delhi
The programme was overall very good especially the lectures on Toxicology, Trauma, ECG, Gastroenterology, ultrasound, neurology & Pediatrics. Some lectures like one on Abuse and Assault gave an insight in to the prevalent social issues in addition to the subject theory. I thank Dr Bonnie who painstakingly took the task of coordinating the whole academic extravaganza along with other course faculty and we, the participants, could benefit from the academic feast. I thank Dr Praveen Aggarwal sir for making it feasible for us residents to attend the course and for planning such wonderful sessions.
Dr. Prawal Shrimal, PGY1 Emergency Medicine, AIIMS, New Delhi
The course was great. A special shout-out to the young course faculty; Some of the topics were brilliantly taught and explained. I express heartfelt gratitude to Dr Praveen Aggarwal sir and Dr Bonnie Arquilla for making it happen, and getting together such amazing sessions. I would say that it wasmore than a perfect academic programme. I thoroughly enjoyed being a part of it.
Related News:
http://www.indusem.org/nembric2017-nbe/
http://www.indusem.org/nembric2016-clocks-a-resounding-success-in-thrissur-kerala/
http://www.indusem.org/examathalon2017-preps-exam-going-emergency-physicians-india/
http://www.indusem.org/empact-2015-by-indusem-acee-concludes-aiims-delhi/
About INDUSEM
The INDUSEM mission is to envision and implement the future of Patient Care across the world. The partnership brings together Expert Educators, Inquisitive Innovators and Physicians supporting Safe Patient Care across India, United States and the World. INDUSEM is the Top International Partnership across the World and brings together Institutions, Individuals and Initiatives focused on improving patient care globally. Till date INDUSEM has reached over 50,000 Experts and its reach continues to grow daily. For more information, visit www.indusem.org
About EMA
The Emergency Medicine Association was founded in 2015 during the INDUSEM2015 World Congress of Academic Emergency Medicine in New Delhi. EMA is the Official voice of competent Emergency Experts. Working towards provision of quality emergency care The EMA is an organized Guild of Emergency Leaders in Health and Medicine focused on Developing, Practicing and Progressing Emergency Medicine. EMA has a strong relation with partner organizations, individuals and institutions across the world. The EMA boasts of a strong DNA with its relationships which are geared towards potentiating growth. EMA has the support of the INDO-US Emergency and Trauma Collaborative, the Academic College of Emergency Experts in India and the Academic for Clinical Emergency Nursing in India. For More Information: www.emaindia.net
About AIIMS, New Delhi
All India Institute of Medical Sciences Delhi was established in 1956 and operates autonomously under the Ministry of Health and Family Welfare. AIIMS was the vision of Rajkumari Amrit Kaur, the first Health Minister of India, to establish an institute of such nature in India. Today AIIMS is one the World's Leading Medical Education, Research and Patient Care Institute. For More Information: www.aiims.edu
About NBE
National Board of Examinations (NBE) is an autonomous body under the Ministry of Health, Government of India, and established in 1975 at New Delhi to standardizing postgraduate medical education and examination in India. The postgraduate degree awarded by the National Board of Examinations is called the Diplomate of National Board (DNB). The list of recognized qualifications awarded by the Board in various specialties and super-specialties are approved by the Government of India and are included in the First Schedule of Indian Medical Council Act, 1956. The National Board of Examinations conducts the largest portfolio of examinations in the field of medicine in India and perhaps at a Global level. Visit http://www.natboard.edu.in/