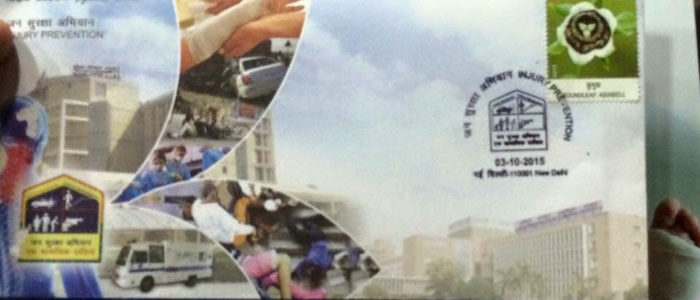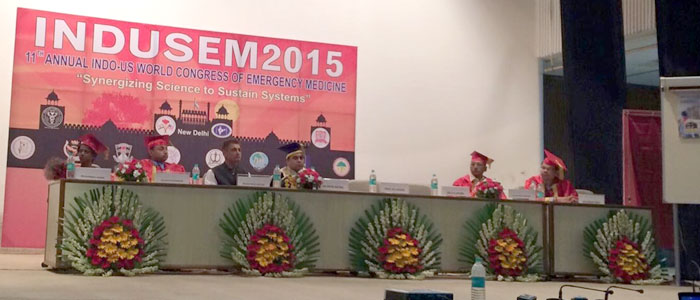 The 11th Annual INDO-US World Congress of Emergency Medicine ended on a High Note on 5th October 2015. Spread over 8 Days and 15 Venues the 11th Annual Congress registered over 3500 Delegates from Medical Schools, Governmental Agencies, Defense forces, Sports Arena and Countries across the World.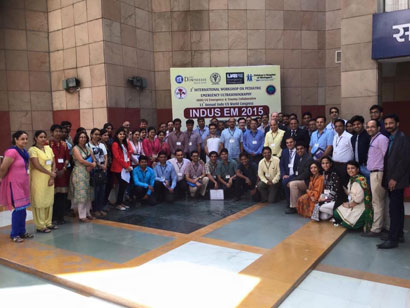 Kicking off with an Injury Prevention Walkathon on 27th September 2015 Lead by Member of Parliament Dr. Pritam Munde

the Congress had special conferences on Sports Emergencies, Emergency Nursing Care, Violence in the ED and Emergency Staff Wellness. Skill Development Sessions included Hands on Workshops on Resuscitation, Airway Management, Toxicology, Trauma and Disaster Management.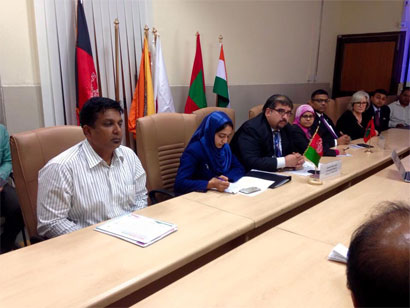 Didactic Lectures were presented by International Faculty and Special Consensus Meetings were held on topics like Fever in Pediatric Emergency Patients, Pain and Sedation in ED and Critical Care Admissions Criteria from the ED.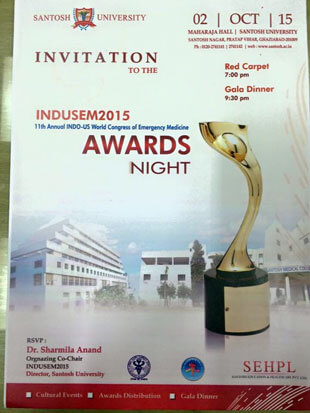 The First INDUSEM Awards Night was held on 2nd October 2015 at Santosh University and was a runaway success. The INDUSEM Awards honors the best in Emergency Medicine. Dr. Bonnie Arquilla entered the Hall of Fame for 2015.A Special Philatelic Cover and Stamp was issued by India Post to commemorate this occasion and it was released by Post Master General Shri. Kashyap. This was a matter of great honor and pride for INDUSEM. It recognizes the hard work of the INDUSEM Team.INDUSEM launched Four major initiatives namely
PRADHAN-BHARTI:

The Policy Research And Development of Health And Nation Initiative where Experts from Law and Health Policy will work with Government to bring Legislations benefitting the patients.

EMA-INDIA:

Emergency Medicine Association of INDIA– The Organization Network of individuals who will work to develop Emergency Medical Care and Indian Health Security across the Nation. Life Membership to EMA was Complimentary and could be done easily using a Fast Track Digital Platform www.emaindia.net

FLAME:

Female Leadership Academy for Medicine &Entrepreneurship- Lead by Female Leaders in INDUSEM this initiative will foster the growth of Female Leaders in HealthCare in India.

NETWORK-ASIA:

Network for Emergency &Trauma WORK in ASIA: Launched by Ambassadors and High Commission Representatives from Japan, Maldives, Nepal, Sri Lanka, Bhutan, Afghanistan, in partnership with INDUSEM, this NETWORK claims to establish common initiatives to better  the care of Emergency and Trauma Patients across the world.
Special Policy making sessions were held to kick start the process to bring the

Bhartiya Emergency Medicine for All Act (BHEMAA):

Lead by INDUSEM Leaders Dr. BipinBatra and Dr. Vijay Shah BHEMA Act will enforce strict regulations so that every patient will have the right to Emergency Care and no healthcare facility can refuse any emergency patient.INDUSEM2015 ended on 5th October 2015 with a Star Studded Satellite Symposium at the Pandit BD Sharma University of Health Sciences at Rohtak, Haryana under the Leadership of INDUSEM Leader and Honorable Vice-Chancellor Dr. OP Kalra.

8 Days, Over 200 National and International Faculty, 15 Venues, 3500 Delegates and 300 Hours of Education marked the summary of this Landmark Congress.

About INDUSEM:The INDUSEM mission is to envision and implement the future of Patient Care across the world. The partnership brings together Expert Educators, Inquisitive Innovators and Physicians supporting Safe Patient Care across India, United States and the World. INDUSEM is the Top International Partnership across the World and brings together Institutions, Individuals and Initiatives focused on improving patient care globally. Till date INDUSEM has reached over 50,000 Experts and its reach continues to grow daily. For more information, visit www.indusem.orgAbout the 11th INDO-US World Congress of Emergency Medicine:The 11th World Congress celebrates 10 Years of INDUSEM.  The 11th edition is being hosted by the Medical Colleges in the national capital region of New Delhi. Lead by AIIMS and Santosh University many agencies of the Governments of USA and India are partners in this grand academic conclave. Around 100 + International Faculties are participating in this event. More than 3000 delegates are attending this World Congress at 15 Venues over 8 days with over 250 hours of education. For More Information www.indusem.org/indusem2015