INDUSEM Pediatric Orthopedics Leader Professor. Ajai Singh was appointed as the First Head of the Department of the New MCI Recognized Department of Pediatric Orthopedics at the King George Medical University, Lucknow, India.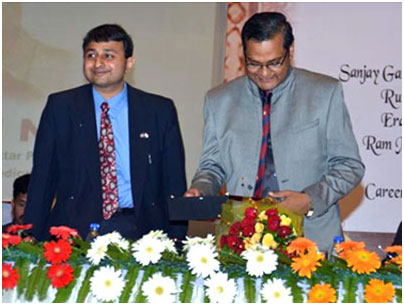 Professor Ajai Singh with INDUSEM CEO. Dr. Sagar Galwankar
Ajai is a trained Orthopod who has single handedly advocated the cause for developing Pediatric Orthopedics in India. India does not havePediatric Orthopedics as a separate specialty nor was there a recognized raining program in Peads Ortho.
Ajai tirelessly worked with The medical Council of India to get the super specialty recognized and also get it certified as a McH Program. Additionally he went through all the process of developing a separate department at his University. Today we have India's First Department of Pediatric Orthopedics which will Train Pediatric Orthopedic Super Specialists of the Future.
In his illustrious career Professor Ajai Singh has penned four books, 112 scientific papers and several chapters. Presently he is working as Professor and Head, Pediatric Orthopedics, Department of Orthopedics, King George's Medical University, Lucknow, India. His research interests are mysteries of bone healing in trauma sciences and pediatric overuse injuries.
On 17th May, 2016 the Indian Society of Pediatric Traumatology President Dr. Ajai Singh launched The Emergency Surgical Pediatrics and Injuries Initiative for India (ESPI-INDIA) when INDUSEM-Academic College of Emergency Experts in India's Dr. Sanjeev Bhoi signed the "Agreement of Establishment" with Prof. Ajai Singh and Dr. DK Gupta, President of the World Federation of Associations of Pediatric Surgeons (WOFAPS).
"ESPI-INDIA" is being built with a focus on strengthening Pediatric Emergency Surgical Care and Developing Newer Academic and Clinical Subspecialties like Acute Care Surgical Pediatrics which are extremely importance to the practice of Emergency Medicine.
"Prof. Ajai was conferred 'The Health Care Excellence Award for Best Teacher' at the 2nd INDO-Global Healthcare Summit at Hyderabad on 23-26th July, 2015. He was recognized for his immense contributions in the field of teaching, training and research in the field of Trauma and Emergency Pediatric Orthopedics. Ajai was INDUSEM Secretary General for the 2014 Summit in Lucknow and he did a fantastic job. He is a great Educator Researcher and Clinician. We at INDUSEM are proud of him and wish him the best." Said Dr. Sagar Galwankar CEO INDUSEM.
Professor Singh is a senior INDUSEM Leader who has spearheaded the efforts to establish Academic Emergency Medicine and Trauma Sciences in India. His efforts have led to the development of excellent Trauma Services at his University. His national and international leadership continues to play a pivotal role in the growth of INDUSEM.
Developing India is the Mission of INDUSEM and Ajai is an INDUSEM Leader. This is always what is expected from INDUSEM Leaders.
We are proud of our Leaders- INDUSEM means Legitimate; INDUSEM means Progress and INDUSEM means India
Related News:
About INDUSEM
The INDUSEM mission is to envision and implement the future of Patient Care across the world. The partnership brings together Expert Educators, Inquisitive Innovators and Physicians supporting Safe Patient Care across India, United States and the World. INDUSEM is the Top International Partnership across the World and brings together Institutions, Individuals and Initiatives focused on improving patient care globally. Till date INDUSEM has reached over 50,000 Experts and its reach continues to grow daily. For more information, visit www.indusem.org
About King George Medical University
On 16th September 2002 an Act was passed by the Government of Uttar Pradesh resulting in a major milestone in change in the history of the institution in converting and upgrading it as Chhatrapati Shahuji Maharaj Medical University. On the demand of the general public and more than 40,000 Georgians the world over, teachers and students of the University, the Government of Uttar Pradesh in the last week of October 2003 decided to revert the name of the medical university from C.S.M. Medical University to K.G. Medical University. K.G. Medical College has contributed immensely in the education and training of thousands of graduate and post-graduates who have brought glory and laurels to their Alma mater by the academic and professional excellence. For More Information: http://kgmu.org/