Under the INDUSEM-CD CInitiative on "Public Health Preparedness, Response and Medical Management" a high power skills program was held at Dr. D.Y. Patil Vidyapeeth, Pune, in collaboration with Centers for Disease Control and Prevention(CDC), Atlanta, USA, National Disaster Management Authority (NDMA), Govt. of India and All India Institute of Medical Sciences (AIIMS), New Delhi, and INDUSEM on 24th and 25th April 2015.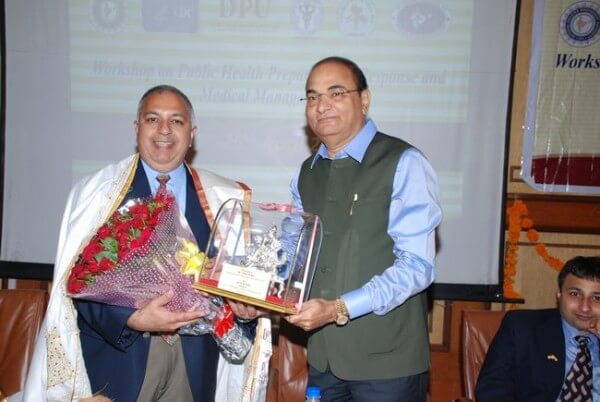 210 trainees from all over the country attended the event. The workshop was inaugurated by the Chief Guest, Dr. P.D. Patil, President, Dr. D.Y.Patil Vidyapeeth, Pune.
Dr. Vikas Kapil, Associate Director of Science, CDC, Atlanta, USA, was the Guest of Honor.
Faculty who graced the dais included Dr. Sagar Galwankar, CEO, INDUSEM; Col (Dr) T.S. Sachdeva, Advisor, NDMA; Dr. ZiadKazzi, Associate Professor of Emergency Medicine and Medical Toxicologist from Emory University, USA and Dr. Praveen Aggarwal, Professor and Head of Emergency Medicine, AIIMS, New Delhi.
The Vice Chancellor of the University, Dr. P.N.Razdan welcomed the delegates. Mrs. Bhagyashree Pati, Vice Chairperson, Dr. D.Y.Patil Vidyapeeth Society, Pune, Mr. Somnath Patil, Secretary and Mrs. Smita Jadhav, Trustee also graced the occasion. Dr. Yashraj Patil, Trustee and Treasurer of Dr. D.Y.Patil Vidyapeeth Society, Pune, expressed his views. Dr. Siddharth Dubhashi, Director (Academics) & Professor of Surgery, Organizing Chairman for the event, proposed the vote of thanks.
The event was an academic feast with lectures by a galaxy of above mentioned faculty as well as Dr. Derek Eisnor from Emory University, USA; Dr. Ashish Bhalla from PGI, Chandigarh; Dr.Rajeev Sharma and Dr. Suhas Dhandore from CDC Office, New Delhi. The lectures covered a variety of topics like assessment and management of blast and thermal injuries, basic radiation physics, diagnosis and management of Acute Radiation Syndrome, Emergency Operations Centre, Irritant Gases and Incapacitating Agents.
The workshop also comprised of a display of various emergency disaster management equipment showcased by a team of NDRF (National Disaster Response Force). They also conducted a practical demonstration of the protocol for disaster management, which was well appreciated by all delegates.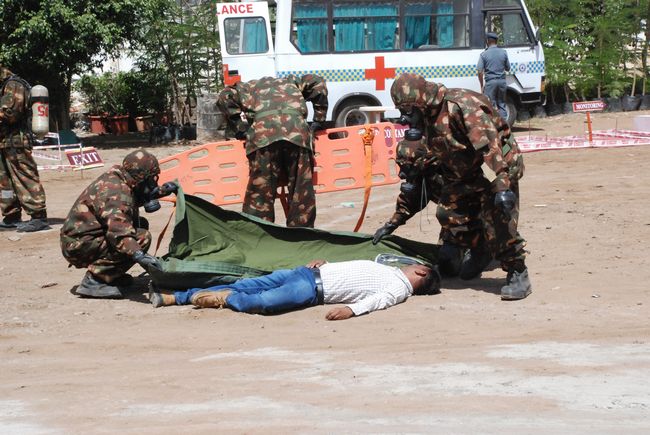 About CDC Center for Global Health
As per CDC website "For more than 60 years, CDC has used its scientific expertise to help people throughout the world live healthier, safer, longer lives. CDC's Center for Global Health coordinates and manages the agency's resources and expertise to address global challenges such as HIV/AIDS, malaria, emergency and refugee health, non-communicable diseases, injuries, and more.
The Center for Global Health leads the execution of CDC's global health approach, working in partnership to assist Ministries of Health to plan, manage effectively, and evaluate health programs; achieve U.S. Government program and international organization goals to improve health, including disease eradication and elimination targets; expand CDC's global health programs that focus on the leading causes of mortality, morbidity and disability, especially chronic disease and injuries; generate and apply new knowledge to achieve health goals; and strengthen health systems and their impact. CDC remains committed to ensuring that every dollar spent achieves maximum public health impact."www.cdc.gov
About DPU
Dr. D. Y. Patil Vidyapeeth, Pune, aka DPU, has been providing high quality education in the Faculties of Medicine, Dentistry, Allied Medical Sciences, Nursing, Biotechnology & Bioinformatics, Management and distance learning through eight institutions. In each program the University ensures the provision of high quality education, the pursuit of knowledge and the creation of new ideas.DPU-Emergency Medicine was launched in 2013.The Department of Emergency Medicine is fully equipped with all the equipment/instruments to offer world-class services to patients & training to residents under one roof. The department has qualified and experience teaching faculty. It has a MCI Recognized Residency Program in EM which admitted its first candidates in 2014.www.dpu.edu.in
About NDMA
"National Disaster Management Authority (NDMA) is an agency of the Ministry of Home Affairs whose primary purpose is to coordinate response to natural or man-made disasters and for capacity-building in disaster resiliency and crisis response.[2] NDMA was established through the Disaster Management Act enacted by the Government of India in December 2005.[3] The Prime Minister is the defacto chairperson of NDMA. The agency is responsible for framing policies, laying down guidelines and best-practices and coordinating with the State Disaster Management Authorities (SDMAs) to ensure a holistic and distributed approach to disaster management" per Wikipedia www.ndma.gov.in
 About AIIMS, Delhi
AIIMS was inaugurated in 1956, in New Delhi as per the vision of RajkumariAmrit Kaur, the first Health Minister of India who dreamt to establish an institute of such nature in India.
AIIMS Delhi was ranked at third place in the first list of the Times Higher Education India Reputation Rankings, published alongside the Times Higher Education World Reputation Rankings in 2013. AIIMS has been consistently ranked the top medical college in India to pursue any Medical degree by India Today in annual surveys starting in 1997 and was ranked No. 1 in 2013. AIIMS has held the top slot for the last six years in a row, and has been ranked first for 11 out of the 12 years that India Today has conducted the survey.AIIMS was also ranked No. 1 in Outlook India ranking of medical colleges in 2013. AIIMS excellence has to do with several factors – small class size, excellent library facilities, liberal clinically oriented teaching, research exposure and the ability to set its own curriculum.Several surveys by The Week and Outlook magazines have named AIIMS the best hospital in India overall, as well as the best in several individual fields such as Cardiology, Neurology, Gastroenterology, Gynaecology and Ophthalmology, ahead of several specialised institutions.The hospital has been able to maintain high standards of quality while seeing large numbers of patients (3.5 million in 2006) at very low cost to patients (?10 (16¢ US)), many of whom live in extreme poverty. The AIIMS Department of Emergency Medicine and the JPN Apex Trauma Center are the testimony of Indian Advancement in Academic Acute Medicine.www.aiims.edu
About INDUSEM
The INDUSEM mission is to envision and implement the future of Patient Care across the world. The partnership brings together Expert Educators, Inquisitive Innovators and Physicians supporting Safe Patient Care across India, United States and the World.  INDUSEM is the Top International Partnership across the World and brings together Institutions, Individuals and Initiatives focused on improving patient care globally. Till date INDUSEM has reached over 50,000 Experts and its reach continues to grow daily. For more information, visit www.indusem.org