INDUSEM Leaders Dr. Sanjeev Bhoi and Ms. Nirmal Thakur both from AIIMS JPN Apex Trauma Center get recognition during United States First Lady Michelle Obama's and President Barack Obama's Visit to India in January 2015.
During the recent visit of President Obama to India during the Republic Day celebration, AIIMS Emergency Medicine lead by Dr. Bhoi and Ms. Nirmal Thakur played an instrumental role in the efforts for organization of this visit.
In response to the hard work and diligence of the INDUSEM Leaders the US Leadership recognized their efforts.
The AIIMS Apex Trauma Center is guarded by the 24×7 State of the Art Emergency Medicine Department lead by Additional Professor Dr. Sanjeev Bhoi, MD, FACEE and the Trauma Center Media Champion is Ms. Nirmal Thakur, MBA, FACEN.
Both INDUSEM Leaders work hard to maintain the highest standards of patient care and emergency response. This recognition reinforces their commitment to High Quality Efforts towards Quality Emergency Care not only in Delhi but across India.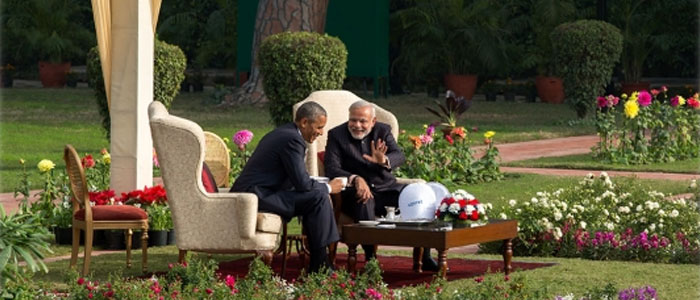 President Barack Obama and Prime Minister Naredra Modi have tea in the garden gazebo at Hyderabad House in New Delhi, India. January 25, 2015. (Official White House Photo by Pete Souza)
As per Excerpts from the Official White House Release:
"The President and the Prime Minister of India welcomed President Obama as the chief guest at India's 66th Republic Day celebrations — a day that honors when India's constitution officially went into effect. President Obama is the first U.S. president to attend this historic event"
"America and India are true global partners in the work of strengthening economies and strong democracies. That is why the President is the first to have visited India twice while in office." Said the White House.
As Prime Minister Modi said, "This is a natural global partnership. It has become even more relevant in the digital age. It is needed even more in our world for far-reaching changes and widespread turmoil. The success of this partnership is important for our progress and for advancing peace, stability and prosperity around the world."
"Chalein saath saath; forward together we go." India-U.S. Delhi Declaration of Friendship"
INDUSEM stands as a true example of a partnership for mutual growth based on the fundamentals of friendship.
About INDUSEM:
The INDUSEM mission is to envision and implement the future of Patient Care across the world. The partnership brings together Expert Educators, Inquisitive Innovators and Physicians supporting Safe Patient Care across India, United States and the World. INDUSEM is the Top International Partnership across the World and brings together Institutions, Individuals and Initiatives focused on improving patient care globally. Till date INDUSEM has reached over 50,000 Experts and its reach continues to grow daily. For more information, visit www.indusem.org