2019 celebrated the 10 Years of the National Emergency Medicine Board Review of India Course, NEMBRIC 2019. It was organized from 16th to 20th February, 2019 at the National Board of Examinations, New Delhi. Initially called the EMPACT Course it was renamed a few years ago after its collaboration with the National Board of Examination, India.
NEMBRIC2019 was a collaborative effort of National Board of Examinations, INDUSEM, and Academic College of Emergency Experts in India (ACEE), Emergency Medicine Association, SUNY Downstate Medical Centre and World Academic Council of Emergency Medicine.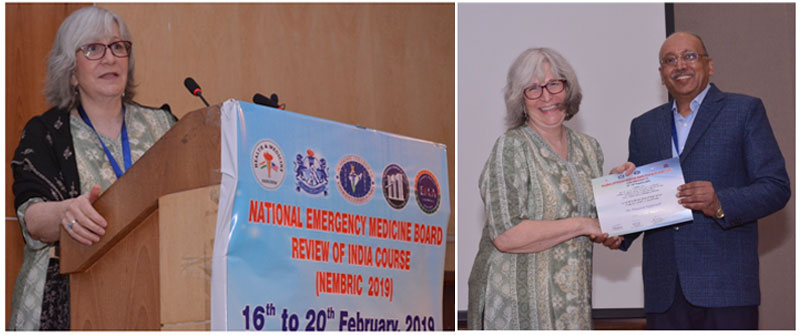 It is the only Board review in India, which is taught by MCI-recognized National faculty who are rained in Emergency Medicine.
Dr. Bonnie Arquilla, Professor of Emergency Medicine, Director Emergency Preparedness at SUNY Downstate Medical Center, New York was the Course Director. Other international Faculty included Dr. Pia Daniel and Dr. SukhiAtti from SUNY Downstate, New York. The National Faculty were all Fellows of ACEE and included Dr. Praveen Aggarwal, Dr. Kalpana Kelkar, Dr. RajeshwariVhora, Dr. Ashish Bhalla, Dr. Sanjeev Bhoi, Dr. Vikas Suri, Dr. Manpreet Singh, Dr. Girish Narayan, Dr. Vimal Krishnan, Dr. Siju Abraham, Dr. Manu Ayyan and Dr.Naman Agrawal.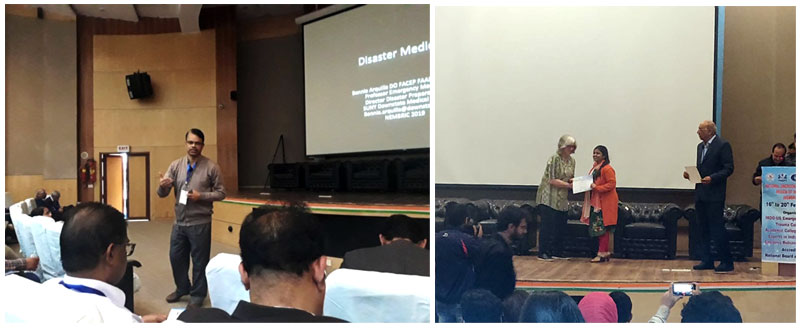 Before the start of NEMBRIC2019, all the participants stood up and paid homage to our soldiers martyred in Pulwama.
Delegates from across the country came in large numbers toparticipate in NEMBRIC2019. Of these, 23 were pursuing the Fellowship of Academic College of Emergency. Most of other delegates were either doing DNB or MD in Emergency Medicine. The main goal of this programme was to enhance the knowledge of delegates so that they could manage the emergencies in a more scientific way and also with confidence. To fulfil this goal, the whole of academic emergency medicine knowledge was condensed so that it could be covered in five days. This year, we added case studies on first two days which complemented the topics covered prior to them. Whole proceedings of NEMBRIC2019 were video-recorded and it is planned to upload them on the ACEE web site.
At the end of NEMBRIC, feedback was taken from the delegates who rated it as an excellent knowledge-enhancer Board Review taken by expert faculty members.
Testimonials :
Congratulations on the very successful and extremely useful NEMBRIC 2019 – Dr. Soumya Sankar Nath
NEMBRIC was a highly informative Course – Dr.Deepashree V.G.
Related News:About INDUSEM
The INDUSEM mission is to envision and implement the future of Patient Care across the world. The partnership brings together Expert Educators, Inquisitive Innovators and Physicians supporting Safe Patient Care across India, United States and the World. INDUSEM is the Top International Partnership across the World and brings together Institutions, Individuals and Initiatives focused on improving patient care globally. Till date INDUSEM has reached over 50,000 Experts and its reach continues to grow daily. For more information, visit www.indusem.org
About EMA
The Emergency Medicine Association was founded in 2015 during the INDUSEM2015 World Congress of Academic Emergency Medicine in New Delhi. EMA is the Official voice of competent Emergency Experts. Working towards provision of quality emergency care The EMA is an organized Guild of Emergency Leaders in Health and Medicine focused on Developing, Practicing and Progressing Emergency Medicine. EMA has a strong relation with partner organizations, individuals and institutions across the world. The EMA boasts of a strong DNA with its relationships which are geared towards potentiating growth. EMA has the support of the INDO-US Emergency and Trauma Collaborative, the Academic College of Emergency Experts in India and the Academic for Clinical Emergency Nursing in India. For More Information: www.emaindia.net
About AIIMS, New Delhi
All India Institute of Medical Sciences Delhi was established in 1956 and operates autonomously under the Ministry of Health and Family Welfare. AIIMS was the vision of RajkumariAmrit Kaur, the first Health Minister of India, to establish an institute of such nature in India. Today AIIMS is one the World's Leading Medical Education, Research and Patient Care Institute. For More Information: www.aiims.edu
About NBE
National Board of Examinations (NBE) is an autonomous body under the Ministry of Health, Government of India, and established in 1975 at New Delhi to standardizing postgraduate medical education and examination in India. The postgraduate degree awarded by the National Board of Examinations is called the Diplomate of National Board (DNB). The list of recognized qualifications awarded by the Board in various specialties and super-specialties are approved by the Government of India and are included in the First Schedule of Indian Medical Council Act, 1956. The National Board of Examinations conducts the largest portfolio of examinations in the field of medicine in India and perhaps at a Global level. Visit http://www.natboard.edu.in/