The State Level Conference of EMA Kerala Chapter completed a Kingsize Home Run in January 2018.
EMKerala was Held at Trivandrum Medical College and it displayed the power and passion of Academic Emergency Medicine.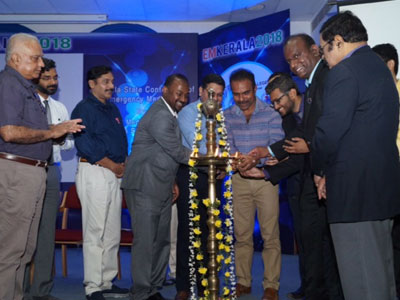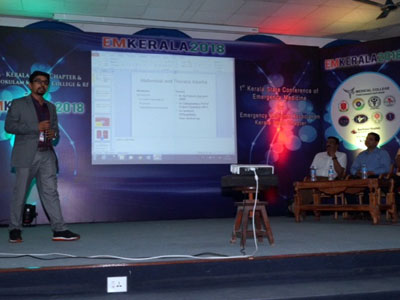 EMKerala Brought together Young Legitimate EM Leaders, Academicians and Post Graduate NBE and MD Residents as Academics was displayed at its best.
Skill Sessions, Lectures, Poster Presentations, Case Discussions and Quiz were the star attractions of EMKerala.
Kerala is the Capital of High Quality Emergency Medicine Education, Research and Patient Care.
Kerala has the largest cluster of legitimate Academic EM programs in India.
EMKerala will be an annual event of the Emergency Medicine Association of India's Kerala Chapter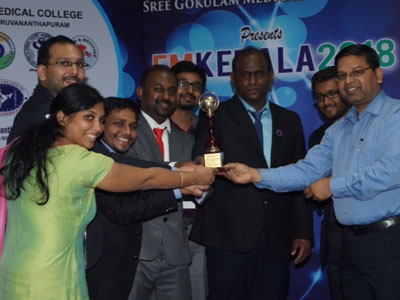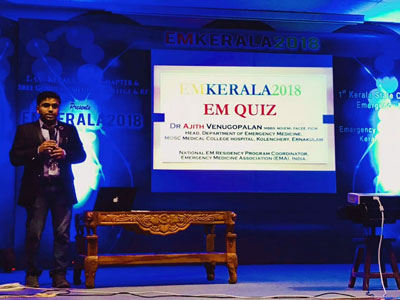 Related News for EM Kerala
EMA Regional Meetings:
INDUSEM and Kerala Government
Kerala and NEMBRIC
Kerala and POCUS Sonography
Leaders of Kerala in News
Kerala and International EM
Kerala and Nation of India
About EMA
The Emergency Medicine Association was founded in 2015 during the INDUSEM2015 World Congress of Academic Emergency Medicine in New Delhi. EMA is the Official voice of competent Emergency Experts. Working towards provision of quality emergency care The EMA is an organized Guild of Emergency Leaders in Health and Medicine. Focused on Developing, Practicing and Progressing Emergency Medicine. EMA has a strong relation with partner organizations, individuals and institutions across the world. The EMA boasts of a strong DNA with its relationships which are geared towards potentiating growth. EMA has the support of the INDO-US Emergency and Trauma Collaborative, the Academic College of Emergency Experts in India and the Academic for Clinical Emergency Nursing in India. For more Information: www.emaindia.net
About INDUSEM
The INDUSEM mission is to envision and implement the future of Patient Care across the world. The partnership brings together Expert Educators, Inquisitive Innovators and Physicians supporting Safe Patient Care across India, United States and the World. INDUSEM is the Top International Partnership across the World and brings together Institutions, Individuals and Initiatives focused on improving patient care globally. Till date INDUSEM has reached over 50,000 Experts and its reach continues to grow daily. For more information, visit www.indusem.org