This mega event was conducted at the MGM Institute of Health Sciences University in February 2019.
Attended by over 250 National Delegates it was a start studded show with Many International Speakers and National Academicians. Workshops on Trauma and Ultrasound were held.
The Conferences were graced by Key National Speakers Prof. DK Gupta and Prof. RP Srivastava. Dr. DK Gupta is The Director of India's First Government Funded All Children's Hospital at Noida and Dr. RP Srivastava is the Member of the Medical Council of India.
Prof. Mahajan and Prof. Binita Shah from USA were joined by multiple speakers and experts where all aspects of Academic Medicine and Emergency and Trauma Care were discussed and debated.
The Annual EMPART Course was also held during EPICON2019.
The 2020 EPICON will be held at AIIMS Raipur while the 2020 MAHAEM will be held in Pune.
"I am very proud of my leaders in India and USA as we came together to forward the Pediatric Emergency Medicine agenda in India. I am also proud of the EMA Maharashtra Team to put up a star studded academic event" Said INDUSEM CEO Dr. Sagar Galwankar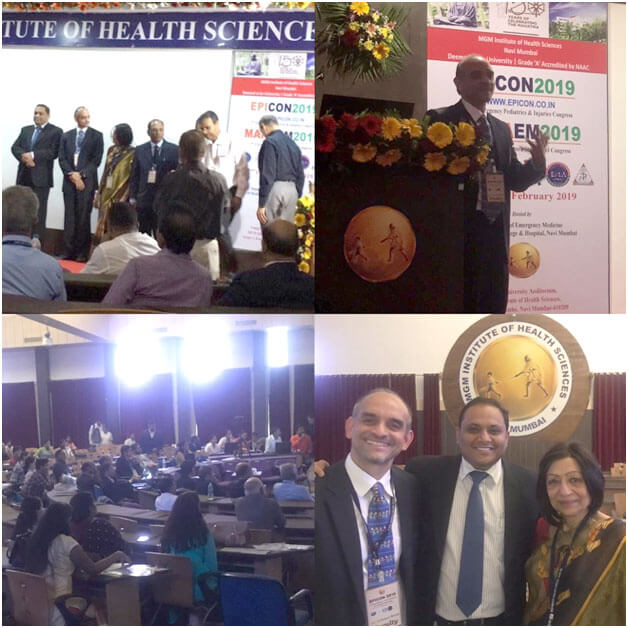 Related news:

About EPICON2019

Emergency Pediatrics and Injuries Congress – EPICON, is vision to be an annual academic conclave for innovators in health care with a sheer focus on developing Pediatric Emergency Medicine and Trauma Sciences.

This Annual Congress is a summit where Students, Trainees, Residents, Nurses, Paramedics, Administrators, Policy Makers, Public Health Workers as well as Academic and Practicing Physicians come from across the disciplines in Medicine, as Emergency and Trauma span every medical field. EPICON would be imparting and exchanging quality knowledge in Pediatric emergency care with an innovative interactive platform.

After the huge success of previous EMPART editions, ACEE in association with EMA came up with EPICON, an academic international conference on Pediatric Emergency Medicine and Trauma, conducted by a team who are pioneers in fields of General Pediatrics, Pediatric Emergency Medicine and Pediatric Trauma and Emergency Orthopedics. EPICON offers an open access academic platform which possesses the unique opportunity for clinicians to Interact using the EPICON "Case Based Learning Conference (CBLC)" Model. The EPICON ideology is realistic, practical, nation-focused and patient-centered. The experts at EPICON have learnt over the years that Case Based Learning is a much better way of engaging with experts of today and tomorrow. Hence the "CBLC Model" was created to offer an opportunity to clinical educators, clinical care providers and clinical academicians to interact using case presentations. For More Information: www.epicon.co.in

About INDUSEM

The INDUSEM mission is to envision and implement the future of Patient Care across the world. The partnership brings together Expert Educators, Inquisitive Innovators and Physicians supporting Safe Patient Care across India, United States and the World. INDUSEM is the Top International Partnership across the World and brings together Institutions, Individuals and Initiatives focused on improving patient care globally. Till date INDUSEM has reached over 50,000 Experts and its reach continues to grow daily. For more information, visit www.indusem.org

About ACEE:

The Academic College of Emergency Experts was established by Leaders of INDUSEM to create a guild of expert clinicians who are have a mastery at providing safe patient care with high quality therapeutics based on latest evidence based medicine. The only Unique College in Asia ACEE only bestows affiliation after a rigorous coaching and testing process hereby maintaining its high standards of commitment to education and excellence. It surpasses the erstwhile ideology of existing academic colleges where affiliation is based on recommendation. There are multiple pathways to be a Fellow of the College namely Emergency Medicine, Emergency Pediatrics. Toxicology, Emergency Nursing Pathway etc. For More Information Visit www.acee-india.org

About EMA

The Emergency Medicine Association was founded in 2015 during the INDUSEM2015 World Congress of Academic Emergency Medicine in New Delhi. EMA is the Official voice of competent Emergency Experts. Working towards provision of quality emergency care The EMA is an organized Guild of Emergency Leaders in Health and Medicine. Focused on Developing, Practicing and Progressing Emergency Medicine. EMA has a strong relation with partner organizations, individuals and institutions across the world. The EMA boasts of a strong DNA with its relationships which are geared towards potentiating growth. EMA has the support of the INDO-US Emergency and Trauma Collaborative, the Academic College of Emergency Experts in India and the Academic for Clinical Emergency Nursing in India. For More Information: www.emaindia.net

About MGM Mumbai

The Mahatma Gandhi Mission Trust is the parent body of MGMIHS which was established in 1982 by Hon. Shri KamalkishoreKadam with a futuristic vision to provide qualitative education by applying innovative and dynamic pedagogical techniques. Since inception, the Trust has focused on providing Health Care Services, School Education and Higher Education with dedication and commitment. The MGM Trust was established in Nanded, Maharashtra and in the course of time it extended its services to Aurangabad, Navi Mumbai and Parbhani in Maharashtra and Noida [New Delhi] in Uttar Pradesh.A chain of Schools, Engineering, Architecture, Medical, Nursing, Management, Computer Science & IT, Bioinformatics and Biotechnology, Fine Arts and Journalism stand testimony to the endeavours of the Trust. For More Information: https://www.mgmuhs.com/

The 2nd Annual Emergency Pediatrics and Injuries National Conference of India (EPICON2019) was held simultaneously with the 2nd State Level Conference of the EMA Maharashtra Chapter (MAHAEM2019).