It was a proud moment for our INDUSEM Leader Dr. Vijay Kumar Chattu when he interacted with the President of Guyana, HE Brigadier David A. Granger who was on a visit to the University of the West Indies, St. Augustine Campus in Trinidad & Tobago.
President Granger was invited for the Golden Jubilee celebrations of the Institute of International Relations where Dr. Vijay is doing an interdisciplinary research on Global Health Diplomacy and Human Security.
President Ganger emphasized that the small states are vulnerable and susceptible to threats of multi-dimensional in nature involving political, economic, social, health and environmental factors. He particularly emphasized the recent health threats including the epidemics of infectious and non-communicable diseases. These issues are very critical for the region and it needs a collective effort and action from various ministries.
For Vijay It was an opportunity to discuss about the current health threats in the region like the Zika, Cikungunya and Dengue epidemics apart from the rising trends of NCDs in the region which needs a collective action to halt and prevent through multi sectoral involvement.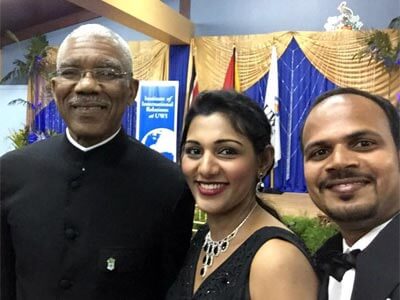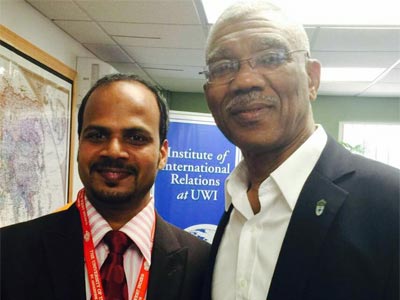 About Dr. Vijay Chattu:
Dr. Vijay is a graduate of Mahatma Gandhi Institute of Medical Sciences, Sewagram where he has done his MBBS and MD in Community Medicine and pursued MPH in Health Systems Management & Policy from Antwerp, Belgium. He also did MPhil studies in HIV/AIDS Management from Stellenbosch University and currently doing doctoral research in International Relations. Dr. Vijay has worked in over 6 countries in Asia & Caribbean and a recipient of fellowships WHO, NIH-Fogarty grant, Harvard University and DGDC-Belgium. Currently Dr. Vijay is the Coordinator for Caribbean countries for the World NCD Federation and National contact for Global Ethics Network, Geneva.
Dr. Vijay is currently a faculty in Public Health & Primary Care at the University of the West Indies and is working on human security and global health diplomacy issues for the past few years and advocates the importance of the emerging new field of Global Health Diplomacy. He works closely with INDUSEM Leadership on various Global Health Initiatives.
Vijay also participated in the INDUSEM White paper on Zika Virus Titled:
The Emergence of Zika Virus as a Global Health Security Threat: A Review and a Consensus Statement of the INDUSEM JointWorking Group (JWG).
Veronica Sikka, Vijay Kumar Chattu, Raaj K Popli, Sagar C Galwankar, Dhanashree Kelkar, Stanley G Sawicki, Stanislaw P Stawicki, Thomas J Papadimos. Avaialble on:  www.jgid.org
About University of West Indies:
Established in 1948, UWI is the largest and longest standing higher education provider in the English-speaking Caribbean .In its more than 60 years of existence, UWI has evolved from a fledgling college in the Caribbean island of Jamaica with 33 students to a full-fledged University with over 45,000 students, approximately 9000 graduates annually and more than 120,000 alumni. This impressive network of UWI Alumni includes one Nobel Laureate, dozens of Rhodes Scholars and more than 18 current and former Caribbean Prime Ministers and Heads of State. For More Information: http://www.uwi.edu/
About INDUSEM:
The INDUSEM mission is to envision and implement the future of Patient Care across the world. The partnership brings together Expert Educators, Inquisitive Innovators and Physicians supporting Safe Patient Care across India, United States and the World. INDUSEM is the Top International Partnership across the World and brings together Institutions, Individuals and Initiatives focused on improving patient care globally. Till date INDUSEM has reached over 50,000 Experts and its reach continues to grow daily. For more information, visit www.indusem.org