Medical students from Lewis Katz School of Medicine, Temple University Philadelphia were posted in Kasturba Medical College, Manipal for a 3 week elective in the Department of Emergency Medicine.
The students worked in EM for 2 weeks which involved working on the floor with the EM consultants, observing procedures, learning approaches to patients, stabilizing them in the emergency room based on priority, formulating a differential diagnosis and confirming the same using evidence based medicine, clinical skill and knowledge.
The Rotations in the ER included interactive discussions aided with power point presentations on various topics conducted by the consultants from the department. Topics discussed included ABC assessment in emergency, triage, toxidromes and organo-phosphorous poisoning, Approach to Altered sensorium, Snake bite and wilderness medicine, Approach to Polytrauma, approach to Acute abdomen, approach to chest pain. Identifying and approach to sepsis and tropical infectious diseases.
One of the World's largest museums and the biggest pathology museum in South East Asia is at Manipal and waspart of the elective program.

The students were also given skill training in the clinical skills lab for basic procedures in ED such as obtaining I.V. access, airway management, wound suturing and urinary catheter insertion.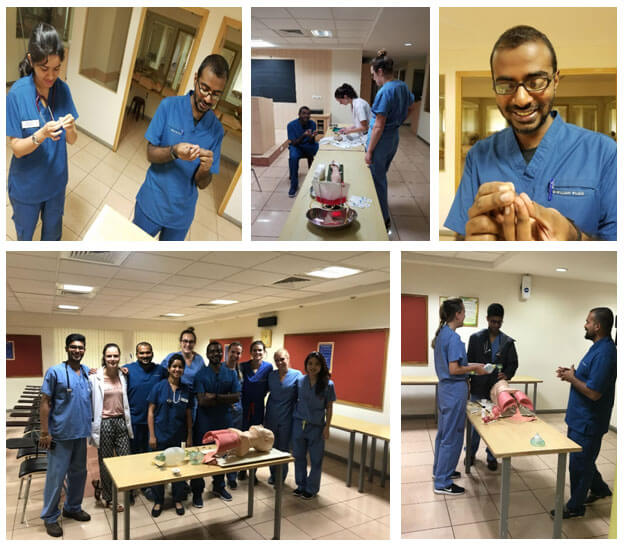 The students rotated in departments of surgery, obstetrics & gynecology and had brief visits to departments of neonatology, ophthalmology, medical oncology and Ayurveda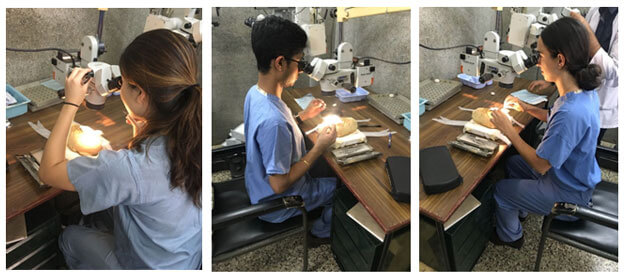 A visit was planned to TMA Pai Hospital Karkala, secondary level care center to introduce the students to various level of healthcare facilities in India. The Hospital is a maternity and pediatric hospital which also caters to cardiology and oncology outpatient facilities. As the hospital is located close to historical and cultural sites the day was spent with visits to Gomateshwara, 1000 pillar Jain temple in Moodabidri and Soans farm-as age old plant and tree farm and species bank.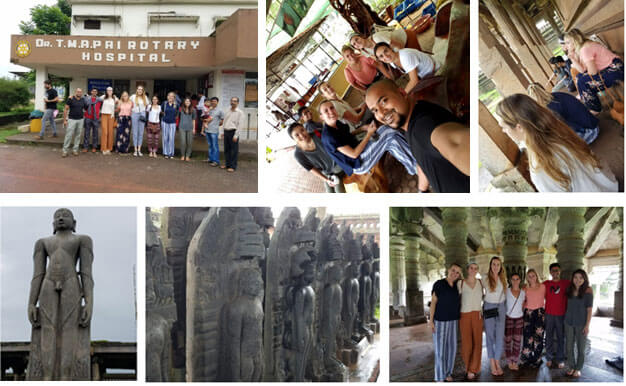 THE WILDERNESS MEDICINE EXPEDITION
As an interesting addition to the program the students were taken on a wilderness medicine expedition to the Agumbe Rain forest Research station for a day. The aspects tackled included a vast range of planning, preparation and risk assessment. In effect it was a simulation as well as an educational excursion. Topics discussed ranged from travel and logistics, field medical kits, base camp medical assistance, evacuation protocols, communication systems, discussions on immunization and prophylaxis, endemic diseases, anaphylaxis, occupational hazards such as snake bite and scorpion stings as well as travel illness and trauma.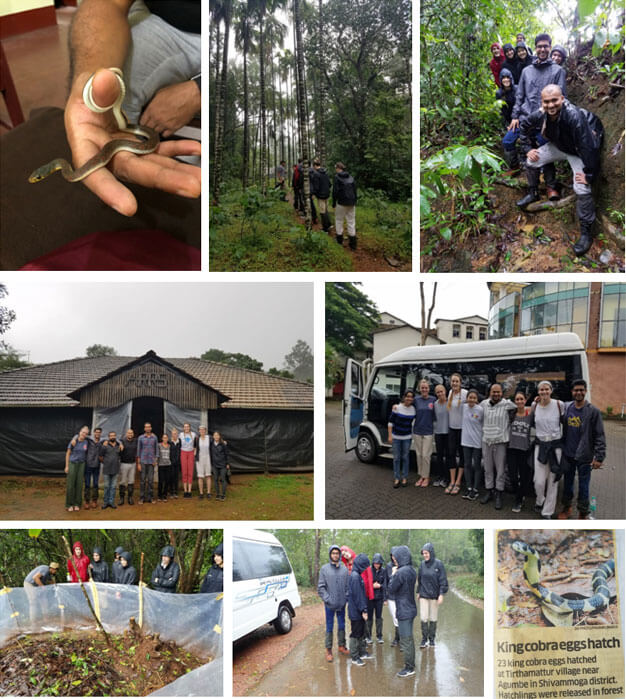 During the visit to ARRS the students were lucky to observe snakes such as the green vine snake, Malabar pit viper and a buffed stripped keel back. The ARRS is an initiative and sister concern of the Madras crocodile bank trust founded and directed by Shri Romulus Whitaker- A visionary and warrior for conservation of biodiversity in India. The ARRS predominantly focuses on King Cobra- research, conservation and man animal conflict. One of the worlds renowned snake rescuers and mitigators on man animal conflict in the region Mr.Ajay Giri is based at the ARRS and is placed as its field director. He was the guide for the expedition and treated the team by showing to them a King Cobra nest with the first hatchling showing itself on the same day. It was truly a once in a life time opportunity.
The Elective was concluded at a meeting with the Vice Chancellor, The Dean and the Head of the Department of Emergency Medicine. As the first batch posted with the Department of Emergency Medicine it was a successful and interesting international collaboration with lots of knowledge sharing and interaction on various platforms. We the department of Emergency medicine look forward to meeting more of our international colleagues.
Temple University under the stewardship of Dr. Manish Garg has designed this world class Student elective since last 3 years and has worked closely with Jubilee Mission Medical College Thrissur and Now with MAHE under the Leadership of Prof. Jayaraj. These electives lead to an Exchange of Knowledge between Students in USA and India and thus build relations which last a lifetime for academicians and academies. Like I always Say…. Job Well Done !" Said INDUSEM CEO Dr. Sagar Galwankar.
MAHE Acknowledgements: Dr.Jayaraj Mymbilly Head of the Department of Emergency Medicine, Dr. Rachana Bhat- Chief coordinator, Dr. Freston Marc Sirur- Resource Leader in Wilderness Medicine, MAHE International office, Department of Emergency Medicine, KMC, Manipal.
Related News:
About INDUSEM
The INDUSEM mission is to envision and implement the future of Patient Care across the world. The partnership brings together Expert Educators, Inquisitive Innovators and Physicians supporting Safe Patient Care across India, United States and the World. INDUSEM is the Top International Partnership across the World and brings together Institutions, Individuals and Initiatives focused on improving patient care globally. Till date INDUSEM has reached over 50,000 Experts and its reach continues to grow daily. For more information, visit www.indusem.org
About KMC Manipal
Kasturba Medical College (KMC) is a medical college based in Manipal, Udupi DistrictKarnataka, India.Established by Dr. T.M.A. Pai on 30 June 1953. KMC Manipal is one of the most prestigious and premier medical colleges in India. It has been ranked among the top three medical colleges in India by The Hindu[2] and India Today, preceded only by AIIMS, New Delhiand Christian Medical College & Hospital, Vellore. KMC Manipal was ranked among the top five medical colleges by the Hindustan Times and the India Today-Nielsen Survey (2014). It was also ranked 4 by Careers360. KMC was the first self-financing medical college in India. Today, students from 44 countries have graduated from KMC, and the medical degree (MBBS) is recognized worldwide, including by the General Medical Council, ECFMG, Australian Medical Council and Malaysian Medical Council among several others.KMC was under the purview of the Mangalore University. In 1993, the government of India granted Deemed University status to Manipal University (formerly known as MAHE) which saw KMC coming under its wing. For More Information:
About the Temple University School of Medicine
Temple University School of Medicine (TUSM), located on the Health Science Campus of Temple University in Philadelphia, PA, is one of seven schools of medicine in Pennsylvania conferring the doctor of medicine (MD) degree. It also confers the PhD (doctor of philosophy) and MS (master of science) degrees in biomedical sciences, the MA (master of arts) in Urban Bioethics, and dual degrees of MD/PhD, MD/MPH (master of public health), and MD/MBA (master of business administration). For more information please visit http://www.temple.edu/medicine
About the Jubilee Mission Medical College and Research Institute (JMMCRI)
Located in Thrissur, Kerala and lovingly nick-named by the people, "POOR MAN'S HOSPITAL", the Jubilee Mission has a specific mission evident in the motto, "Service with love". Instead of taking 'extra charges' from the patients, we take 'extra care' to see that the poor patients, irrespective of cast and creed are given special consideration and concessions. We spare competition to share competence and JUBILEE MISSION is an all-human's heaven. It has a vibrant teaching environment for medical students and post graduates and provides care to thousands of patients every year. JMMCRI is one of the key partners of INDUSEM. For more information please visit http://jubileemissionmedicalcollege.org/index.html