From the Desk of Professor Jayaraj, MD, FACEE
Head of Emergency Medicine
Kasturba Medical College and Hospital, Manipal
Manipal Academy of Higher Education, Udupi, Karnataka, INDIA
An idea which originated a few years ago in the minds of a few who had interest in academic simulation, was finally decided to be translated into reality. 28 Emergency Physicians from different parts of the country were handpicked and invited to form the task force. We received an enthusiastic response from the task force members, who we fondly refer to as "SIMians"- for aping 'EM. The program was titled "SIMED 2018"- A leadership incubation programme and 1st annual meeting of EMA Simulation Academia Taskforce.
The Manipal Team decided that the venue for the programme would be our Medical Education Unit and Simulation lab. This would form the perfect stimulation for the SIMians to get inspired and come up with inspiring ideas. After taking the blessing from the Dean and Pro-vice chancellor, the preparations began in full swing. A questionnaire was devised for capacity analysis, assessing current scenario of simulation in academics, perceptions and domains of interest of task force members, the perceived barriers and enabling factors, and planned future directions. We received a quick response for the SIMians.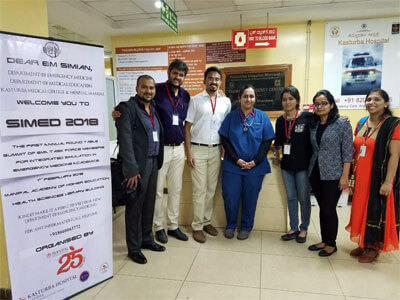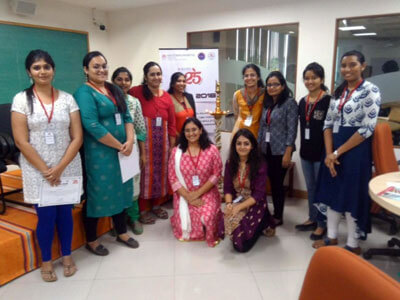 The program schedule and the brochure was designed. The accommodation was arranged in the International Guest House, Manipal. Reading material was distributed to the task force members. Faculty from Manipal Academy of Higher Education with experience in simulation were invited to speak to our task force members and they graciously accepted. The most enthusiastic bunch from the set of KMC, Manipal interns accepted to be the volunteers.
On 31st January, 2018, as our esteemed SIMians started to arrive, tEaM hosted a faculty dinner for them and our volunteers. The SIMians got to know each other and enjoyed a pleasant evening while getting food for thought along with food on their plate. Even as the day was coming to an end, The organising team huddled for a final team meeting before the event.
The D-day -1st February 2018 arrived. Our TEAM welcomed the task force members and kicked off the day with a South Indian Breakfast for the SIMians. Dr. Vimal Krishnan (Principal Secretary, EMA) introduced SIMED 2018, followed by an interactive session where the SIMians got to know each other and their domains of interest in Emergency Medicine. Followed by this, we had our 1st session in the Medical Education Unit- Simulation Capacity Assessment. The aim of the session was to analyse the resources available throughout India and the survey results. Our SIMians presented various videos and PowerPoint presentations to demonstrate the simulation done in their medical colleges and hospitals. After this fun session, we moved to the simulation Lab, where Dr. Prithvishree Ravindra, Dr. Ajay A and Dr. Bharath Angadi from tEaM presented the SIMED Survey results. The survey results emphasised that all the SIMians felt that simulation definitely improved learning. It was found that only 9/16 institutes assessed had a simulation lab. Certain gaps were noted in including simulation as part of assessment for students. Various domains of interest were also discussed.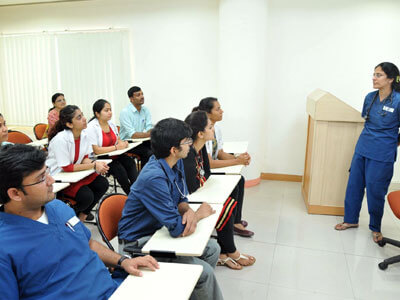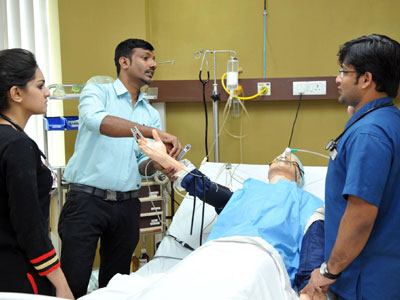 After capacity analysis, we moved on to the next session. Mr.Ramesh Unnikrishnan, Chief of respiratory therapy, SOAHS, Manipal delivered a very interactive talk regarding simulation in ventilator management training. This stimulated a good discussion, and the talk gave good ideas to the SIMians. Followed by this, Dr. Krishna H M, Professor of Anaesthesiology, KMC,Manipal delivered an outstanding talk regarding the Heart of Simulation- the art of debriefing. He emphasised its importance and discussed various methods we can use for debriefing. Dr. Vivek Gopinath, Assosciate Professor, Dept. of EM, JMMC&RI, Thrissur delivered an engaging talk on Simulation in HAZMAT. This was followed by lecture on RealSIM: Exploring Realism in Simulations by Dr. Veena Kamath, Professor and Head, Dept. of EM, KMC, Manipal. She drove home some key points regarding the topic.
This was followed by the inauguration. The occasion was graced by the presence of Dr. Poornima Baliga, Pro-Vice Chancellor, Faculty of Health Sciences, Manipal Academy of Higher Education, Dr.Pragna Rao, Dean, KMC Manipal, Professor Dr. Avinash Shetty, Medical Superintendent, Kasturba Hospitals, Professor Dr. Sharath Kumar Rao, Associate Dean, KMC Manipal and Mr. C G Muthana, Chief Operative Officer, Kasturba Hospitals. We started by invoking Lord Saraswathi and taking blessings. Dr.Jayaraj M.B, Professor and Head, Dept. of EM, KMC Manipal welcomed the gathering. The dignitaries lit the lamp and added glow to the ceremony. Dr.Pragna Rao gave the inauguration address, and spoke regarding the medical education unit and was hopeful for a grand and fruitful collaboration between SIMians and the KMC Manipal SIM lab. Dr. Avinash Shetty spoke regarding his interest in Emergency Medicine since its inception at KMC Manipal, and watching it grow as his baby over the past one year. Dr. Sharath Rao wished the programme success and advised the SIMians to look into the future of simulation- i.e. 'In situ simulation', where simulation is done outside the simulation lab, and at the point of care. After his inspiring talk, Mr. C.G Muthana, who recently took over the reins of the hospital, gave us a peek into his plans for the hospital, and the emergency medicine department. Dr. Poornima Baliga delivered the presidential address, wishing the Department of Emergency Medicine, KMC Manipal a happy 1st birthday in her usual dynamic style. Dr. Vimal Krishnan, Principal Secretary of EMA, briefed the gathering about SIMED 2018, and the future of simulation in EM Academics. Dr. Ramya Kumar M V, organising secretary of SIMED 2018 delivered the vote of thanks. This was followed by a sumptuous lunch.
The afternoon session was started by Dr. Vimal Krishnan, who spoke regarding SIMChaos: Simulation in Disaster. It was an engaging session. Followed by this Dr. Vivek Chauhan, Assistant Professor, Dept. of EM, IGMC, Shimla explored the avenues in research in his talk SIMSearch. This was followed by an interesting session on JugadSIM, where Dr.Siju Abraham, Asst. Professor, Dept. of EM, JMMC&RI, Thrissur spoke to us about innovative cost effective models for Simulation. This was followed by session on ClinSIM, where Dr.Ramya Kumar M V taught us how to convert a clinical scenario into simulation scenarios with apt examples.
Dr. Naman Agrawal (Regional Head of EMA, North Zone) and Dr. Rachana Bhat from AIIMS, Delhi spearheaded the next interactive sessions SIMCon and SIMSync and initiated the process of making the consensus guidelines for simulation in EM academics and plan the future directions for the same. This session was very productive and lot of ideas originated from the SIMians. After lot of debates and looking and pros and cons, some consensus were arrived at, which will be minuted by Dr.Naman Agrawal and Dr.Rachana Bhat. Some of the issues were kept for the task force members to deliberate on, and to be discussed further.
The last session of the day was SIMSort: Simulation in triage training, conducted by Dr. Jayaraj M.B, Dr. Udaykumar and Dr. Ramyatha from KMC, Manipal and Mr. Neel from MIT. Table top exercise demonstrated method of teaching triage.
We winded up the day with a valedictory function where task force members, organisers and volunteers were giving certificates and specially designed Mugs. Photo session ensured that this day will not just be etched in our memory, but remain forever in the digital format.
The SIMians returned home with more enthusiasm to integrate simulation in academics and learning from each other regarding more techniques for the same. The feedback form collected underlined some of the key take home messages for the SIMians.
All good things do come to an end. But this was just the beginning of a lot more constructive meetings for the SIMians.
Until next time, keep Aping 'EM fellow SIMians
About INDUSEM
The INDUSEM mission is to envision and implement the future of Patient Care across the world. The partnership brings together Expert Educators, Inquisitive Innovators and Physicians supporting Safe Patient Care across India, United States and the World. INDUSEM is the Top International Partnership across the World and brings together Institutions, Individuals and Initiatives focused on improving patient care globally. Till date INDUSEM has reached over 50,000 Experts and its reach continues to grow daily. For more information, visit www.indusem.org
About EMA
The Emergency Medicine Association was founded in 2015 during the INDUSEM2015 World Congress of Academic Emergency Medicine in New Delhi. EMA is the Official voice of competent Emergency Experts. Working towards provision of quality emergency care The EMA is an organized Guild of Emergency Leaders in Health and Medicine. Focused on Developing, Practicing and Progressing Emergency Medicine. EMA has a strong relation with partner organizations, individuals and institutions across the world. The EMA boasts of a strong DNA with its relationships which are geared towards potentiating growth. EMA has the support of the INDO-US Emergency and Trauma Collaborative, the Academic College of Emergency Experts in India and the Academic for Clinical Emergency Nursing in India. For More Information: www.emaindia.net
About ACEE
The Academic College of Emergency Experts was established by Leaders of INDUSEM to create a guild of expert clinicians who are have a mastery at providing safe patient care with high quality therapeutics based on latest evidence based medicine. The only Unique College in Asia ACEE only bestows affiliation after a rigorous coaching and testing process hereby maintaining its high standards of commitment to education and excellence. It surpasses the erstwhile ideology of existing academic colleges where affiliation is based on recommendation. There are multiple pathways to be a Fellow of the College namely Emergency Medicine, Emergency Pediatrics. Toxicology, Emergency Nursing Pathway etc. For More Information. Visit www.acee-india.org
About KMC Manipal
Kasturba Medical College (KMC) is a medical college based in Manipal, Udupi DistrictKarnataka, India.Established by Dr. T.M.A. Pai on 30 June 1953. KMC Manipal is one of the most prestigious and premier medical colleges in India. It has been ranked among the top three medical colleges in India by The Hindu[2] and India Today, preceded only by AIIMS, New Delhiand Christian Medical College & Hospital, Vellore. KMC Manipal was ranked among the top five medical colleges by the Hindustan Times and the India Today-Nielsen Survey (2014). It was also ranked 4 by Careers360. KMC was the first self-financing medical college in India. Today, students from 44 countries have graduated from KMC, and the medical degree (MBBS) is recognized worldwide, including by the General Medical Council, ECFMG, Australian Medical Council and Malaysian Medical Council among several others.KMC was under the purview of the Mangalore University. In 1993, the government of India granted Deemed University status to Manipal University (formerly known as MAHE) which saw KMC coming under its wing. For More Information: https://manipal.edu/kmc-manipal.html