The Floods in Kerala have disrupted the environment, destroyed the infrastructure and lives and homes of the people across the state.
The Government of India and Indian have responded with power and passion to take care of Kerala and its citizens.
Supporting this mission are INDUSEM-EMA Leaders who are working 24/7 at Emergency Departments and on locations in Kerala to make sure affected patients are cared for. Their reports are being clocked in as they work hand in hand with the Government of India, The National Disaster Relief Force and the Government of Kerala.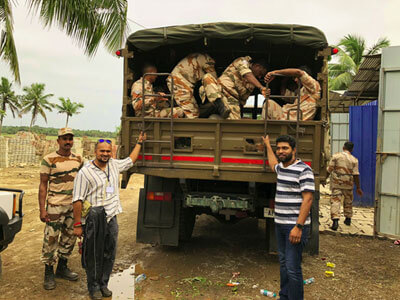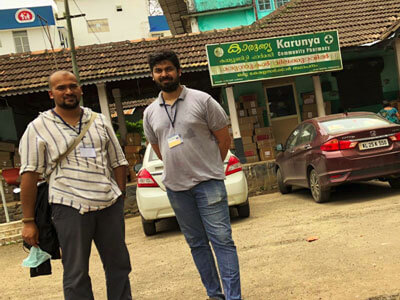 I would like to share the words of Prof. Jayaraj who with his EM Department team from Manipal Academy of Higher Education Karnataka State is stationed in Kerala State mounting a 24/7 Response.
I will also share few pictures posted by him.
Prof Jayaraj writes….
"Chengannoor has lost most of its freshwater sources as Wells have the silt from the dam and riverbanks got poured and settled in them as waters recede. Now the task is also pumping the clay like silt which will block the flow in of groundwater into wells. They are worried how long they will have to depend on the supplies of bottled water and when this supply will stop. Another issue is people have to be using stagnant waters for cleaning their houses and cooking utensils.
In the areas were the water has dried up has got the silt which has dried up into respirable dust. Already there are many cases of acutely exacerbated lung disease. But this is something we have to be worried about.
Now people have started making small neighborhood groups and started cooking their on food for the daytime as they are cleaning. Many of them go to their home and clean and come back to camp for night. Many houses have structural damage partial collapse and a few old weak ones have been completely collapsed. The view is cross-sectional however the same has happened in all the submerged areas. Unaffected areas are not having any problem Andy all the issues were because of a situation were dams had to be opened up suddenly.
There has been good amount of resources poured in and flood relief camps did a fantastic job. There are no major outbreaks reported yet except for a few cases of chickenpox which is probably settling now. There are no food borne and water borne illnesses and leptospirosis as of now and still have to be prepared for that. People are getting doxycycline prophylaxis for leptospirosis with a once a week doses. Even though it is too early to comment so far it seems to be a great strategy.
There had been instances where there were human animal conflicts like dog bites and snake bites but in manageable numbers.
However, non-flood related routine cases which are already there may get a bit delayed care because of the resource focus is the flood victims which is normal for disaster times.
Our Team of Doctors from Department of emergency medicine from #KasturbaMedicalCollegeManipal has continued presence in the floor from 23rd night augmenting resources and taking care of cases especially the ones who are sicker. Posting a few pics from The ground. The common man on the floor is not completely broken and is resilient and thankful to all who reached out and help. It will take at least 30 days for them to completely reorganize and more to settle back to normal."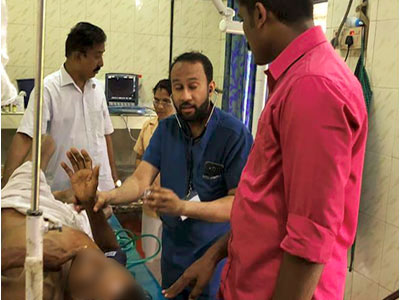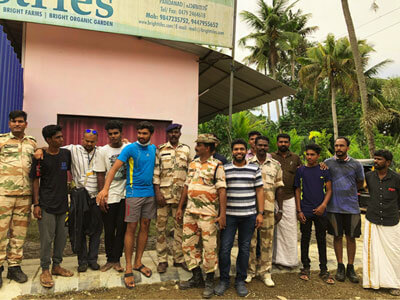 Dr. Sagar Galwankar CEO of INDUSEM Stated "INDUSEM Leaders are Passionate Patriots who will uphold the flag of Legitimate Emergency Medicine. They have glorified The New Year Celebrations of Onam and Celebrated Raksha Bandhan with the nation when they continue to serve 24/7 in Kerala. I proud of the team and Honored and touched with all the efforts of my leaders in Kerala and India – God Bless Them, God Bless Kerala and Everyone Else"
About INDUSEM
The INDUSEM mission is to envision and implement the future of Patient Care across the world. The partnership brings together Expert Educators, Inquisitive Innovators and Physicians supporting Safe Patient Care across India, United States and the World. INDUSEM is the Top International Partnership across the World and brings together Institutions, Individuals and Initiatives focused on improving patient care globally. Till date INDUSEM has reached over 50,000 Experts and its reach continues to grow daily. For more information, visit www.indusem.org
About EMA
The Emergency Medicine Association was founded in 2015 during the INDUSEM2015 World Congress of Academic Emergency Medicine in New Delhi. EMA is the Official voice of competent Emergency Experts. Working towards provision of quality emergency care The EMA is an organized Guild of Emergency Leaders in Health and Medicine. Focused on Developing, Practicing and Progressing Emergency Medicine. EMA has a strong relation with partner organizations, individuals and institutions across the world. The EMA boasts of a strong DNA with its relationships which are geared towards potentiating growth. EMA has the support of the INDO-US Emergency and Trauma Collaborative, the Academic College of Emergency Experts in India and the Academic for Clinical Emergency Nursing in India. For More Information: www.emaindia.net
About ACEE
The Academic College of Emergency Experts was established by Leaders of INDUSEM to create a guild of expert clinicians who are have a mastery at providing safe patient care with high quality therapeutics based on latest evidence based medicine. The only Unique College in Asia ACEE only bestows affiliation after a rigorous coaching and testing process hereby maintaining its high standards of commitment to education and excellence. It surpasses the erstwhile ideology of existing academic colleges where affiliation is based on recommendation. There are multiple pathways to be a Fellow of the College namely Emergency Medicine, Emergency Pediatrics. Toxicology, Emergency Nursing Pathway etc. For More Information. Visit www.acee-india.org
About KMC Manipal
Kasturba Medical College (KMC) is a medical college based in Manipal, Udupi DistrictKarnataka, India.Established by Dr. T.M.A. Pai on 30 June 1953. KMC Manipal is one of the most prestigious and premier medical colleges in India. It has been ranked among the top three medical colleges in India by The Hindu[2] and India Today, preceded only by AIIMS, New Delhiand Christian Medical College & Hospital, Vellore. KMC Manipal was ranked among the top five medical colleges by the Hindustan Times and the India Today-Nielsen Survey (2014). It was also ranked 4 by Careers360. KMC was the first self-financing medical college in India. Today, students from 44 countries have graduated from KMC, and the medical degree (MBBS) is recognized worldwide, including by the General Medical Council, ECFMG, Australian Medical Council and Malaysian Medical Council among several others.KMC was under the purview of the Mangalore University. In 1993, the government of India granted Deemed University status to Manipal University (formerly known as MAHE) which saw KMC coming under its wing. For More Information: https://manipal.edu/kmc-manipal.html
Image Courtesy: Google Images.