As we wrap up 2017 it is noteworthy to record the achievements of the super achievers which studded the year.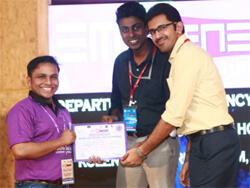 Dr. Ajith Venugopalan from MOSC, Kerala launched the first UG Congress in Emergency Medicine. He also participated in Disaster Workshops& Congress in India, Malaysia and attended the PATOS workshop in South Korea.
News on Ajith: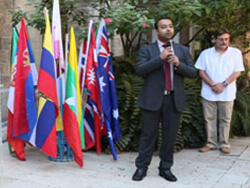 Dr. Naman Agrawal from AIIMS spread EM Simulation across the country and represented India at the Training program in Israel.
News on Naman: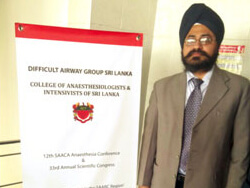 Dr. Manpreet Dawar from GMC Chandigarh led the Airway Workshop at SAARC Colombo Anesthesia Congress.
http://www.indusem.org/acee-airway-leader-leads-saarc-colombo/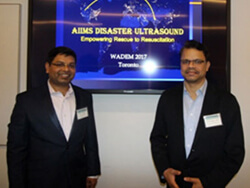 Dr. Sanjeev Bhoi and Dr. Tej Prakash from AIIMS spread INDUSEM ICCES Mission across India and the World. Their Training programs were taught at GAPIO and WADEM Toronto as well as many Ultrasound Programs and Hibs opened across the Country. The AUTLS training program was also taught to residents in the USA.
INDUSEM Ultrasound News: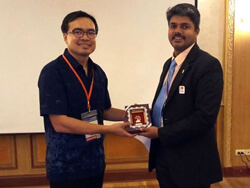 Dr. Nisanth Menon from MOSC Kerala won the Best Paper Award for his original research paper titled 'A stitch in time: An innovative community intervention project to improve CPR practices among possible first responders in rural areas' at the WONCA ASIA-PACIFIC CONFERENCE 2017. http://www.indusem.org/menon-wins-wonca-thailand/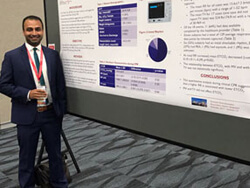 Dr. Abhishek Bhardwaj from the University of Pennsylvania, Philadelphia, USA was recognized for his cardiac arrest research at the American Heart Association conference at Anaheim, California, USA. http://www.indusem.org/abhishek-awarded-aha/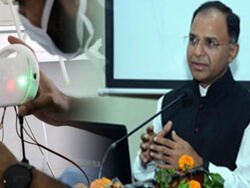 INDUSEM Technology Chief and Professor at AIIMS Neurosurgery Dr. Deepak Agrawal worked with Robotics Researcher Mr. Diwaker Vaish to create VIRAT – The World's First Pocket Size Ventilator. VIRAT© Means "Ventilating Integrated Respirations via Assisted Technology". http://www.indusem.org/prof-deepak-creates-virat-worlds-first-pocket-sized-ventilator/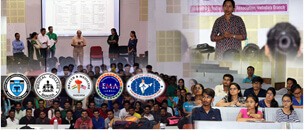 The Emergency Medicine Association expanded its Network and presence across India as it continued to conduct state conferences and CME Programs across the country. Additionally Temple University Continued its Exchange program with Jubilee Mission Medical College in Kerala.
EMA News: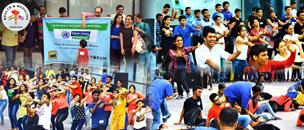 INDUSEM supported the Global Road Safety agenda as it partnered with World Health Organization to conduct Road safety activities across India.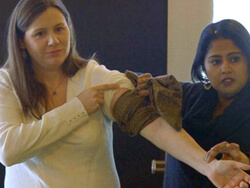 INDUSEM Leader Dr. Mamta Swaroop from Northwestern University USA is leading a creditable community preparedness initiative in Chicago, USA where Gun violence is one of the leading causes of traumatic mortality and morbidity.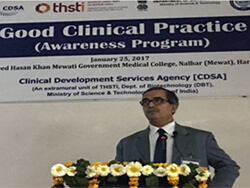 INDUSEM Leader Professor Ranabir Pal spoke at the Government of India department of Biotechnology National Meeting on Good Clinical Practices. This meeting was co-partnered by THSTI and CDSA. http://www.indusem.org/pal-preaches-perfecting-practices/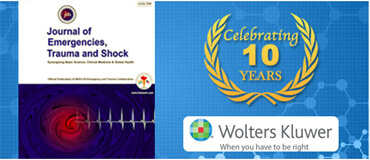 The Journal of Emergencies Trauma and Shock completed 10 years and INDUSEM Leaders inked Landmark Publications on Violence in Health Care, Chest Pain Management, Academic International Medicine,
Publication News:

INDUSEM conducted its Annual Events: EXAMATHALON, EMPART Program on Emergency Pediatrics, Emergency Board Review Course NEMBRIC with NBE and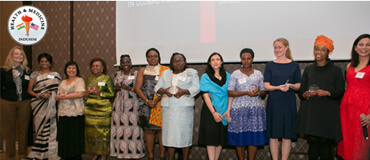 INDUSEM Leader Dr. Sharmila Anand was awarded Global Women Leadership award by the World Health Organization. http://www.indusem.org/indusem-leader-wins-global-recognition-70th-assembly/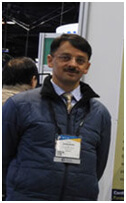 INDUSEM Academic Leader Dr. Vivek Chauhan from Dr. RPG Medical College, Tanda, Himachal Pradesh has become an International Advisor to the Hutchison's Clinical Methods. His name has been included in the International advisory board of the 24th Edition published in June, 2017. http://www.indusem.org/vivek-authors-clinical-methods-hutchisons/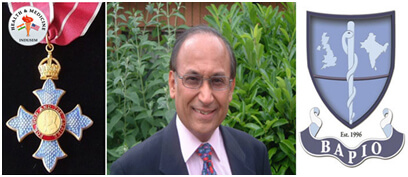 INDUSEM Partner The British Association of Physicians of Indian Origin (BAPIO) is led by its Dynamic President Dr. Ramesh Mehta. The Queen's Birthday Honors List announced on 16th June 2017 recognized Dr. Mehta with an appointment of the Officer Of The Order of British Empire (OBE) (Equivalent to Padmabhushan in India) for services to the NHS (National Health Service). http://www.indusem.org/indusem-leader-bapio-chief-gets-order-british-empire/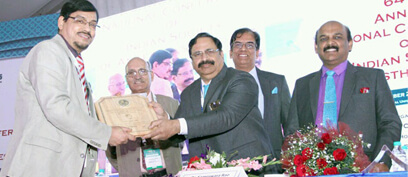 INDUSEM Research Leader Dr. Moied received the prestigious Dr Y. G. Bhoj Raj Award for his work titled "Mechanical ventilation in patients with chronic obstructive lung disease and bronchial asthma", for the year 2016. http://www.indusem.org/professor-moied-gets-bhoj-raj-award/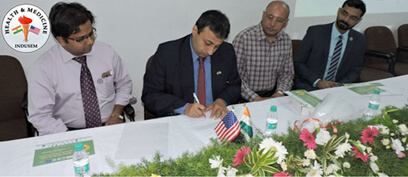 INDUSEM Signed partnership deeds with Indian Association of Preventive and Social Medicine and Co-Authored National Guidelines ion Chest Pain with the Indian College of Cardiology.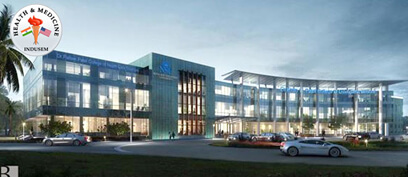 INDUSEM Patrons and Supporters Made great progress in their lives. Drs. Kiran and Pallavipatel announced their Medical School in USA while Dr. Soumya Swaminathan was appointed Dy. Director of The World Health Organization.
INDUSEM also mourned the tragic passing of AAEM President Rogers in December 2017. May his soul Rest in peace.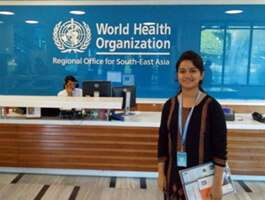 INDUSEM leader Dr. Rachana Bhat who recently graduated as an Emergency Physician from AIIMS was among 12 people chosen to present their ideas to Putin, from over 24,000 participants from 185 countries, who were in Russia for the 19th edition of the World Festival of Youth and Students last month. The chosen 12 were given the tag of 'future team'at the festival and met Putin on October 21 where they put forth ideas from their respective fields. Amongst them, Bhat was the only doctor. Her ideas were recognized by the President Himself.
INDUSEM launched its National Conference EMINDIA at Delhi and also successfully concluded its World Academic Congress of Emergency Medicine at Colombo, Sri Lanka. Additionally INDUSEM Leaders successfully conducted the American Academic International Medicine Congress at Clearwater, Florida.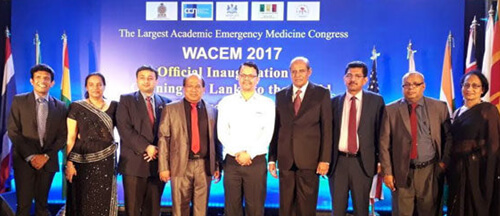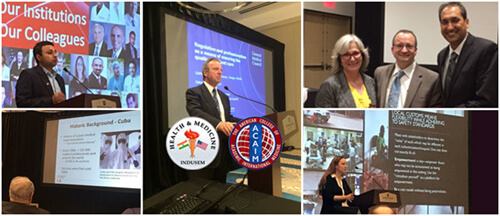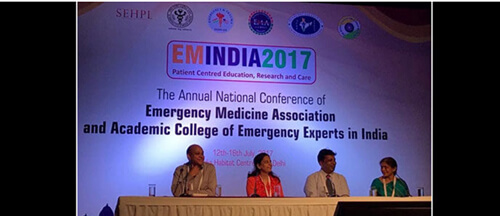 INDUSEM Continues to support the Mission of the Government of India to develop Emergency Medical Care for all. http://www.indusem.org/ema-health-ministry-continue-better-em-care-india/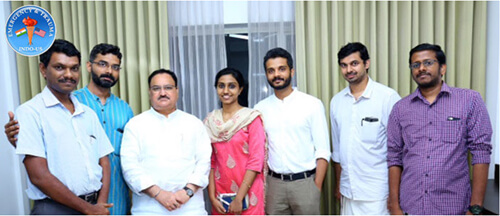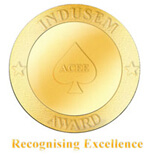 For The Details on INDUSEM Awardees for 2017
please click here: http://www.indusem.org/indusem-awards/
Media Gallery of 2017: http://www.indusem.org/media-gallery/
About INDUSEM
The INDUSEM mission is to envision and implement the future of Patient Care across the world. The partnership brings together Expert Educators, Inquisitive Innovators and Physicians supporting Safe Patient Care across India, United States and the World. INDUSEM is the Top International Partnership across the World and brings together Institutions, Individuals and Initiatives focused on improving patient care globally. Till date INDUSEM has reached over 50,000 Experts and its reach continues to grow daily. For more information, visit www.indusem.org
About WACEM:
The World Academic Congress of Emergency Medicine is the official annual meeting of the World Academic Council for Emergency Medicine. The Council was launched in 2016 and the Constitution was finalized in 2017. Founded by Academic leaders from USA, UK, Italy, Qatar, UAE, India, Sri Lanka, Singapore & Japan WACEM is a Non Political 100% Academic Organization focused on working with individual academicians, academic institutions and academic organization to forward the Science of Emergency Patient Care. All clinical specialties namely trauma, critical care, cardiology, neurosciences, pediatrics, orthopedics, acute care surgery and emergency medicine involved in the academic science of Emergency Patient Care are a part of the WACEM Agenda. For More Information: www.wacem.org
About ACAIM
ACAIM aims to promote the mission of Academic International Medicine (AIM) professionals in the United States and beyond. It will focus to promote clinical, educational and scientific collaboration of AIM professionals, both domestically and globally. ACAIM works to create a platform for domestic and global coordination of academic, clinical and educational efforts involving AIM professionals. ACAIM Leaders are encouraged to educate, generate and publish new knowledge, create relevant guidelines, and assist policymaking in the area of international medicine. For More Information: www.ACAIM.org
About ICCES
The International Council for Critical Emergency Sonography (ICCES) was set up in 2010 as a Coalition of Academic Leaders across the World with a focus on developing the Science and Innovation in the Field of Acute Care Sonography in Emergency and Critical Medicine. Lead by Experts from Europe, Middle East, Asia and The United States ICCES has become a platform for collaborative research, education and development across the Academic World. ICCES runs various training programs across the World and is the Inventor of the World Famous AUTLS Training Course: The AIIMS Advance Ultrasound in Trauma and Life Support. For More Information: http://aiimsultrasound.com/
About ACEE:
The Academic College of Emergency Experts was established by Leaders of INDUSEM to create a guild of expert clinicians who are have a mastery at providing safe patient care with high quality therapeutics based on latest evidence based medicine. The only Unique College in Asia ACEE only bestows affiliation after a rigorous coaching and testing process hereby maintaining its high standards of commitment to education and excellence. It surpasses the erstwhile ideology of existing academic colleges where affiliation is based on recommendation. There are multiple pathways to be a Fellow of the College namely Emergency Medicine, Emergency Pediatrics. Toxicology, Emergency Nursing Pathway etc. For More Information Visit www.acee-india.org
About EMA
The Emergency Medicine Association was founded in 2015 during the INDUSEM2015 World Congress of Academic Emergency Medicine in New Delhi. EMA is the Official voice of competent Emergency Experts. Working towards provision of quality emergency care The EMA is an organized Guild of Emergency Leaders in Health and Medicine. Focused on Developing, Practicing and Progressing Emergency Medicine. EMA has a strong relation with partner organizations, individuals and institutions across the world. The EMA boasts of a strong DNA with its relationships which are geared towards potentiating growth. EMA has the support of the INDO-US Emergency and Trauma Collaborative, the Academic College of Emergency Experts in India and the Academic for Clinical Emergency Nursing in India.
For More Information: www.emaindia.net
Image Courtesy: Google Images