ORGANIZED MEDICINE ACADEMIC GUILD OF INDIA (OM)was launched on 7th January 2018 at Orange City Nagpur.
The Inauguration was held during PEDICON2018-The Annual Congress of the Indian Academy of Paediatrics.
OM is a United Confederate of all Professional Organizations in Medicine namely The Indian Academy of Paediatrics, The Association of Surgeons of India, Emergency Medicine Association, Academy of Family Physicians of India, Association of Physicians of India, IADVL, IAPSM and many others.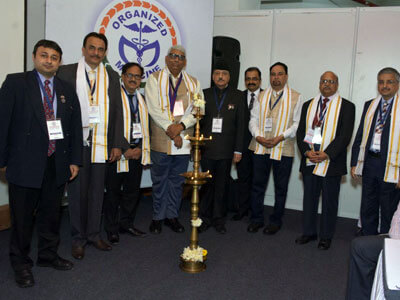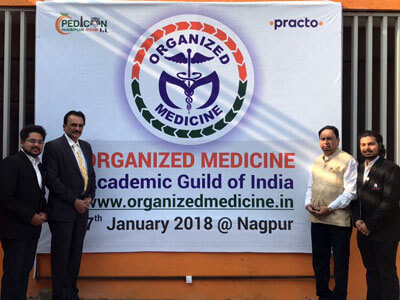 OM was initiated with a clear focus to work with the Government in its mission to achieve the highest benchmarks in Health. The role of organized medicine is crucial development of policies and practices. Global Health Security is one of the biggest challenges to a highly diverse and populous nation like India. Anti-Microbial Resistance, TB, Trauma, Emergencies are few of the major challenges which need Clinical and Public Health Solutions.
It is with the above premise that INDUSEM, AIIMS and CDC USA laid the ground work to bring all Professional Organizations in Indian Medicine onto one platform called OM.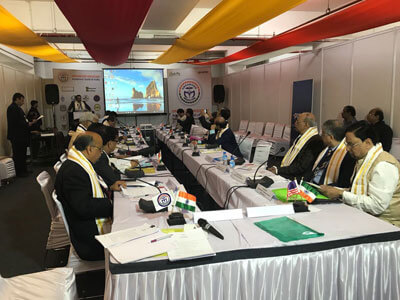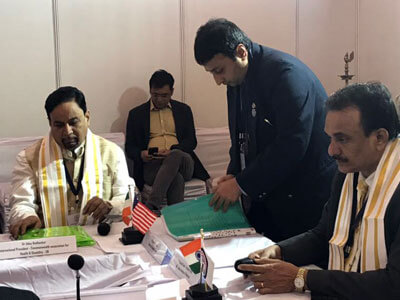 The Following Organizations are founders of OM
Association of Physicians Of India (API)
Association of Surgeons of India (ASI)
Indian Orthopaedic Association (IOA)
Indian Academy of Paediatrics (IAP)
Academic College of Emergency Experts (ACEE)
Emergency Medicine Association (EMA)
All India Institute of Medical Sciences New Delhi (AIIMS)
Indian Association of Dermatologists, Venereologists and Leprologists (IADVL)
Academy of Family Physicians of India (AFPI)
Indian Association of Preventive and Social Medicine (IAPSM)
Indian Chest Society (ICS)
Indian Society of Anaesthesia (ISA)
Ministry of Health &Family Welfare Govof India's National Centre for Disease Control (NCDC)
National Neonatology Forum of India (NNFI)
AIDS Society of India (AIDS India)
Commonwealth Association of Health and Disability (COMHAD)
"Keeping the Ideology of "Judega Bharat to Badega Bharat" OM will fill the interdisciplinary gaps in medicine and facilitate an integrated approach to healthcare, to target one protocol/guideline/innovation in healthcare every year for identifying its utility in Indian settings and to create a coordinated research infrastructure needed to conduct multi-site clinical, laboratory based and public health research in India. OM will also enable a big leap in terms of achieving parity with global standards while meeting needs in Indian settings. " Said INDUSEM CEO Dr.SagarGalwankar.
More Organizations are in the Process of Joining OM.
Web Url of OM: WWW.ORGANIZEDMEDICINE.IN
About INDUSEM
The INDUSEM mission is to envision and implement the future of Patient Care across the world. The partnership brings together Expert Educators, Inquisitive Innovators and Physicians supporting Safe Patient Care across India, United States and the World. INDUSEM is the Top International Partnership across the World and brings together Institutions, Individuals and Initiatives focused on improving patient care globally. Till date INDUSEM has reached over 50,000 Experts and its reach continues to grow daily. For more information, visit www.indusem.org
About ACEE
The Academic College of Emergency Experts was established by Leaders of INDUSEM to create a guild of expert clinicians who are have a mastery at providing safe patient care with high quality therapeutics based on latest evidence based medicine. The only Unique College in Asia ACEE only bestows affiliation after a rigorous coaching and testing process hereby maintaining its high standards of commitment to education and excellence. It surpasses the erstwhile ideology of existing academic colleges where affiliation is based on recommendation. There are multiple pathways to be a Fellow of the College namely Emergency Medicine, Emergency Pediatrics. Toxicology, Emergency Nursing Pathway etc. For More Information Visit www.acee-india.org
About EMA
The Emergency Medicine Association was founded in 2015 during the INDUSEM2015 World Congress of Academic Emergency Medicine in New Delhi. EMA is the Official voice of competent Emergency Experts. Working towards provision of quality emergency care The EMA is an organized Guild of Emergency Leaders in Health and Medicine. Focused on Developing, Practicing and Progressing Emergency Medicine. EMA has a strong relation with partner organizations, individuals and institutions across the world. The EMA boasts of a strong DNA with its relationships which are geared towards potentiating growth. EMA has the support of the INDO-US Emergency and Trauma Collaborative, the Academic College of Emergency Experts in India and the Academic for Clinical Emergency Nursing in India. For More Information: www.emaindia.net